Wonderland: Walking With Dogs, BBC Two |

reviews, news & interviews
Wonderland: Walking With Dogs, BBC Two
Wonderland: Walking With Dogs, BBC Two
Vanessa Engle's documentary salutes the human-canine bond
Gilly with her canine companion, Bella
If you asked a bunch of foreigners to describe the British, I bet one of the phrases most frequently used would be "a nation of dog lovers", so it was no surprise to discover that film-maker's Vanessa Engle's latest bulletin about the British and the way they live (shown as part of the excellent Wonderland strand) was about this nation's love affair with canines.
Engle and her assistant studied those walking their dogs on Hampstead Heath (London's largest open space) over the course of a year, after making contact with some owners first online and others by the simple method of accosting them as they walked their Benjies, Alfies and Mollies (funny how many owners give their dogs human names, isn't it?) on the heath. And so the film was a mixture of filmed interviews with some of the owners in their homes and spontaneous meetings with others as they tramped across the open space with their four-legged friends.
While Engle mostly asked pertinent questions, occasionally the overstraining for dog-human parallels irritated
I'm guessing Engle didn't have to search too hard for the slightly bonkers subjects in her film as no programme about the British and their dogs could be made without them. But she is far too good a film-maker just to point the camera at eccentrics for cheap entertainment, and so there was a wide diversity of folk on show, including an ex-con, a recovering alcoholic and a woman whose husband was suffering from a serious illness. And she's an unseen and almost unheard film-maker, here simply asking people's names and the names of their dogs and then letting the subjects tell their stories with minimal prompting.
Such was the case with Gilly, a divorcee who once had a good life in Pembrokeshire with a large house but who now lives in a hostel in London and rarely sees her three sons. Her constant companion is Bella without whom, she said, life would be barely worth living. And while one might have felt some twang of sympathy with the slightly dotty (her word) singleton Marianne who loves '"little fluffy white animals", it dissipated when she started displaying the ghastly "high-end doggy fashions" - Swarovski-encrusted collars and leads - she was about to set up a business to sell.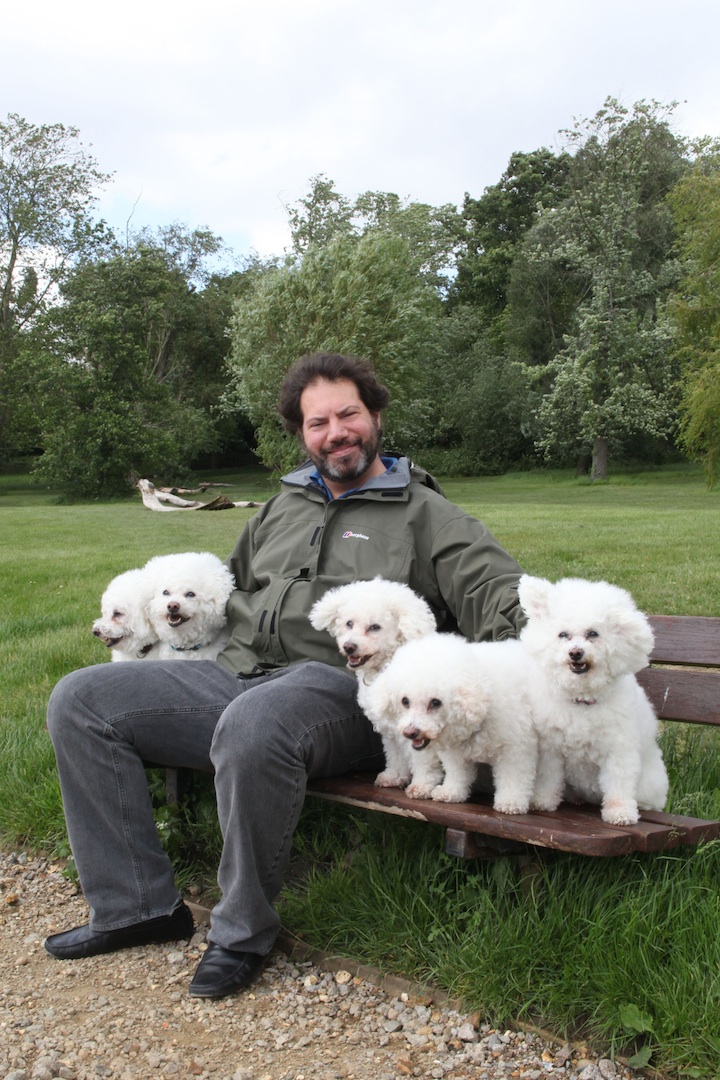 The only time Engle's hands-off approach failed was with Albert (pictured right), a rich businessman who walks his five white and fluffy bichon frises (Albert, meet Marianne; Marianne, meet Albert) on the heath every day with an attendant in tow, walking a few paces behind. His job is to dispose of the dogs' poo as Albert, a wealthy businessman, can afford to pay him for the privilege. I really wanted to know more, but that's where their story ended. And while Engle mostly asked pertinent questions, occasionally the overstraining for dog-human parallels irritated. She asked one man if being a dad and owning a puppy are similar; as he talked about the need to set boundaries for both, there was the faintest whiff of a line being fed.
At an hour long, Walking With Dogs was in danger of running out of steam before the introduction of a delightful man and two couples towards the end. Mark talked about how he gave up a job in the music industry to care for his dad, who had dementia, while Margot and Sue are two game old gals who meet each day to walk their dogs, clearly in the hope of finding all manner of gruesomeness, from a dead rat to a goat's head and suicides. "We haven't had any dead bodies recently," said Margot, aged 82, with a hint of regret, only to have Sue eagerly call out she had found another. It turned out to be just a drunk having a nap beside a hedge.
And then the clincher, as we met Tony and Vicky, a middle-aged couple with a puppy called Nigel. As they sat on their sofa with Nigel snuggling contentedly between them, they told how they had lost their young son in a paragliding accident two years ago; having Nigel to train, care for and walk every day gave them a new purpose in life after such a shocking bereavement. "We call him our rescue dog," said Tony. "Not because he's a rescue dog, but because he rescued us."
It was one of a few tear-jerking moments in a subtle and often poignant film that quietly celebrated the curious bond that exists between human and canine. Engle is not a dog owner herself but clearly got to understand why those of us who love dogs treat them as another member of the family and love them in much the same way. As the final credits rolled, Elvis's "The Wonder of You" played. Quite.
Margot and Sue, two game old gals, walk their dogs in the hope of finding all manner of gruesomeness
Explore topics
Share this article