Elena |

reviews, news & interviews
Elena
Elena
Leaner, more grounded third feature from Russian director Andrei Zvyagintsev
Thursday, 25 October 2012
Separation at the breakfast table: Elena (Nadezhda Markina) with husband Vladimir
Elena is a story of two households, two families each unhappy in their own ways. Linking them is the title character (played by Nadezhda Markina, outstanding in a screen role that could have been written for her) who moves between two very different worlds that both speak truthfully about contemporary Russia.
Zvyagintsev has changed tone from his more philosophical festival-winners
The Return
and
The Banishment
, but the sheer visual mastery of those two remains central in this film where family tension is more down to earth.
The director has worked throughout his career with cinematographer Mikhail Krichman, whose images are again crucial in Elena. Its eight opening minutes unspool virtually without a word, as we see light dawn on the prosperous apartment in which Elena lives - rather soon, we discover, as much as housekeeper as wife to the cold Vladimir (Andrei Smirnov). The couple are in their sixties, he in comfortable retirement from a job never quite specified but clearly senior in the former Soviet hierarchy, she the nurse who had looked after him through serious illness ten years earlier. It's a marriage which provides both with elements, however different, of security, but where Vladimir's word clearly goes.
There's an existential coldness here that's caught in icy blues and greys
Zyagintsev has often avoided "placing" his narratives in any defined society - European or Russian - and Elena's opening sticks to this principle: this story of a distant marriage could play out anywhere in the developed world, with its portered apartments and fitness clubs. That only changes when Elena sets off to a distinctly Russian tower block world to visit her son who lives there with his family in relative poverty, depending not least on Elena's handouts.
But their small flat, already cramped for the four of them, has a clutter that contrasts with the cold designed space of Elena's home, as do the more real feelings of the troubled family with her husband's cruel distance. Layabout son Sergei prefers the bottle to looking for gainful employment, while his wife is also stressed by the demands of a new baby and the moods of her unmotivated teenage son (whose bond with his father is closest when the two play computer games).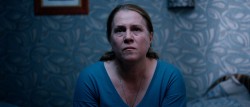 This sounds dysfunctional enough, but it's actually (depressingly) functional just as long as babushka's pension keeps coming through and nothing else rocks the boat - a kind of survival carried along, laboriously, by sheer female strength. Markina's face (pictured right) speaks volumes of her tired tenacity to hold out against whatever life throws at her.
But change is exactly what Elena has to deal with, first when her husband suffers a heart attack, and then achieves reconciliation of sorts with his estranged daughter, Nadya (Elena Lyadova, whose two main scenes capture brilliantly how her father's cold blood flows even more icily in her own veins). The previously submissive Elena has to act for the first time in her life, and the tension of her deciding to do so is agonizing to watch. Both character and film enter the world of noir.
There's an existential coldness here that's caught in icy blues and greys – how rare warm light is in the film – and it's the quality of the silences, or rather the noises of human life running through the silences (full credit to Andrei Dergachev's sound design) that stand out more than dialogue. The only music comes with recurring anxious snatches of Philip Glass that serve both to move action along, as well as raise tensions.
Zvyagintsev draws out certain elements, the couple's alienation from one another defined by the disembodied voices coming from their respective televisions. One scene has a hospital nurse going through the full motions of clearing the bed of a departed patient, suggesting that human life is but a state of managed transit; another shows groups of adolescents fighting one another in semi-darkness in the shadows of enormous power-station chimneys, as if it is a perpetual state of almost tribal conflict.
Paradoxical, then, that in his heroine, brilliantly depicted by Markina, Zvyagintsev has created his first fully empathetic character, more human than the (relative) ciphers of his first two films. She finally prevails, achieving a stability that won't last for long, we feel. Elena's strength, however, will.
Elena opens in limited release 26 October