Classical CDs Weekly: Nicola Benedetti, Liszt, Thierry Pécou |

reviews, news & interviews
Classical CDs Weekly: Nicola Benedetti, Liszt, Thierry Pécou
Classical CDs Weekly: Nicola Benedetti, Liszt, Thierry Pécou
Pungent, period-instrument readings of Liszt, percussive French modernism and the latest disc from a Scottish superstar
Saturday, 27 October 2012
Nicola Benedetti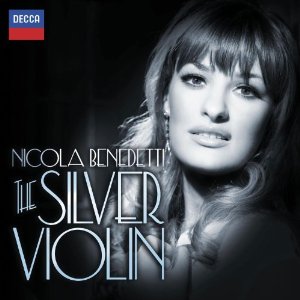 Nicola Benedetti: The Silver Violin (Decca)
Cheesy packaging and photos aside, Scottish violinist Nicola Benedetti's latest album has lots to commend it. This anthology of cinema-related music grew through Benedetti's love of Korngold's Violin Concerto, which she first heard in Heifetz's chromium-plated 1953 recording. Still dismissed by some as hokey schlock, it remains an endearing, compact piece, with Korngold's impossibly anachronistic style hard to dislike. This is a noirish, overripe score which reeks of Hollywood, never more than in the swashbuckling finale. Me, I'm always bowled over by the fortissimo horn fanfare which blasts out a few minutes before the end. Kirill Karabits and the Bournemouth Symphony provide full-blooded backing. Extracts from two Shostakovich film scores are indecently enjoyable, though you can sense that this composer was probably writing on autopilot.
Short pieces by Nigel Hess and Dario Marianelli (from Ladies in Lavender and Jane Eyre respectively) are pleasing fluff. More impressive are Howard Shore's cimbalom-flecked score to Cronenberg's Eastern Promises and John Williams's title theme to Schindler's List. The programme is fleshed out further with Mahler's youthful, Brahmsian Piano Quartet movement – used, unexpectedly, by Scorsese in Shutter Island. Two arias from Korngold's Die tote Stadt feel more appropriate, both superbly played.
Liszt: Symphonic Poems Orchester Wiener Akademie/Martin Haselböck (NCA)
Go straight to the Héroïde funèbre and you'll wonder where this music has been hiding. Liszt's sequence of symphonic poems has fallen into sorry neglect, and this swaggering, funereal work is a fine place to start. In the composer's words, "the tears that grief brings forth become always the same bitter flood… reproducing its own despair with immutable monotony." This could almost be an early sketch by Mahler, sounding all the more startling through Liszt's bold use of orchestral percussion – gong and tubular bells vividly projected in Martin Haselböck's period-instrument performance. These players produce colours bold and pungent enough to make you forget the music's shortcomings – what could sound like aimless romantic gloop feels taut, vibrant.
The lengthiest work on this disc, Die Ideale doesn't quite contain enough memorable material for 29 minutes – Liszt's themes aren't etched boldly enough, and there's only so much tortuous, chromatic development these melodies can take. Far more impressive is the Goethe-inspired Tasso, Lamento e trionfo and the separate epilogue composed some years later. All well worth hearing – beautifully recorded, well-annotated, historically important music. And the Wiener Akademie produce thrilling, lean sonorities which make one long to hear them in other late-romantic repertoire.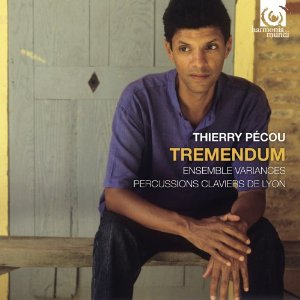 Thierry Pécou: Tremendum Ensemble Variances, Percussions Claviers de Lyon (Harmonia Mundi)
Born in 1965, French composer Thierry Pécou delights in music which is jagged, ritualistic – he dreams of "making the whole world resonate." And this encapsulates exactly what's so startling about several of the pieces collected on this second Harmonia Mundi anthology – they don't sound composed at all, more like field recordings collected by an intrepid ethnomusicologist. Conventional instruments are pushed to the limits of their technique, often seemingly mimicking speech inflections – cello, bass flute and bass clarinet bicker in Manoa, at one point combining in a series of dance-like gestures before going their separate ways. L'Arbre aux Fleurs was inspired by Pécou's fondness for Mexican marimba music, occasionally recreated with affectionate accuracy, at other times sloping off in unexpected directions. Steve Reich's music comes to mind at several points, and this perfomance by the Percussions Claviers de Lyon is stunning. Marimba players in search of quirky new repertoire need look no further.
The same musicians dominate a recast version of Pécou's piano concerto Tremendum, the orchestral forces replaced by flute, saxophone, violin and percussion. Pécou himself takes the muscular solo part, so boldly that you start to fear for the instrument's survival. Paseo de la Reforma is a witty transcription of a song composed by the Mexican guitarist Guillermo Diego, and the disc also includes a brief, witty Danzón for flute, where soloist Anne Cartel's clicks and foot stamps are as much a part of the music as the notes.
These players produce colours bold and pungent enough to make you forget the music's shortcomings – what could sound like aimless romantic gloop feels taut, vibrant
Explore topics
Share this article