Misfits, Series 4, E4 |

reviews, news & interviews
Misfits, Series 4, E4
Misfits, Series 4, E4
A fourth series sees a badger cull of probationers with special powers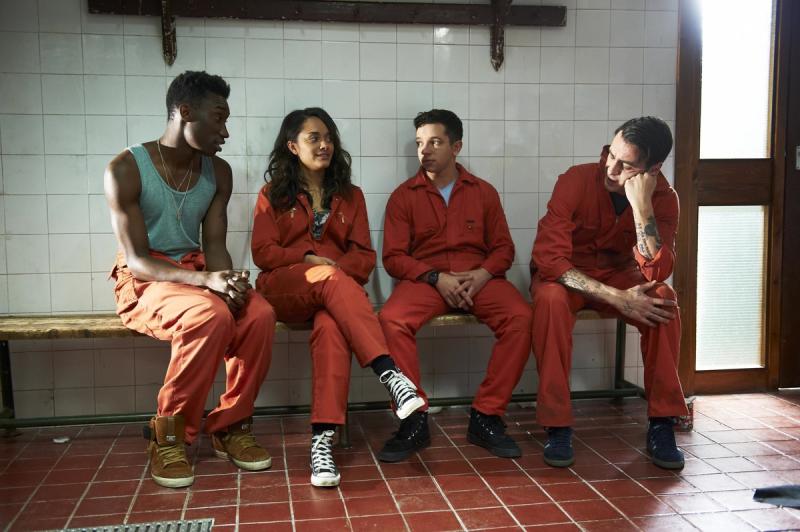 Karla Crome and Nathan McMullen don the orange overalls for series 4 of 'Misfits'
Is Misfits now a misfit on E4? When it first announced itself three years ago, the series about probationers with sci-fi superpowers straddled the bridge between the WTF generation and the can-do ethos of the comic strip. It was quite a lot of fun, even for those outside the target demographic. As is natural with any series targeted at a youth audience, success breeds the one thing that no cult series wants: staff turnover.
When the departure of Robert Sheehan could no longer be avoided, a special online edition lasting all of eight minutes was broadcast to explain his forchcoming absence. The third series proceeded with a new character in the form of Joseph Gilgun's Rudy, whose (not very) special power is to be two-faced. Misfits now returns for a fourth series with another three regulars MIA. To lose one actor might be considered a misfortune. To lose two looks like carelessness. Lady Bracknell didn't consider the implications of mislaying 60 percent of the lead cast.
Only Nathan Stewart-Jarrett remains as Curtis, and he must be wondering if he's emitting some kind of pong. He certainly spent some of this first episode in a fridge-freezer. Not switching gender even once, from the evidence of the first episode of the fourth series he has ceded the lead role to Gilgun's yin/yang Rudy, who has huge fun with the whole notion of untrustworthiness, while Matthew McNulty has traded up from regular guest to full-time. Recruits have arrived in the his'n'hers forms of two nippers, Karla Crome as Jess and Nathan McMullen as Finn. Quite what Jess and Finn can do by way of special powers remains something of a mystery after last night's first episode. Jess can apparently hear what's going on inside the heads of other characters, while Finn, an amiable Scouser, has rudimentary powers in the field of telekinesis. You wish he'd deployed his superpower to move this first plot on a bit. It involved the attempts by all five to get their mitts on a money-stuffed briefcase locked to the wrist of a greedy fugitive. Limbs were sawn off, testicles removed - the usual malarkey.)
For all its postmodern allusions to unreliable narrators and hall-of-mirrors storytelling, Misfits is basically kids' TV which at this advanced stage of its development doesn't seem to have matured past its fascination with pissing and wanking and other such. Two male leads were found to be taking advantage of themselves in this episode, while the newbies were required to relieve themselves in a very confined space. "We just want to go home and watch Countdown!" hollered the Finn. Actually that's not a bad idea. It may be time for Howard Overman's orange-overalled superheroes to be let back into the community.