The Stefan Golaszewski Plays, Bush Theatre |

reviews, news & interviews
The Stefan Golaszewski Plays, Bush Theatre
The Stefan Golaszewski Plays, Bush Theatre
Love hurts in a comedian's double drama bill
Saturday, 05 December 2009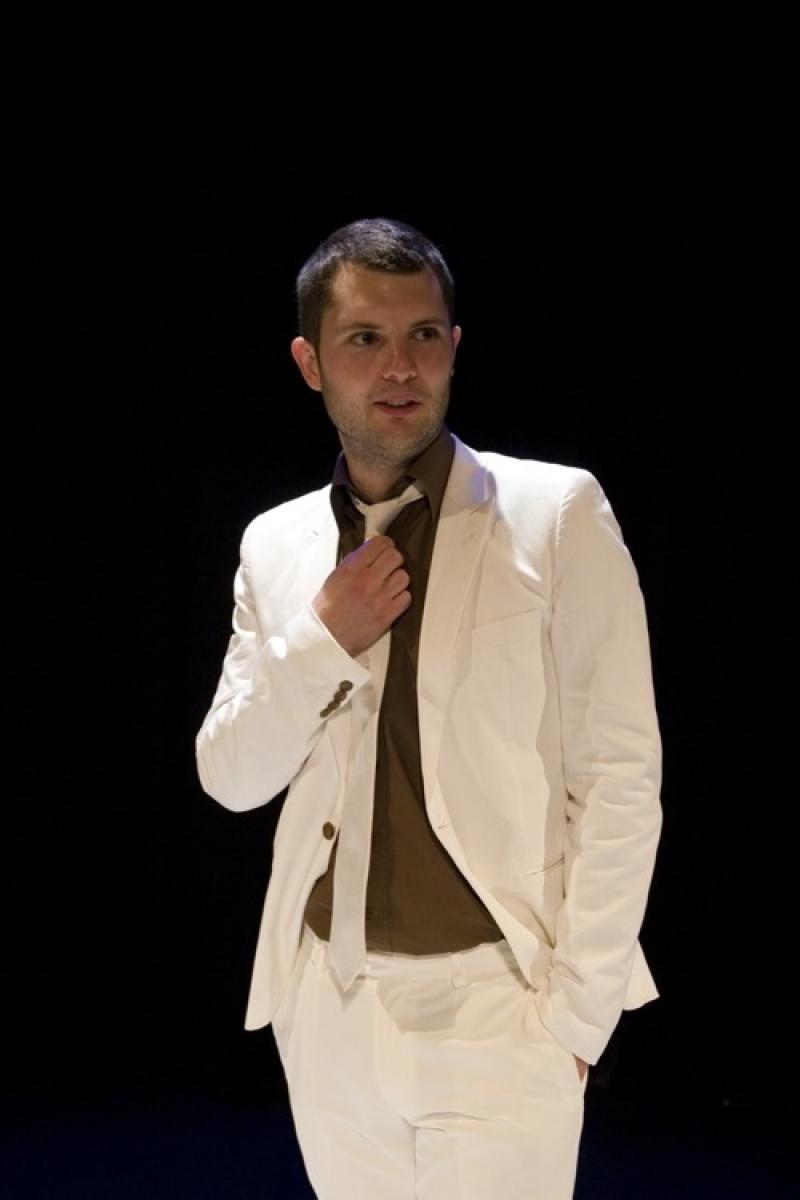 Agony and ecstasy: Stefan Golaszewski
Passion, pain and loss: they are companions in life more faithful than many a lover. This duo of solo dramas by Stefan Golaszewski, which opened last night in London after success in Edinburgh, turns its perceptive gaze upon them through the eyes of both eager youth and desolate old age. Poignantly, true emotional maturity remains elusive.
In the first piece, titled with apt adolescent awkwardness Stefan Golaszewski Speaks About a Girl He Once Loved, it is 1999 and Stefan is an 18-year-old gap-year student doing work experience backstage at The Lion King. He's hanging out in a pub with his mates, admiring the ample bosom of the barmaid, cracking weak jokes and inwardly wishing that he wasn't such a dweeb, when in walks Betty, straight out of his wildest, wettest dreams – and his world implodes. Fast-forward to 2054, and in Stefan Golaszewski is a Widower we find him at 76, a former star of unstoppable soap The Bill, now retired and alone after the death of his beloved wife.
Golaszewski is a member of the comedy sketch group Cowards, and, in Phillip Breen's absorbing production, his dissection of the heart-stopping hurly burly of amorous encounters is sharply funny: anxious fumblings and conversational cul-de-sacs, the clumsy, squelchy struggle towards sexual ecstasy, the fetishising of some tic or bodily blemish whose beauty is perceptible only to the utterly smitten. There's a skewed romanticism to even his most offbeat imagery: getting steamy in a park at night with Betty, he says, "I lay into her neck like it's a corn-on-the-cob"; and, gliding through the bar, she's "cool, and clear, and sleek as a duck". But the stream of initially tender reminiscence is gradually poisoned by revelations of long-nursed resentments, betrayals, grief and disappointment. And a quiet terror bubbles beneath the words of Stefans young and old.
The psychological acuity of the writing lies not just in its unflinching depiction of desire and dependency, but in its recognition of the fact that our longing for another person is as much about how we see ourselves as about how we see them. As he stares at Betty from across the pub, Stefan sees her as "an ajar door" – connection with this creature who, he says, looks "exactly like women do in films and magazines" is an opportunity that he imagines could change his whole existence, transforming the geeky boy in a cardigan and bad shoes into someone shiny and new, someone worthy of the attentions of such a goddess. The relationship is so heavily freighted with expectation that it's unlikely it could survive, even if circumstances were not to conspire against it.
The second play feels less assured. It's repetitive, and its references to a hi-tech future world are contrived. But it still engages, as its picture of domestic bliss is dismantled piece by piece just as it begins to seem too soft-focus. The obsessive tendencies hinted at in the teenage Stefan have hardened into dangerous appetite for control. He patronisingly calls his wife Pudding and broods about her ex-boyfriends. They lose their child to cot death, and their marriage never recovers. After she dies of cancer, the sterile hospital linen a grotesque echo of her white wedding gown, he bitchily confides that he never considered her his intellectual equal.
A cleverly employed theatricality lends visual interest and speaks for Stefan when words fail him. When Betty tells Stefan her name, he's momentarily disappointed that it's not something more glamorous; nevertheless it lights up, spelt out in ironic pink neon, above his head. When she asks him if she can kiss him, he produces a bulging suitcase, which bursts open to release a blizzard of paper slips emblazoned with the word YES! And after the loss of their baby, older Stefan attempts to bury Pudding's grief in pointless gifts, which he flings on to the stage with alarming, desperate aggression. It's a gesture that eloquently conveys helpless emotional dislocation. Come to these plays and watch Golaszewski tantalisingly inflate the bright bubble of happy-ever-after; then prepare to see it pricked.
Explore topics
Share this article