Prince Harry: Frontline Afghanistan, BBC Three |

reviews, news & interviews
Prince Harry: Frontline Afghanistan, BBC Three
Prince Harry: Frontline Afghanistan, BBC Three
The third in line to the throne seeks security in a war zone and anonymity on the yoof channel
Prince Harry running away from the media spotlight
The television channels have been making documentaries about our boys, and indeed girls, in Afghanistan for the best part of a decade. We're used by now to the imagery, which mainly consists of dust, joshing, weaponry and boredom. Prince Harry: Frontline Afghanistan was an occasion to stir an extra ingredient into the brew: dust, joshing, weaponry and boredom, plus a chap who when he loses at strip poker makes the front page of every newspaper in the western world.
For reasons which won't need much unpacking, the channel which normally brings you things called Sun, Sex and Suspicious Parents and Crazy for Party Drugs got the nod for this one. Anyone sitting down to watch will have known roughly what was coming, partly because all the bits about Harry's unmade bed and his big chopper and his views on the media flooded the news bulletins last week. The headline story has long since launched another thousand shock block capitals: serving officer of British army euphemistically admits to taking the odd pop at the enemy.
A blow-dried royal biographer was on hand to explain how depressed Harry was
There was more detail on this. The cannon under his Apache, for example, swivels when Harry moves his head (pictured below), a technique not yet developed by games manufacturers. The gun, presenter Richard Bacon noted excitably, is lethal. "Harry won't hesitate to pull the trigger," he added with a tug of the forelock. There were some shots of shooting as if to give one an idea of what this might look like. "We fire when we have to," elucidated Captain Wales.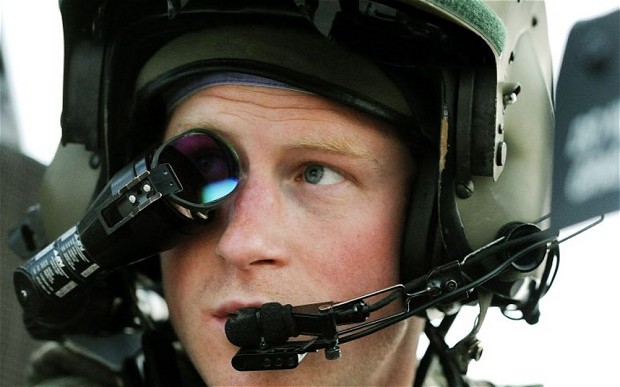 No doubt with heavy-duty editorial steering from the Palace, Bacon spun the story of an ordinary bloke who likes to be one of the guys. For Harry it's all about the guys. The guys in the cookhouse. The guys on the ground. The guys. As opposed to "you guys" meaning anyone with press accreditation. He achieves normality mainly by playing Fifa and making tea for the guys when he loses and having a television crew follow him around at work. "It's very easy to forget who I am when I'm in the army," he explained. His namesake put it better on St Crispin's Day but we'll let that go. From this evidence it seems more likely that, away from the trappings, the trimmings and the smiling for the cameras his mother was being driven away from when she was killed, the army allows him to explore precisely who he is. Being shot at will do that for a guy. In one dramatic moment he suddenly sprang up in mid-interview and hared off to his helicopter. He probably wants to leg it every time he sees a bank of cameras too.
The third in line to the throne had one message delivered directly to the camera. It concerned the complex technical ergonomics of achieving comfort in the course of a three-hour airborne mission. The prince talked pragmatically of his troubled track record grappling with the whole area - perhaps because he's what the army carefully terms a "non-grad" (ie thick) - before paying tribute to the relevant manufacturers. "Thank you," he suggested, "for the amazing pissbags."
A bit of back story got lobbed into the pot – Harry's trauma when he wasn't allowed to go to Iraq, and had to be pulled out of Afghanistan in 2008, not to mention the thing that happened in Vegas but didn't stay in Vegas. A blow-dried royal biographer called Katie something was on hand to explain how depressed Harry was about all the above. You can bet your bottom dollar she's reached her diagnosis from the other side of the VIP rope. What there really wasn't for the regular BBC Three viewer was any hint of an explanation of why the British Army and by extension NATO are in Afghanistan. But then half the army probably couldn't tell you either.
Subscribe to theartsdesk.com
Thank you for continuing to read our work on theartsdesk.com. For unlimited access to every article in its entirety, including our archive of more than 10,000 pieces, we're asking for £3.95 per month or £30 per year. We feel it's a very good deal, and hope you do too.
To take an annual subscription now simply click here.
And if you're looking for that extra gift for a friend or family member, why not treat them to a theartsdesk.com gift subscription?