Diana, Our Mother: Her Life and Legacy, ITV review – intimate revelations from William and Harry |

reviews, news & interviews
Diana, Our Mother: Her Life and Legacy, ITV review – intimate revelations from William and Harry
Diana, Our Mother: Her Life and Legacy, ITV review – intimate revelations from William and Harry
The Princess's death still casts a painful shadow 20 years later
Princes Harry and William delve into the family scrapbooks
The death of Princess Diana 20 years ago had an extraordinary emotional effect on millions of people who had never met her, so what on earth must it have felt like for her two young sons? Prince Harry, aged 12 when his mother died, reflected on that in this much-anticipated programme. He recalled how, as he watched the mourning crowds outside Kensington Palace, he'd wondered: "How are these people showing more emotion than I am feeling?"
Harry and his older brother William decided that the 20th anniversary of that shocking event would be the moment for them do once-and-for-all interviews about their mother, since, as Harry put it, "it was all a little bit too raw up until this point." If some parts of producer/director Ashley Gething's ITV film were little more than routine hagiography, the interviews with the boys were well worth the price of admission.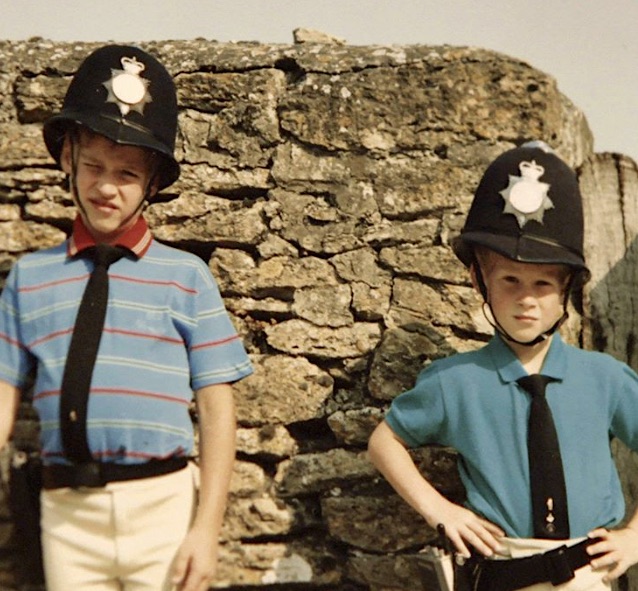 Being two-and-a-bit years older than Harry, William seems to have found it easier – though not less painful – to come to terms with what happened. "She set us up really well," he said. "She gave us the right tools and prepared us well for life in the best way she could."
As for Harry, he admitted that "I was so young, I grew up thinking not having a mum was normal," and he dealt with his feelings by locking them out. Recently, he revealed that he'd sought therapy (at William's suggestion) to help him deal with his delayed-action unprocessed grief.
It seems to have worked, because he came across here as relaxed and good-humoured. He told some comical anecdotes about Diana, such as how she would smuggle sweets to the lads at school and made them dress up in "the most bizarre outfits" (the boys as policemen, above). "Our mother was a total kid through and through... She was one of the naughtiest parents." And what's more, "she was the best mum in the world."
William, perhaps mindful of his place higher up the batting order of the accession, was thoughtful, serious, and offered us a glimpse of barely-suppressed fury at some of the treatment handed out to his mother. In particular, he had the media in his sights, which is hardly surprising since Diana might well be considered to have suffered death by paparazzi.
The film didn't go into the ghastly events of her last night in Paris, when she was hounded by photographers on mopeds, but we saw some footage of Diana and the boys on a skiing holiday in Austria, where the media pack followed them around in a frenzy, shouting questions and shoving lenses in Diana's face.
"People would be utterly appalled if they knew exactly what went on," said William. "I think it [the press] was an industry that lost its way… lost its sense of decency… lost its perspective on what was appropriate. I don't believe being chased by 30 guys on motorbikes who block your path, who spit at you, who shout at you… and make a woman cry in public to get the photographs, I don't believe that is appropriate."
He must have been waiting to say that for a long time. For all that the film went on to heap praise on Diana's good works with homeless people and Aids sufferers and her successful campaign to eliminate the murderous scourge of land-mines, these were obviously scars that no amount of time will ever heal.
Other contributors to the film included Diana's brother Charles Spencer, a chap called Harry Herbert, Lady Carolyn Warren, royal photographer Jayne Fincher and William van Straubenzee, plus a little touch of Sir Elton. Frankly none of them was very interesting. Much more interesting was Prince Charles's role – there was no sign of him whatsoever. What are we to make of that?