The Cave |

reviews, news & interviews
The Cave
The Cave
Two legendary adventure game writers team up to deliver laughs and puzzles but little more
'The Game': strange contraptions, simple puzzles and a twisted sense of humour
They were there at the beginning of video games, now it seems adventure games are back. After all, with so many mainstream releases reducible to running down a corridor shooting, it's hardly surprising there's an audience for a more interactive alternative.
The Cave is a side-scrolling adventure game from two maestros of the point-and-click Lucas classics of the Nineties. Ron "Monkey Island" Gilbert and Tim "Grim Fandango" Schafer. Their names together on a bill mean so much to fans of the genre that their next title, codenamed Double Fine Adventure, has been Kickstarted to the record-breaking tune of nearly $3.5 million (on a goal of $400,000).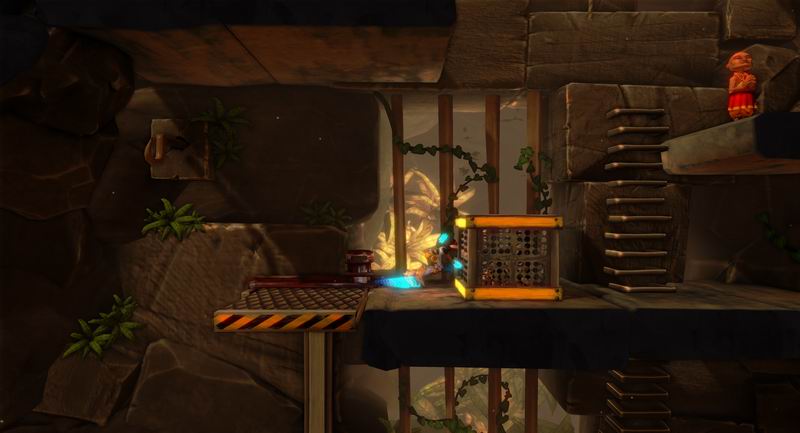 On the basis of The Cave, Gilbert and Schaffer have some work to do to keep the 87,000+ backers for Double Fine Adventure happy. That's not to say the story of seven people finding their darkest desires in a talking cave is a flop – it just frustratingly falls from near greatness at times.
With caves that narrate, grog vending machines and murderous monks, The Cave certainly showcases Gilbert's twisted sense of humour. Like his old Monkey Island games, it may well make you laugh – a rare thing among normally po-faced video games – and there's also a lot to like in the game play. You pick three characters, each with their own special abilities and each with their own special section of the game. You can play cooperatively with friends, or swap to each character, controlling all of them in turn on your own.
Play is a mix of jumping around the environment and solving puzzles with items. For instance, filling a bucket of water to douse lit dynamite sticks being thrown at you, in order to use the dynamite elsewhere. The learning curve of these object puzzles is gentle – and you're never left chewing on one for hours without the solution popping into your head. But there's perhaps too little in the way of more complex action for fans of the genre (or even just about anyone with reasonable puzzle-solving skills).
There's also, simply put, too little game play in general. For its £10 price, would it have killed The Cave's creators to add two more characters? At present, you can replay the game twice with entirely different parties. But the third time, you can only access one new character. It would almost have been better to restrict your choice to six characters.
The worst charge to level against The Cave, however, is that its modern rivals have done much more with the genre. Heavy Rain, Telltale's The Walking Dead episodes and even the graphically retro One Chance all offer real moral quandaries, complex characterisation and a chance to dramatically influence outcomes. The Cave, in comparison, offers some nice puzzles and a few laughs.
The Cave is out now. Developed by Double Fine and published by Sega. Platform: Linux, Mac, PC, PS3, Wii U, Xbox 360