La Voix Humaine/Dido and Aeneas, Opera North |

reviews, news & interviews
La Voix Humaine/Dido and Aeneas, Opera North
La Voix Humaine/Dido and Aeneas, Opera North
Poulenc and Purcell make for an enjoyable if uneven coupling
Sharpened acting skills: Lesley Garrett in 'La Voix Humaine'
"All we do is talk!" complains the unnamed protagonist in Poulenc's brilliantly concise one-act opera La Voix Humaine, a faithful setting from late on in the composer's career of Cocteau's 1930 play. Banter is what you don't get; the heroine's dialogue with her former lover is conducted via an unreliable landline. The audience hears only one side of the conversation.
It's a chilling, emotionally charged piece – though the latent naturalism is slightly undercut by the unseen presence of a full orchestra underscoring every move.
Poulenc's irrepressible warmth and melodic gifts are largely downplayed, though having the telephone's ringing suggested via a trilling xylophone is a witty touch. Poulenc saw the piece as autobiographical, and the edginess is disconcerting. This is a revelatory new production, the opera's poignancy and caustic humour brilliantly highlighted. Lesley Garrett's performance is good enough to silence any naysayers – time spent treading the boards in West End musicals has sharpened her acting skills and clarified her diction. She's wholly credible; trembling nervously at the start, chain-smoking and passing the receiver shakily from hand to hand.
What should be lucid and easy to follow becomes obtuse and slightly maddening
While director Aletta Collins's background as a choreographer ensures that all her characters move with conviction, it is especially telling with Garrett's simplest moves – pulling off her wig, stubbing out a cigarette. And her voice, though not enormous, is in good shape, only occasionally overwhelmed by Poulenc's sporadic louder tuttis. Garrett is at her best in the opening moments, Garrett successfully negotiating every twist and kink while never sounding forced. She sounds more hesitant and uneasy as the work proceeds, nicely mirroring her character's physical collapse. Only Collins's visual effects jar slightly. They're ingenious and deftly achieved, but add little, spelling out crudely what Cocteau and Poulenc achieve so subtly through words and music. Still, this is a welcome chance to savour a minor masterpiece from an underrated composer. But, at 40 minutes, what do you programme it with?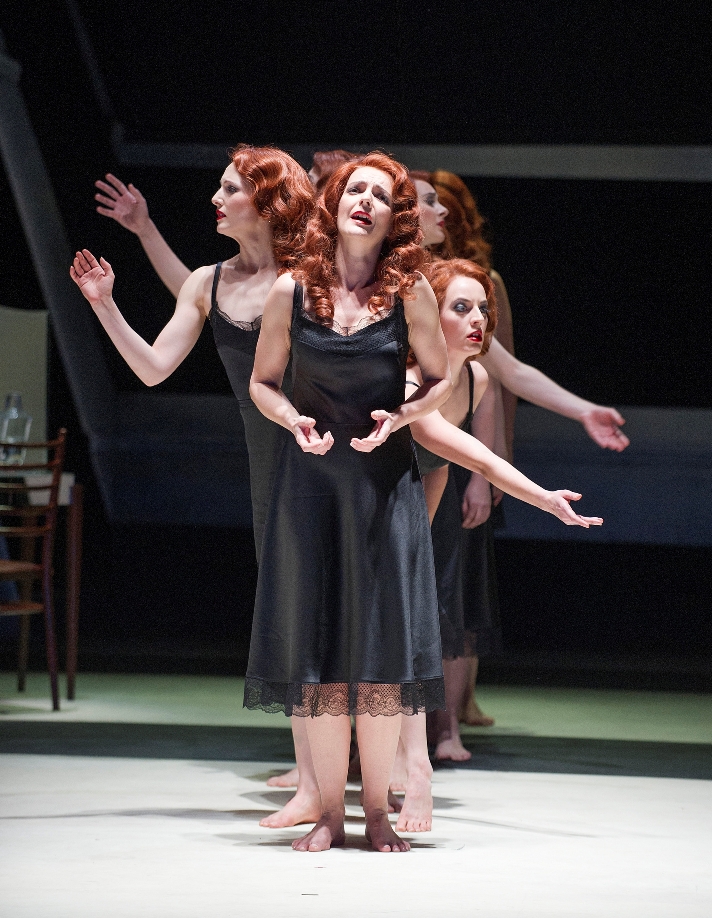 Opera North have chosen another one-acter featuring a forsaken heroine: Purcell's Dido and Aeneas. It sounds ravishing – lutes and theorbo in the orchestral pit producing bewitching sounds, while the chorus, as usual, is terrific. But Collins's direction left me baffled, if beguiled, with dancers acting as doubles for Dido and an overabundance of female cast members wearing thick red lipstick, identical ginger wigs and black nightdresses. What should be lucid and easy to follow becomes obtuse and slightly maddening. At certain points you feel you could be watching an oblique take on the video to Robert Palmer's "Addicted to Love."
And yet as a series of beautiful tableaux this Dido and Aeneas is mesmerising. The recycling of props, costumes and gestures from La Voix Humaine is cleverly done, and the set's clean, uncluttered lines provide an effective backdrop. Pamela Helen Stephen (pictured above right with dancers and witches) and Amy Freston as Dido and Belinda are flawless, though my favourite moment was Nicholas Watts's sweetly eloquent "Come away, fellow sailors". Wyn Davies conducts both works with affection. An uneven night, but an enjoyable one.
La Voix Humaine/Dido and Aeneas at Leeds Grand Theatre on 17, 19, 21 and 23 February then touring to Newcastle, Belfast, Salford Quays and Nottingham
Lesley Garrett's performance is good enough to silence any naysayers
rating
Explore topics
Share this article