Apollo/ New Ratmansky/ New Wheeldon, Royal Ballet |

reviews, news & interviews
Apollo/ New Ratmansky/ New Wheeldon, Royal Ballet
Apollo/ New Ratmansky/ New Wheeldon, Royal Ballet
Two world premieres by two celebrated choreographers tick familiar boxes, hey-ho
Saturday, 23 February 2013
Wheeldon's new Aeternum: the ensemble sculpture has an intriguing knotted inventiveness
Two world premieres in one night is almost more pressure than anyone can bear - choreographers, commissioning company or audience. Still more when the spotlit dancemakers are probably the two top Western names in the art, Alexei Ratmansky and Christopher Wheeldon. Everyone, but everyone, expects masterpieces.
The curse of Apollo strikes, however. That is Balanchine's Apollo, still as shockingly new and explicitly thrilling today as it was 85 years ago, and - as an opener on the triple bill - putting down a marker against which the premieres have to compete. A blessing on last night's opening cast, with Carlos Acosta as sumptuous as a lion in his pride, surrounded by his three lionesses, Marianela Nuñez, Olivia Cowley and Itziar Mendizabal.
Acosta treats the sun metaphor (which Apollo, the god of sun and art, embodies) as the warmth on his back, the light on his face. He thrusts his hands into the air palms up, collecting sunshine, beaming his elemental force back to us with wonderful, almost jazzy sensuousness. It's a terrific way to be Apollo - nothing grandiose or po-faced about this god, just heat, power and sex. (Below, Acosta as Apollo, Nuñez as Terpsichore)
But then follows the hissing sound of deflation. Both Wheeldon and Ratmansky are committed masters of classical ballet for today, each capable on occasion of creations of unique expressive imperativeness. Here, I sense on first view, both have produced work of expected skill, which feel as if they're fulfilling the commissioning company's expectations rather than either of them insisting on saying something keenly personal.
I wanted to be enjoying more than a balletic box of chocolates
One thing united the three works last night: the casual thrashing given to music as a component of ballet. The Apollo was played by the ROH strings under Barry Wordsworth as if sponging a wall with wet rags, rather than addressing the vibrant morning clarity of Stravinsky's music. That though can be fixed in later performances.
However, Ratmansky, the Bolshoi Ballet's inspiring and revitalising director from 2004 to 2008, has rot in his new ballet's foundations: he's saddled a drawing-room piece for four star couples with an orchestration of Chopin preludes that turns pellucid piano ephemera into cloying sludge, heavy on cellos, sucking at the ears in horrid un-Chopinesque noises. Meanwhile Wheeldon's heroic desire to choreograph Benjamin Britten in his centenary year alighted on the undanceable Sinfonia da Requiem. Choreographers, by laying dance over a fine piece of music, are accepting a challenge to add something that, once added, you won't want to not have. That's what the 25-year-old Balanchine did with Stravinsky's Apollo in 1928, and every step in it is blindingly assertive and unexpected, even today.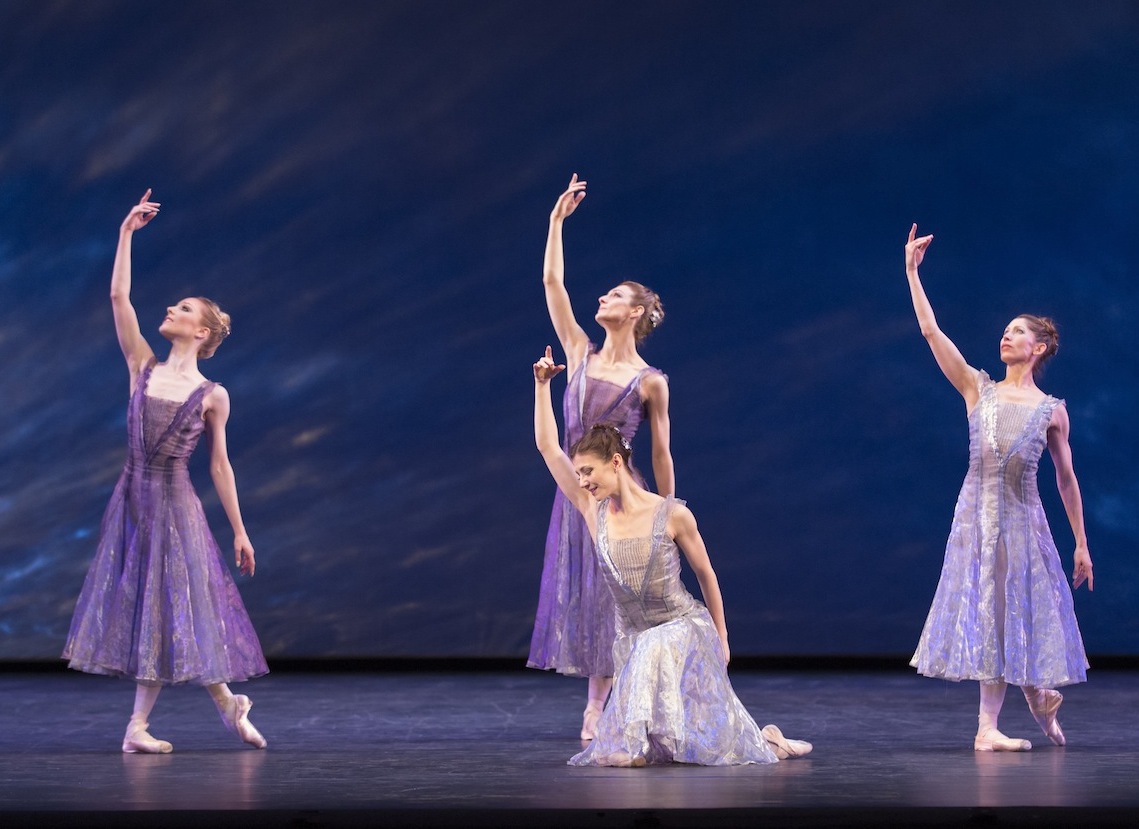 Above, Sarah Lamb, Zenaida Yanowsky, Leanne Benjamin and (front) Alina Cojocaru in 24 Preludes (© Johan Persson/ROH)
Emphatically it's not what Ratmansky has done - if anything the reverse. He should strip out the cloth-eared orchestration of his 24 Preludes and uncover a truer, wittier nature in it as a piano ballet. This has many skilful, even masterly virtues yet somehow it is inconsequential. Like Jerome Robbins's Chopin ballets, Dances at a Gathering or In the Night, it fits a certain genre in Royal Ballet repertoire for elegiac group loveplay, with four fleeting couples swapping in and out of partnerships for 40 minutes, rather longer than they strictly need to.
They are, as you expect with Ratmansky, individualised and expressive, and with an unforced, pleasing intimacy. Leanne Benjamin and Alina Cojocaru dance on together, like a pair of happy butterflies. Edward Watson sturms and drangs; Rupert Pennefather does the English gilded youth; Zenaida Yanowsky emotes plangently in a gorgeous solo. So Ratmansky acutely identifies all the fine dancers' familiar traits for the faithful. (Right, Valery Hristov)
But it should add up, shouldn't it, to something more than a leisurely gallery of amorously glamorous antics for the Royal Ballet's A-team? I wanted to be enjoying more than a balletic box of chocolates. Dump the orchestra, put a piano on stage, and maybe more will emerge.
Something of the same wariness of risk undercuts Wheeldon's Aeternum, a close cousin to his DGV for the Royal Ballet, with another eyewatering set by Jean-Marc Puissant against which the dance struggles to be noticed.
This time, instead of an exploding train, the set's an exploding bag of chips
This time, instead of an exploding train, it's a gigantic exploding bag of chips, which mesmerisingly flies upwards as the ballet progresses, unfolding into something like the dessicated ribs of a vast dinosaur skeleton. Meanwhile the flooring rises at its corners like a magic carpet preparing for launch, and only the latest Lamborghini model and a coloratura soprano are missing from the display stand.
This is all stridently unsympathetic to Britten's Sinfonia da Requiem, composed in World War Two with passionate sincerity and a fair bit of declamatoriness of its own.
Wheeldon says he intends to hallow the theme of death and resurrection without being specific, but against the bombastic set and hermetically sealed music, his semi-abstract inventiveness feels too noncommittal quite to move the heart or fire the nerves.
In contrast to the ensemble sculpture, some of which have an intriguing knotted inventiveness , the bonny Marianela Nuñez offers a more personal "story", starting with Nehemiah Kish as her beau (the two pictured left), and ending with Federico Bonelli, perhaps in an afterlife - you decide. The 18 dancers make gracefully stretched yet undistorted shapes and classical ballet feels freshly swept and deodorised. But considering the striking personality of some of his work in New York and San Francisco, even in Moscow too, I wonder when London is going to be taken by surprise by this talented, puzzling choreographer.
Listen to Britten's Sinfonia da Requiem, played by the Dresden Staatskapelle conducted by Rudolf Kempe:
Nothing grandiose or po-faced about Acosta's sungod - just heat, power and sex
rating
Share this article