Aladdin, Birmingham Royal Ballet, London Coliseum |

reviews, news & interviews
Aladdin, Birmingham Royal Ballet, London Coliseum
Aladdin, Birmingham Royal Ballet, London Coliseum
David Bintley doesn't make great claims for his family ballet, and none are needed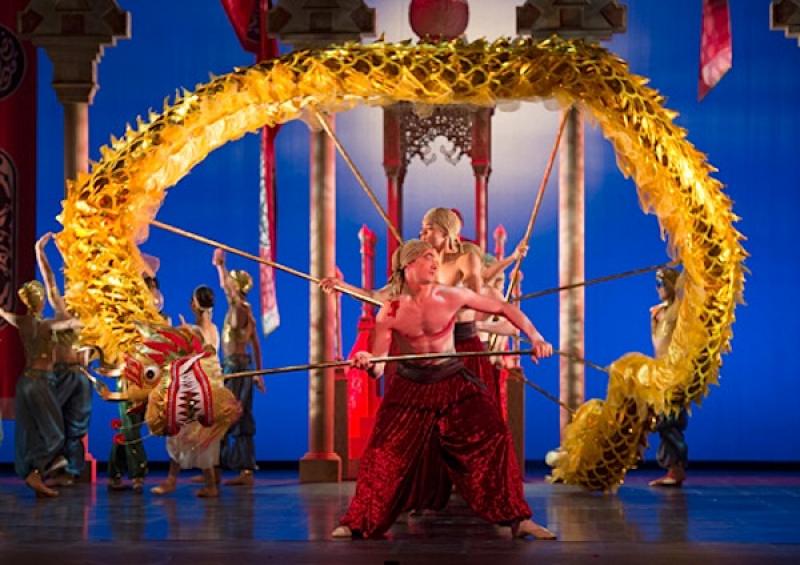 Diverting: The Chinese Dragon is one of the highlights of Bintley's Aladdin
"Possibly the least 'deep' ballet I've ever made" - these are the words that David Bintley uses to describe his latest full-length work Aladdin, and they make rather a discouraging start to any evening. "Light" isn't necessarily bad – work created in such a manner can often end up communicating something deeper come their unveiling.
Aladdin has been a long time coming, with the composer Carl Davis initially mentioning it to Bintley in 2006. The work was eventually created for the National Ballet of Japan in 2008, another reason (according to Bintley) for any obvious weaknesses the production might have: "working with an inexperienced company slows things down... the result is a ballet that does what it says on the tin".
It doesn't demand nearly enough from the capable dancers
Most people born post-1980 will probably relate Aladdin to the Disney franchise rather than it's more weighted (though questionable) literary origins, and Bintley has undoubtedly created a family ballet. Competing directly with Disney is a tricky one, as animation knows almost no boundaries; Dick Bird's sets can look too bare at times, yet certain scenes still have a wow factor: the cave of riches with its bone-like sprawling staircase and neon-esque stalactites/stalagmites is highly evocative. And the onstage running water of the bathhouse scene is a fine technical feat. Sue Blane's costume designs work well throughout, with the Diamond's geometric tutus in particular a stroke of brilliance.
Davis's score is a rich one, heavily reworked from the original 2001 version created for Scottish Ballet's Robert Cohan offering. It leans towards the generic by the end of the evening, but still has atmospheric melodies that conjure up the exotic geography of the locations, aided by the commendable playing of the Royal Ballet Sinfonia, conducted by Paul Murphy.
And what of the movement? Bintley is a vastly experienced choreographer, with a body of work ranging from short abstract pieces to full-length narrative heavies, and the overall production communicates fluidity – from the coordinated movement to the smooth linkage of the numerous scenes (minus a somewhat clunkier third act!). None of this is offensive, but it stays the wrong side of safe for almost the entire production, and doesn't demand nearly enough from the capable dancers. Of course there are leaps and turns aplenty, but this is the kind of thing a professional dancer can do with their eyes closed.
What's more rewarding for them – and, consequently, for us – is seeing an actual movement language develop. This doesn't materialise, but Aladdin offers many an attractive divergence to soften this blow; the Chinese Lion and Dragon dance are two visual highlights that linger post-performance. But lest we forget: divergence often highlights the weakness of movement when a stage is left bare bar the dancers.
All this considered, Bintley knows how to work a crowd or corps de ballet scene skilfully, punctuated with an ingenious use of canon, as well as fine Orientalist arm movements suggesting far off mysterious locales.
The company dance the work well with César Morales (pictured with Sakuma) seemingly born to play Aladdin – with his mischievous portrayal supported by a clear technical ease reading as very watchable. And Nao Sakuma did what she could with the weak Princess Badr al-Budur role, but never truly got to show the audience the divine dancing of which she is capable.
Other standouts were Natasha Oughtred's seductive Sapphire, Ambra Vallo and Tyrone Singleton's crowd-pleasing/death-defying Rubies duet, and Céline Gittens's technically dazzling Diamond from the cave's jewel-based divertissements.
The work isn't a flop – but equally it isn't the hit it could have been. And considering that Birmingham Royal Ballet have the massive responsibility of defining future audiences outside London, a rethink of the commercial-v-innovation balance may be needed in order to safeguard the general public's education about ballet.
This isn't a flop – but equally it isn't the hit it could have been
rating
Explore topics
Share this article