The Book of Mormon, Prince of Wales Theatre |

reviews, news & interviews
The Book of Mormon, Prince of Wales Theatre
The Book of Mormon, Prince of Wales Theatre
The dirty-talking, big-hearted musical from the talents behind 'South Park' is satirical heaven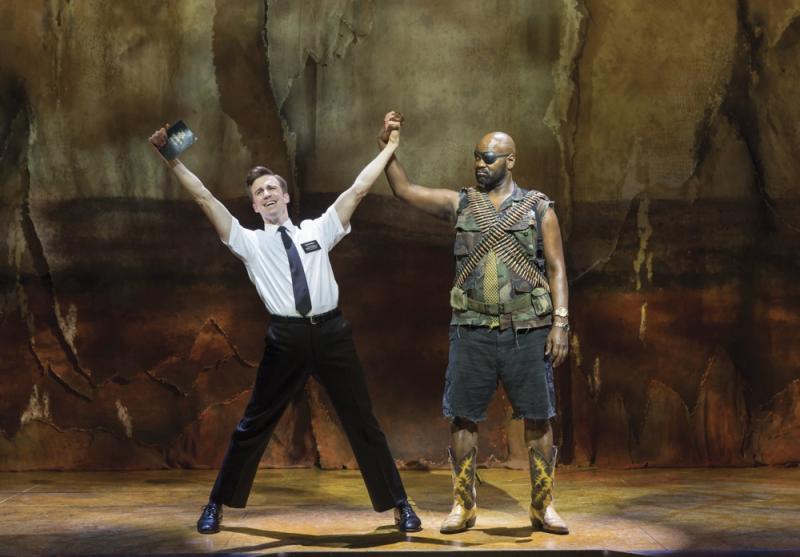 Brotherly love: Gavin Creel as Elder Price and Chris Jarman as General Butt-Fucking-Naked
It's one of the most anticipated theatrical openings of the year, with tickets allegedly changing hands for astronomical sums and some pundits rushing to issue dire warnings of the depths of its lewdness and its shattering shock factor well before its official first night. So can this musical by Robert Lopez and the incorrigible South Park creators Matt Stone and Trey Parker possibly live up the hype?
The answer – rather like the existence (or not) of some supreme guiding deity – depends on your point of view.
Is it fun (or, as those clean-cut Mormon boys with their ultra-white shirts, ultra-white teeth and neat black ties would have it, super-fun)? Hell, yes. Is it shocking? Not really; not, at least, to anyone who's already made the acquaintance of Mr Hankey the Christmas Poo (the festive hero who only visits good children with plenty of fibre in their diet), Ms Choksondik (the unfortunately named bra-less teacher), or Nurse Gollum (the school nurse with the dead foetus of her conjoined twin attached to her head) – or indeed any of the scores of other lurid grotesques that people the Colorado home of South Park chums Stan, Kyle, Kenny and Cartman.
Grief, rage, lust (especially gay lust) – all are battened down in a routine of dazzling choreography
Admittedly, there's plenty of swearing, and some of the show's savagery might make viewers wince. But there's always been sound political and moral sense behind Stone and Parker's work, even at its most scatological. So it proves here; if there's anything really startling about the show, ultimately it is its generosity and sweetness, and the ability of the production by Casey Nicholaw and Trey Parker – which, two years after it opened, is still packing 'em in on Broadway – to switch in a twinkling between ribald hilarity and touching sentiment.
We begin our quest with a fabulous fugue of doorbells as fledgling Mormon missionaries practise their door-stepping technique of spreading the holy word. Scott Pask's knowingly garish designs offer a religious monstrosity of stained glass and overblown architecture, offset by the golden arches of McDonalds and the proud frontage of a Wal-Mart peaking through the verdant trees. The eager zealots are about to be sent on their first mission; one odd-couple pairing, smooth, beefcake Elder Price (Gavin Creel) and short, plump, frizzy-haired bumbler Elder Cunningham (Jared Gertner, pictured below right) luck out: they're off to Uganda for two years. "Cool!" yells Cunningham with puppyish enthusiasm. "Where is that?"
Convinced that Africa will be just like The Lion King, our hapless heroes are alarmed to discover that instead they've been charged with converting the inhabitants of an Aids-riddled, famine-stricken hellhole under the thumb of a psychotic warlord, General Butt-Fucking-Naked. Only one bright-eyed young villager, Nabalungi (an irresistible Alexia Khadime) is willing to listen, as she's dreamt since childhood of escape to a faraway paradise called "Sal Tlay Ka Siti". This is going to be a tougher gig than they ever could have dreamed.
There are two stand-out numbers whose particular punch leaves you reeling, winded and wheezing with laughter. The first is "Hasa Diga Eebowai", a ditty that shamelessly lampoons The Lion King's "Hakuna Matata" and the cheery, sanitised, Disneyfied notion of Africa that goes with it. The title, the Elders are told to their horror after they have obligingly joined in with a few refrains, means "Fuck you, God" – and the chorus builds to a lusty cry of "Fuck you, God, in the ass, mouth and cunt." Far from just potty-mouthed puerility, this comical spectacle is undercut by anger – against poverty, the rape of babies by the Aids-afflicted who superstitiously imagine it will cure them, against female circumcision. "If you don't like what we say/Try living here a couple days/ Watch all your friends and family die/Hasa diga eebowai".
The second such number is "Turn It Off", in which the Mormon missionaries exchange tips on how to repress their emotions, just like flicking a light switch. Grief, rage, lust (especially gay lust) – all are battened down in a routine of dazzlingly witty choreography by Nicholaw that explodes into exuberant tap and gives one repressed homosexual Mormon a chance to flaunt some camp attitude to brilliantly funny effect before swiftly returning to his safely buttoned-up norm.
But if these are highlights, there's much else to enjoy in a show performed with joyous gusto that, musically and dramatically, spoofs classic shows such as Annie and The King and I with skill and deep affection. And, in mixing characters from Star Trek and The Lord of the Rings in among Mormon iconography thanks to the garbled teachings of Elder Cunningham, it suggests that in faith as in life, it doesn't matter whether the stories we tell ourselves are silly or not, if they result in happier human beings. Some might argue that that's a big if; but it's difficult to disagree with a show that leaves you feeling so good, it should get even atheists singing "Hallelujah!"
Convinced that Africa will be just like 'The Lion King', our hapless heroes discover that instead they've been charged with converting the inhabitants of an Aids-riddled hellhole
rating
Share this article