Classical Music CDs Round-Up 3 |

reviews, news & interviews
Classical Music CDs Round-Up 3
Classical Music CDs Round-Up 3
The pick of the latest Classical CDs
Our pick of the latest Classical CDs ranges from Tchaikovsky's first and final symphonies to Greek-themed songs by Schubert, by way of late Stravinsky ballets, rare Roussel, a complete Sibelius cycle, cross-over music for recorder and a Superman Symphony. Our reviewers this month are Edward Seckerson, Graham Rickson and Ismene Brown.

CD of the Month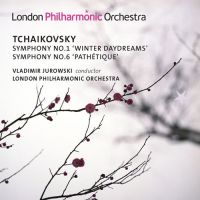 Tchaikovsky: Symphonies No.1 "Winter Daydreams" & No.6 "Pathétique", London Philharmonic Orchestra/Vladimir Jurowski (LPO)
by Edward Seckerson
Exceptional performances from opposite ends of Tchaikovsky's symphonic canon – and the secret of Jurowski's success lies with his respect for the composer's prowess as a die-hard classicist. The First Symphony is fresher for its pristine counterpoint, the Sixth the more cathartic for being so "contained".
The winter wonderland of Symphony No.1 is instantly invoked in the ring of folkloric woodwinds breaking the frosty shimmer of oscillating strings. Immediately Jurowski is honouring the luminosity of Tchaikovsky's scoring. There's airiness and transparency and, when pizzicati occur, it's like the snap and crackle of icicles. The lyric second subject is winningly phrased and radiates good will when taken up in the strings and, once the development kicks in, it's all about the keenness and rhythmic impulse generated in the counterpoint. The outer movements rejoice in it.
But the glory of this symphony is the slow movement. A rosy light descends and just the way in which Jurowski softly "places" the somnolent chord in string basses near the start of the introduction has us sinking back into a warm nostalgia. Then in comes the tune – fondly remembered – and nothing could be purer or more homespun than the plaintive sound of the oboe with its luminous flute counterpoint. But the real wonder here is the way in which Tchaikovsky and Jurowski present this simple tune in the different lights of an ever-shifting orchestral landscape. And, when it finally achieves its radiant transfiguration in horns and tremolando strings, it's as if the homely has become unashamedly and immodestly universal.
The Sixth, of course, is – both intensely private and painfully public. But Tchaikovsky placed strict classical constraints on his soulful confessional and it is that which Jurowski so triumphantly regulates. An enormous emotional and dynamic range is contained within this imposing superstructure – as witness, for starters, the descent and seamless handover from clarinet to bass clarinet in the calm before the development storm. This is tremendous, the furies really possessing the LPO strings, the huge sostenuto at the climax truly heart-stopping with blacker-than-black trombones reminding us that everything about this symphony is predictive of the long descent into nothingness. Never did Tchaikovsky write so many falling scales.
Both the inner movements are tainted by the tragedy, the elegance of the waltz-like second movement subverted by the five in a bar, the splendour of the third movement march darkened by the remorseless undercurrent. Jurowski pulls neither the tempo (a brisk, ugly goosestep) nor his punches. And, though the last movement's adagio lamentoso achieves a painfully high level of intensity, still it sings – right up until the disintegration of that final climax and the final tolling of the tam-tam.
A tremendous disc, superbly recorded – all the frisson of live performances but none of the technical disadvantages. Buy Jurowski's Tchaikovsky Symphonies on Amazon
Other new releases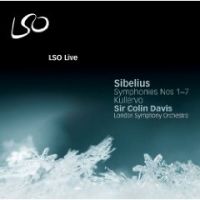 Sibelius: Symphonies 1–7 & Kullervo, Peter Mattei (baritone), Monica Groop (mezzo), London Symphony Orchestra & Chorus/Sir Colin Davis (LSO Live)
by Graham Rickson
I first came to know and love these works through listening to Colin Davis's 1970s Boston cycle nearly 30 years ago. It has been fascinating to hear the whole sequence again; what one notices more and more are the points of similarity between the early and late works. Those later symphonies are particularly successful here: the close of the Sixth is haunting, and the manner in which the Fifth Symphony's scherzo gathers pace after that incredible first-movement climax is beautifully achieved – you really cannot tell how the tempo has shifted from slow to fast. Symphonies 3 and 4 are similarly successful – the lead-back to the first-movement recapitulation in No.3 is as exciting as it was in 1970s Boston and the finale ends with a blaze of burnished brass.
I wasn't sure about Davis's use of tubular bells in the finale of the Fourth Symphony, but the sense of desperation giving way to resigned desolation is all-powerful. The slow movement is pitch-black. The single-movement Seventh Symphony of 1924 has a stark, rugged power and you really hear echoes of earlier works – those swirling chromatic wind and string lines are prefigured in the development of the First Symphony's opening movement. And the very end of the work – is it a positive, hard-won Amen at the close of a stressful creative life or the gruff shutting of a door and turning off of the light? Whichever, it is hard to imagine what the Eighth Symphony would have sounded like. The first two symphonies are similarly well despatched: Davis's approach is warm and expansive, aided by nicely weighty LSO strings.
The fourth disc contains a thrilling account of the early Kullervo – a rambling five-movement programmatic symphony that hangs together well here, with excellent solo and choral contributions in the third and fifth movements. LSO Live's recorded sound is very good – I have never found the Barbican acoustic too dry, and I love the detail – all those chugging string ostinati and chattering winds sing out. Sir Colin's grunting and singing occasionally intrude, but never to distraction. What more persuasion do you need? At its remarkable price, in a well-presented box with excellent booklet notes, this set is a steal, and if you think you haven't "got" Sibelius yet, these performances might convert you. Buy Colin Davis's Sibelius Symphonies on Amazon
Roussel: Symphony No.1 etc., Royal Scottish National Orchestra/Stéphane Denève (Naxos)
by Graham Rickson
Trained as a musician, Albert Roussel spent his early adult life in the French navy, before returning to music in 1894. He is remembered today for having taught, among others, Satie, Varèse and Martinu. Roussel's Third and Fourth Symphonies retain a toe-hold in the orchestral repertoire – vigorous neo-Classical works with strong rhythmic and melodic outlines. Stéphane Denève has so far recorded Nos. 2 and 3 with the RSNO to wide acclaim. The First Symphony, subtitled "Le Poème de la forêt", was premiered in 1908 and is generally less individual than Roussel's more earthy later music. Traces of his mature style really emerge in the fast sections of the finale. Impressionist in flavour, the work's four movements portray a journey through the seasons. The mood can change quickly – the opening haze quickly develops into a stormy tutti, and the finale's skittish exuberance winds down fast, leading to a return of the work's opening mood. It is all highly enjoyable for anyone with a soft spot for romantic French music, and performances are such that you would never imagine that this music wasn't standard repertoire for the RSNO. The couplings are imaginative: Roussel's Symphonic Prelude Résurrection is an early, Tolstoy-inspired work; gravely beautiful, it contrasts nicely with the charming incidental music that Roussel wrote in 1908 for a play entitled Le Marchand de sable qui passe (The Sandman Passes). Excellent sound and informative notes make this another self-recommending Naxos issue. Buy Denève's Roussel Symphony No.1 etc. on Amazon
Ammonite, Pamela Thorby (recorder) (GTR)
by Graham Rickson
Recorder cross-over? I felt nervous when this disc arrived, and had to wait several days to pluck up the courage to have a listen. I became aware of recorder virtuoso Pamela Thorby when a friend lent me a copy of her 2008 CD Garden of Early Delights – a miraculous collaboration with harpist Andrew Lawrence-King, a uniquely fresh and exuberant take on a selection of 16th- and 17th-century compositions. Thorby takes pride in her versatility, and besides her acclaimed work in early and baroque music she works regularly with pianist Huw Warren and has her own contemporary jazz group, Perfect Houseplants. Ammonite was recorded several years ago and is now issued on Thorby's own label; the 11 tracks are composed by her and percussionist Chris Wells.
The accompaniments vary – solo strings, marimba and guitar stand out, and above the mix swirls Thorby's insouciant, effortless recorder playing – that an instrument with eight finger-holes can produce this range of sounds is staggering. The faster, folk-tinged tracks work best, aided by a realistic-sounding production in which you know that the musicians are actually playing with one another and not being overdubbed. The title track is a brief gem, and I enjoyed the way in which the final "Master George's Tune" segues nicely into the "Fair Maid's Slow Air". Light listening, but enormous fun, and one hopes that the CD will fulfil Thorby's wish to attract new listeners to this instrument. Buy Ammonite on www.pamelathorby.com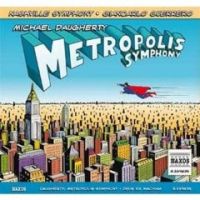 Michael Daugherty: Metropolis Symphony; Deus ex Machina, Terence Wilson (piano), Nashville Symphony/Giancarlo Guerrero (Naxos)
by Graham Rickson
This programmatic symphony was completed in 1993, inspired by the 50th anniversary of Superman's first appearance as a comic-book character. As one would expect, cartoon-like effects abound: antiphonal whistles trill out in the opening seconds, and there is imaginative use of some of the more off-beat percussion instruments – flexatone and siren conjure up the ghost of Edgard Varèse. But this is also "real" music – full of a characteristically American zip and gloss, and making reference to many other composers and styles – the second movement's brooding oscillating bass line is surely a reference to Sibelius's craggy Fourth Symphony; the subsequent fragments of Silent Night suggesting Charles Ives.
Can a symphony in which the five movements have subtitles such as "Lois in Peril" expect to be taken seriously? And is Daugherty's advice that the individual sections can be played separately an admission of his failure to knit the five movements into a coherent whole? What is beyond dispute is the uncompromising, abrasive soundworld that Daugherty inhabits with such flair – two parts furious brassy dissonance to one part astringent lyricism – there are moments when the music really flies and sings. The surfaces alternately glitter and glower, and the recording lets you hear everything. Whatever one's thoughts about Daugherty's profundity, I challenge anyone to be bored. The coupling is Deus ex Machina, a 2007 piano concerto that is "a musical response to the world of trains". At 33 minutes, the work feels a little over-extended, but the finale, "Night Steam" – inspired by Winston Link's black-and-white photographs of steam locomotives – brings the piece to an exhilarating close. Performances, by pianist Terence Wilson and the Nashville Symphony under Giancarlo Guerrero, are faultless. Buy Daugherty's Metropolis Symphony etc. on Amazon
Stravinsky: Orpheus, Jeu de Cartes, Agon, BBC Scottish Symphony Orchestra/Ilan Volkov (Hyperion)
by Graham Rickson
These are beautifully recorded and very well-played versions of three seminal Stravinsky ballets. Ilan Volkov's BBC Scottish Symphony Orchestra produces a lean, tight sound that suits these scores very well, and Stephen Walsh's booklet notes are as informative as one would expect. Agon is breathtaking ballet music that still sounds fresh 52 years after its premiere, proof that the septuagenarian Stravinsky was still full of ideas. Serial passages jostle with neo-Classicism and what Alex Ross has called "surreal Renaissance twangings". These stylistic shifts mirror the composer's own exploration of musical styles during the work's composition. The orchestral sounds are bewitching – I love those bright glints of harp and mandolin against staccato bass notes in piano, and the writing for horns is marvellous.
The playing here is not as hard-driven as in Robert Craft's excellent Naxos account, and the music sounds a little more relaxed and even lyrical as a result. The final angular string fugato holds no fears for the BBC SSO and the last few minutes, when the trumpet fanfares return and things start to wind down, are some of 20th-century music's most magical moments. If you've never heard Agon before, this performance is an excellent place to start.
This intelligently programmed disc also includes two contrasting earlier ballets. Jeu de Cartes was completed in the mid-1930s. On the surface it is full of goofy humour and high spirits – the scenario depicts a card game, and there are references to Rossini, Johann Strauss and Ravel. I find the jollity slightly exhausting, but the music is always technically brilliant and entertaining. Orpheus, dating from the late 1940s, is the least-known of the three works here. Opening and closing in a mood of beautiful, sepulchral gloom, the score is drenched in melancholy – the tempi are predominantly slow and the textures veiled. The violent eruptions in the central scenes really shock and show that Stravinsky had not lost his ability to surprise in middle age. An excellent CD. Buy Stravinsky Orpheus etc. on Amazon
DVD+CD release

Schubert: Heliopolis, Matthias Goerne, Ingo Metzmacher (harmonia mundi)
by Ismene Brown
A DVD feature to introduce a Lieder recording is a splendid idea, helping to dismantle many of the barriers that the idea of German poetry throws up. The 18-minute film bonus disc that Matthias Goerne has made with Ingo Metzmacher is packaged with volume 4 of his harmonia mundi odyssey through Schubert's vast song output. Though short, it makes a strong contribution to the pleasure of the experience, demystifying and illuminating the fastidiousness demanded of this rarefied form of music-making, and softening one for what proves a fairly sombre listen on the CD itself.
Both of them talk informally inside a recording studio that looks like a chaotic carpenter's workshop, Goerne stressing the human pathos underlying Schubert's song-writing, Metzmacher cheerfully admitting that as a conductor he was forced to go back and practise his piano hard for the venture, and relishing being ordered by Goerne over and over to repeat and adjust his playing in Der Hirt and Frühlingsglaube.
Goerne, with his round eyes and round belly, looks as if he ought to know how to laugh but is a quiet, almost mumbling figure in interview, making the piercing observation that what Schubert did in packing more than 600 songs into a life that ended bleakly at 31 left more music than anyone could copy out in eight hours a day of a normal full working life. "It's both genius and obsessiveness," he observes.
The obsessiveness of the filmed rehearsal process sharpens your ears for the CD itself, on which the pair perform 19 songs, chosen to follow a broad theme of ancient Greece. The title Heliopolis might be faintly offputting in its intellectualism, but it shouldn't be - Schubert is incapable of seeing anything but the most human possibilities in poems about Atreus's lyre (torn between two jobs) or the widowed King in Thule. Give him a classical image of the sea or nature's beauty and out pours an almost Wagnerian breadth of melody (4. Der entsühnte Orest), or torrents of constantly remodulating homesickness (17. Das Heimweh) that wring every heartstring. He also relishes the emotional and lyrical variations of a dramatic narrative (8. Atys, 11. Blondel zu Marien) as much as he loves distilling the deepest emotional liquor into a single intense shot (9. Meerestille, the daringly spare 19. Abschied).
The overall feeling of this album is of minor keys, disturbance, searching, with nary a breath of lightheartedness until the gently optimistic 16. Frühlingsglaube. In that song, accompanied with windblown delicacy by Metzmacher, Goerne tests a softer, higher, almost tenorial register to his  beautiful and responsive baritone, which has lessened its past obtrusive breathiness and enriched its colours with some truly chocolatey bass notes.
Not every song is a memorable gem like Der König in Thule or Das Heimweh, but none is less than rewarding. The result is a constantly compelling tribute to Schubert by a singer who has imagination and vocal technique mastered to the profoundest and rarest degree. The packaging is perilous - the booklet, which has translations of all songs in German, French and English but a skimpy programme note, more's the pity, is both untethered in the package and flimsily constructed - mine has split into paper sheets already. A rubber band will be needed to keep the package together. Buy Heliopolis on Amazon
Share this article