Jacob Epstein: Portraits, National Portrait Gallery |

reviews, news & interviews
Jacob Epstein: Portraits, National Portrait Gallery
Jacob Epstein: Portraits, National Portrait Gallery
The sculptor who got under the skin of his subjects and endowed them with an uncanny liveliness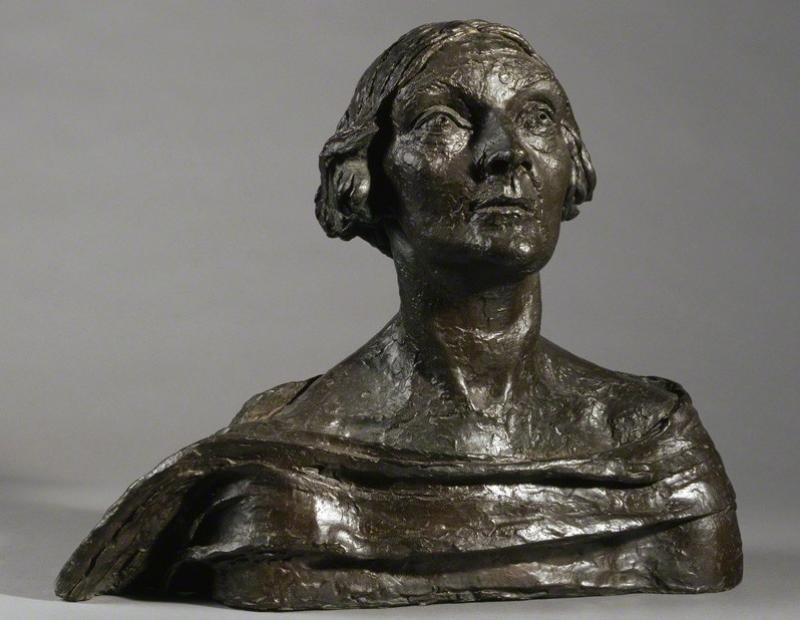 Sybil Thorndike by Jacob Epstein, 1925
"I don't like the family Stein; There is Gert, there is Ep and there's Ein; Gert's Poems are bunk, Ep's statues are punk, And nobody understands Ein" (Anon).
Jacob Epstein (1880-1959) did indeed sculpt Albert Einstein when the physicist was briefly interned in London on his way to America in 1933; Epstein's bust of the quizzical shock haired scientist is currently on view at the Victoria and Albert. Epstein described his subject, already legendary, as humane, humorous and profound and was particularly struck by his hair going every which way.
Henry Moore said Epstein was the pioneer in taking all the abuse for modern artists
The baker's dozen of portrait busts by Epstein in the new display at the National Portrait Gallery distils his talent, and shows that a contemporary retrospective is long overdue. The show is amplified by a series of portrait and studio photographs: here is Epstein at work on his portrait of Bertrand Russell, the subject gazing on benignly; here is Epstein in a photograph by Karsh, his own huge hand casually next to an enormous carved hand.
A Polish Russian Jew from New York's Lower East Side, Epstein was studying in Paris by the time he was 22, financed by royalties from his emotive drawings for a book called The Spirit of the Ghetto. Paris curiously did not appeal; in 1905 Epstein arrived in London armed with a letter from Auguste Rodin introducing him to George Bernard Shaw (several decades later, although friends, Epstein's lively bust of Shaw was curiously not allowed in the house by Mrs Shaw).
A visit to the British Museum sealed his determination to live in London. He remained though in many ways a classic outsider, in spite of his love for sheepdogs. Massive and physically strong, he was forced to be mentally unusually robust too, for he and his work were relentlessly attacked and vilified. Anyone who decides to be a sculptor condemns himself to a life of hard labour. Thus Epstein on his life's career, and he described himself as a worker when he was commissioned by the TUC. Henry Moore said Epstein was the pioneer in taking all the abuse for modern artists; yet in that cycle of rejection and acceptance he was knighted five years before he died.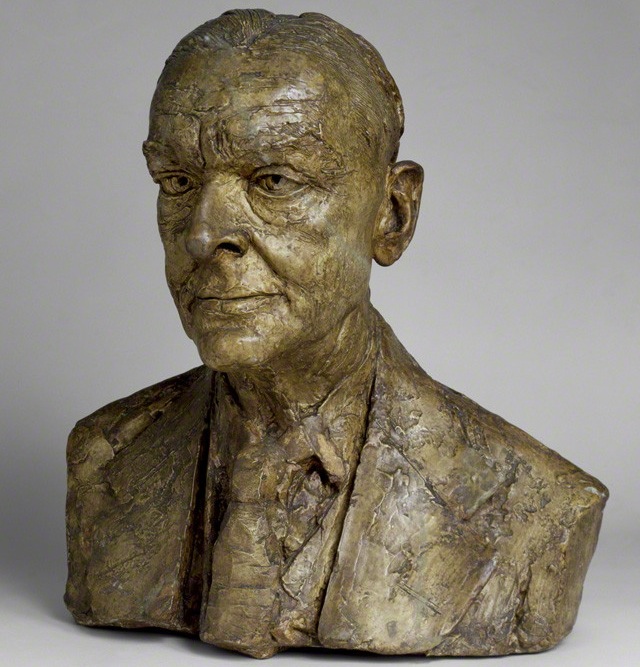 Abstract sculptor of the avant-garde early on, he never abandoned his pioneering stance but also became, as we see here, an incisive portraitist of a wide spectrum of politicians and artists. Churchill was too restless a sitter, even for Epstein, but from Ramsay Macdonald to T S Eliot (pictured right) Epstein captured some kind of inner core. He was forthright: he did a sharp featured bust of the young Lucian Freud, his son in law for several years, but went on to describe him as a spiv. As was frequently observed, Epstein wore his heart on his sleeve: he was huge in bulk and huge in appetite. It was entirely appropriate that one of his best known works is Oscar Wilde's tomb in Paris.
He captured the wildness, or as Epstein put it an untamed quality, that was the essence of the bohemian artist Augustus John, impressively substantial in the Epstein bronze. Epstein was a wild man himself in many respects, unafraid to defy convention, strikingly technically accomplished, fearless in the boldness of his visual ideas, embattled with controversial public commissions, and perhaps most unusual in his distinctive combination of high emotion, earthiness and genuine sophistication. Sybil Thorndike's family commissioned her portrait which shows her in her famous role as St Joan (in Shaw's play), gazing skyward as if hearing voices (main picture). It is realistic, but also something else, capturing the creative aspiration of the actress remarkably without pretension or affectation.
It is critically fashionable to dismiss Epstein's portraits. But more and more his empathy in capturing character becomes evident. Bronzes can look very lumpen in photographic reproduction, but this selection shows how Epstein's manual dexterity, coupled with his ability to observe so closely, makes of the cool metal surfaces something endowed with an uncanny liveliness. We can almost hear his subjects' very tone of voice.
The display distils his talent, and shows that a contemporary retrospective is long overdue
Explore topics
Share this article