Syria: Across the Lines, Channel 4 |

reviews, news & interviews
Syria: Across the Lines, Channel 4
Syria: Across the Lines, Channel 4
Olly Lambert's film takes an unflinching, close-up look at two sides at war in Syria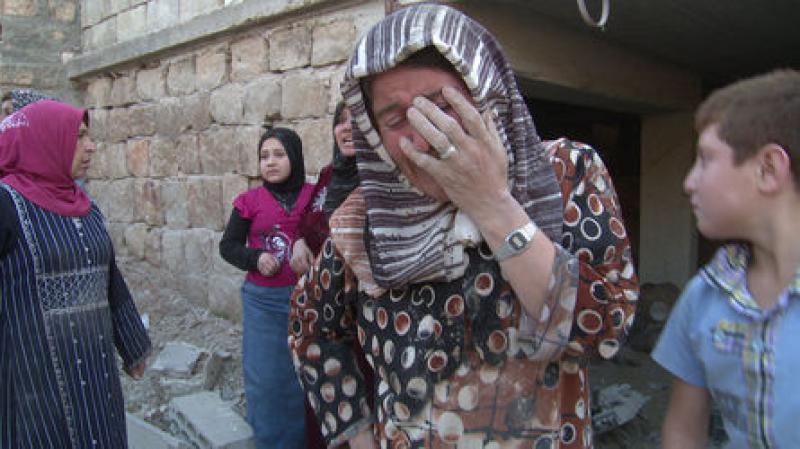 Syria: 'a nation and a society tearing itself apart before the world's largely uncaring eyes'
Covering both sides of a conflict is never easy. Apart from the physical dangers, warring parties are wary of journalists who've reported on and established ties with the enemy. Afghanistan showed this as clearly as anywhere, when the US forces were suspicious of any journalists with Taliban contacts.
British film-maker Olly Lambert's Syria: Across the Lines strode confidently over that hurdle, giving a unique insight into the people on both sides of Syria's civil war as it continues to veer in and out of the headlines after two years of fighting and more than 70,000, mainly civilian, deaths. Reporting from the rebel side of the Syrian frontlines has become common, but Lambert may be the first Westerner to also report with government troops, outside officially organised and strictly controlled media tours.
Across the Lines opened a window on the people caught up by the civil war destroying Syria and laying the foundations for generations of sectarian vendettas, as Lambert focused on the villagers of the picturesque Orontes River valley (why do wars always happen in such beautiful places?). Once the country's breadbasket, the fertile valley is now torn apart as neighbour fights neighbour across a gap easily covered by the range of a sniper's rifle: on the west bank are the Sunni rebels of the Free Syrian Army (FSA), less than a mile away across the sluggish waters their Alawite neighbours and government soldiers.
On the rebel side was Ahmad (pictured above right), a 20-year-old former policeman who defected to the FSA, who still helps his dad out as a mechanic in their workshop. "I grew up in this valley," he said, fingering his AK-47 in the rebel-held town of Kansafra. "We used to be like brothers before the revolution."
Across the river, in the Alawite village of Aziziya, we met Lieutenant Ali Ghazi who has commanded a military post for a year (view from the regime checkpoint, pictured below left). "It breaks my heart," he said. "I'll feel very sad if the country stays like this. I wish we could go back to the way it was, to the way it used to be. But we will continue to chase them until we win."
In separate trips, Lambert spent weeks in Syria at great personal risk, filming - he was his own cameraman - and living on both sides. In focusing intimately on Ahmad and Lieutenant Ali, he's personalised the conflict, but that came at the cost of a broader picture giving context to the lives of the two men. There was no real explanation of why two communities once so close have been torn apart, nor did Lambert look at why the West and Arab states such as Qatar were so quick to help Libya's anti-Qaddafi revolution, but not Syria's civil war.
That was left to Ahmad to ponder. "They are waiting for Bashar Al-Assad to kill us all," he said. "Their heart isn't with the Syrian people. They don't care about all this. About these people that are bombed to pieces."
Until dramatic air-strike closing minutes, this wasn't so much a war story as a tale of ordinary people trapped in, and trying to live with, something bigger than themselves, over which they have no control. Lambert didn't demonise the forces supporting desperate President Bashar Al-Assad, nor did he make heroes of the rebels. Instead, he humanised a nation and a society tearing itself apart before the world's largely uncaring eyes.