Syria: The World's War, BBC Two review - anatomy of a conflict, brilliantly told |

reviews, news & interviews
Syria: The World's War, BBC Two review - anatomy of a conflict, brilliantly told
Syria: The World's War, BBC Two review - anatomy of a conflict, brilliantly told
A view from the streets and the chancelleries: Lyse Doucet attempts a perspective on the conflict of our century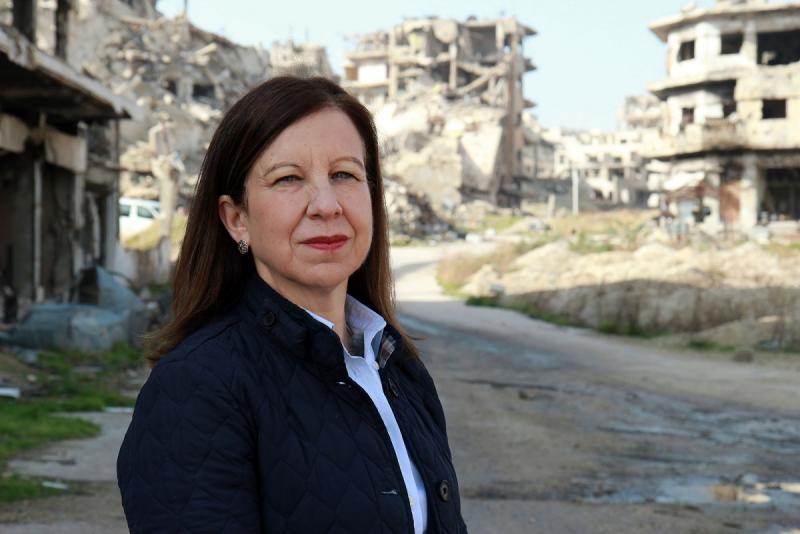 Lyse Doucet: seeking balance in destruction
This was not a film that left you with much respect for the wisdom of politicians, but perhaps its truest line came from John Kerry, when he called the ongoing – seven years, and counting – Syrian conflict "an insult to the humanity of this planet".
Lyse Doucet has covered it as a reporter for the
BBC
since its beginning back in March 2011, and Michael Rudin's two-part (the second comes tonight)
documentary
Syria: The World's War
saw her revisiting some of its darkest moments, sometimes recapping how she had reported them at the time. That was combined with the perspective of today, including in-depth interviews with participants, both those involved on deadly street level and those from the distant corridors of power.
History may eventually give a sense of context to everything, but the repercussions of the Syrian manifestation of the Arab Spring have been so enormous, in terms of death and displacement alike, that finding any element of balance was going to be a struggle. "Bad man, good people," was one intentionally simplistic evaluation offered here, but it rather characterised the West's default frame of reference for civil conflict reflecting a traditional opposition between oppressive despot (and the self-interested structures that buttress him), and a popular movement that appears, almost out of nowhere, to demand change.
On one hand there were those calm interviews in quiet rooms, on the other the relentless imagery of conflict
It's rarely a problem to find people to articulate, with complete conviction, the side of the freedom-seekers, but presenting the opposing perspective – the conservative argument, the one supporting the status quo – with comparable sincerity can be more difficult. Doucet resolved it by engaging principally with two women, Noura and Hayat, both from the city of Homs (the "capital of the revolution", as it has come to be known), who eloquently and movingly embodied two very different positions.
Noura began as a student, whose growing opposition to the Assad regime saw her become a self-described "daughter of the revolution"; the older Hayat had been a journalist, whose experiences drove her in the opposite direction, to a decision "to stand by my government, my country and my army". Noura survived imprisonment, and is now in exile (like, we assumed, all the opposition figures with whom Doucet spoke); Hayat had initially reported events for state media before, after her son was killed by the rebels, joining the Ministry of Information. That last detail could easily suggest that her perspective when talking to Doucet might be biased towards the official line, but it would be a cynical viewer indeed who came away from this extended conversation without acknowledging the tragic sincerity of someone to whom life had brought suffering on a scale that she could barely have imagined.
And yet… We never really learnt about the context in which Syria: The World's War was made, within Syria especially, what (if any) hand the Assad regime had in limiting access within the area it controls. In setting out to speak to the very top politicians from all sides (as well as their more hands-on, executive deputies), it was very much in the Brook Lapping (The Death of Yugoslavia) production style of capturing the broadest perspective on events, history in its formation, if you like. But where we may have wondered about Hayat's final position, when it came to the likes of Faisal Mekdad, Syria's Deputy-Foreign Minister ("I slept peacefully," he remembered after Obama failed to follow through on his chemical weapons "red line" ultimatum), or the military commander Mohamed Khaddour, for whom his army's role had been limited to handing over violators of the law to the authorities, there could surely be no illusion. Doucet's style in addressing them almost spoke for itself, as she dropped her eyes and lowered her voice when straight-faced lies were being spouted back at her (it was a lesson, you could not help thinking, that her interlocutors had learnt from their Russian protectors).
This was a programme of two parts. On one hand there were those calm interviews in quiet rooms, on the other the relentless imagery of conflict – the greater part, we presumed, sourced from its direct participants, shot on their phones rather than by professional reporters – and the obliteration of an entire physical landscape. You could draw any number of conclusions from the former, one of which was unavoidably that, if you were looking for diplomatic gravity, the go-to Foreign Minister here was Saudi Arabia's Adel Al-Jubeir, rather than our own smirking William Hague. For the latter, the sight of Doucet walking along destroyed, abandoned streets that had once been part of thriving cities said it all.