theartsdesk at the Cheltenham Jazz Festival |

reviews, news & interviews
theartsdesk at the Cheltenham Jazz Festival
theartsdesk at the Cheltenham Jazz Festival
Van Morrison leads the charge of perfect jazz on some summer days
Listen to the lion: Van Morrison where he's happiest
Cheltenham is the Dubai of the Cotswolds: a modestly populated town of 100,000 with sufficient wealth and influence to attract disproportionately lavish art and sport to its genteel Georgian streets every summer. Its jazz festival, in its 18th year, has the added advantage of a founder (Jim Smith) and artistic director (Tony Dudley-Evans) with real love and commitment for the music.
Cheltenham is the Dubai of the Cotswolds: a modestly populated town of 100,000 with sufficient wealth and influence to attract disproportionately lavish art and sport to its genteel Georgian streets every summer. Its jazz festival, in its 18th year, has the added advantage of a founder (Jim Smith) and artistic director (Tony Dudley-Evans) with real love and commitment for the music. A mix of vaguely jazz-inflected pop stars and the cream of international jazz, established and on the way, are these days concentrated in tented venues in leafy Montpelier Gardens (pictured below), putting jazz at Cheltenham's heart for six days.
This explains why, glancing up from my hotel breakfast on Monday morning, I find Van Morrison sitting just across the way. He's staring straight ahead, shades on, ginger hair askew. When I glance up again, he's heading out of the room at speed with a female companion, hat jammed on his head, a folded tabloid left on the table.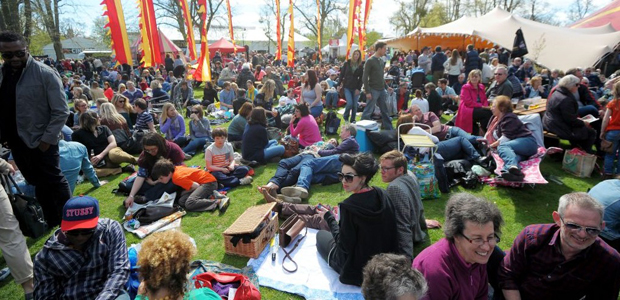 Nine hours later, closing the festival in the 1300-capacity Big Top, he's a good deal more imperious. Signed to Blue Note for his latest album, Born to Sing: No Plan B, he walks on playing a sax, and for the first half hour downplays his other influences for straight-ahead jazz. Opener "Only a Dream" sees him celebrating "dancing in the street" in New Orleans and fearing "somebody's trying to shoot me down" - love of music and fear of people summing up his contradictions. A sultry moan introduces the standard "St James Infirmary", and Morrison's soft sax phrase begins "Moondance".
"Magic Time" and "Days Like This" are paired, sharing a desire for ephemeral moments where his troubles melt away. "You may call that nostalgia/ Baby, I don't mind," he declares in the former song, "Standing on that windswept hill/ Listening to the church bell chime." "Days Like This" is, more typically of his recent work, a monumentally cantankerous vision of him being able to shed that cantankerousness for a few hours.
The band watch him intently, alert as Morrison bends them to his unpredictable will. "Gimme that!" he barks at his drummer, swinging his fist to enact the required whomp. "Keep it like that," is the thanks offered for its supply. A harmonica almost hurled at him by a flustered roadie is required for the blues blast of his first hit with Them, 1964's "Baby Please Don't Go".
"This is what we call the workshop," he soon announces, of an ambitious suite of linked songs leading into last year's "Born to Sing". "Pulling you through, by the skin of your teeth," he growls at "you", yet another fool who doesn't get him and the daily effort needed so that his "work gets done." In the midst of this growing, potent epic, a thought suddenly intrudes. "I don't mean you," he assures us. "Not the audience," he further clarifies. "Someone," he struggles, digging a deeper, desperate hole, "who's…not in the building." It's an amusing glimpse of the mental processes that seem to make being Van Morrison so difficult, when he's not in the majestic performing realm reached here.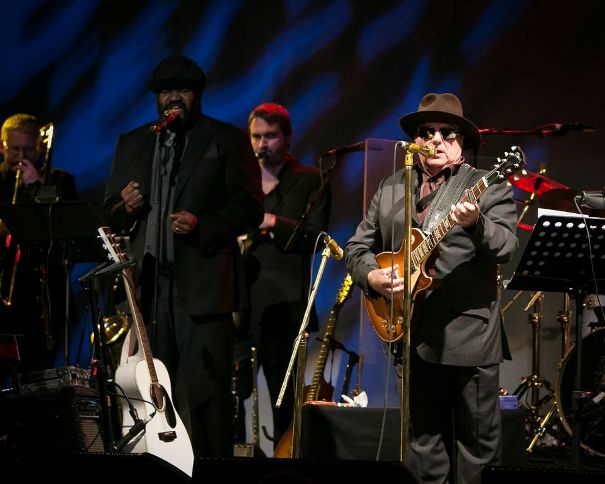 There's another special moment of the sort festivals too rarely provide, as Morrison welcomes Gregory Porter (pictured above left, photo by mcphersonstevens.com) for an achingly lovely duet on "Tupelo Honey". "If you haven't caught him yet then you need to catch him, because he's absolutely unbelievable," he says of Porter, with heartfelt generosity.
Artist in Residence this year after a storming 2012 Cheltenham show, Porter is well past six feet tall and barrel-chested, with a deerstalker-balaclava hybrid for a hat and a penchant for yellow checked jackets and blue shirts. His Saturday evening show, watched by an approving Morrison, found his rich baritone driving his band through ballads and fierce historical reveries, as with "1960 What?"'s mournful imagining of the 1968 Detroit race riot. "Mr Policeman - God bless him," he sang with bitter irony and maybe real compassion for a black boy's uniformed killer. A standing ovation drew him back for a moving encore about how his parents' sacrifices gave him precious, earned freedom. Recently signed to Universal for a third album due in September, at 41 Porter is on stardom's cusp. In Cheltenham over the weekend, though, he's everywhere you turn, smiling, talking, and drinking the cider. People here think he's theirs.
You could find him, for instance, playing in the basement of the Hotel Du Vin at 2am the night after his official show, at one of the festival's free jams, with people crammed within inches of his band and peering down from the bar above. One sloshed woman, demanding a reluctantly-given kiss and pointing the blinding white flash on her camera-phone at him every five seconds, may have made Porter briefly pine for privacy. But he kept drinking, talking and absorbing everything his unlikely, temporary Cotswolds home had to give.
In the weekend's endless sun, Cheltenham locals wandered past the free music stages, dangerously attractive jazz and soul record stalls and food and beer tents, perhaps only dimly aware that jazz was the reason behind it. But, with mainstream headliners Lianne La Havas (pictured left, photo by mcphersonstevens.com) and the Noisettes, Claire Martin, with her connoisseur's knowledge of mid-20th century American song, and the family-friendly "circus swing" of Gabby Young - a Monday lunchtime highlight, as the heat really hit - they were also shown welcoming, diverse sides to music which sometimes makes itself sternly forbidding. Stormy Weather, the 1943 Hollywood hokum with Lena Horne, Cab Calloway and Fats Waller which Porter programmed in the cinema tent, included tap-dancing of show-stopping daring and grace, a reminder of when jazz lived happily amidst showbiz and pop.
The communication of a player's individual humanity is the music's more general purpose. This puts Ravi Coltrane at a disadvantage with festival crowds, broader than at his own club gigs. The son of John and Alice Coltrane gained great respect with last year's Spirit Fiction. But as the Jazz Arena's tent creaks like a ship at sea, the characteristically reserved qualities of "Fantasm" coincide with an exodus to see Porter in the Big Top, leaving wounding gaps in the crowd.
In the same venue on Sunday, 70-year-old master vibes player Gary Burton's New Quartet shows how inviting even the most intense playing can be. A solo spot by Burton's 25-year-old guitarist protégé Julian Lage (pictured above right with Burton, photo by Tim Dickeson), with his high, romantic tone builds into "My Funny Valentine", and a duet between bassist Scott Colley and drummer Antonio Sanchez that feels like a duel. Colley's fast feints drive the drummer into flurries of growing aggression, till Burton's melodic restatement turns the tension to beaming contentment. Sanchez is soon into a superb solo in which, denied sparring partners, he grapples with himself, whipcrack beats meeting a slow, heartbeat hammer.
When Burton steps back from playing hard on this hot day to towel sweat from his face and gather his strength, Colley gives him a reassuring pat on the back, and shares a companionable smile.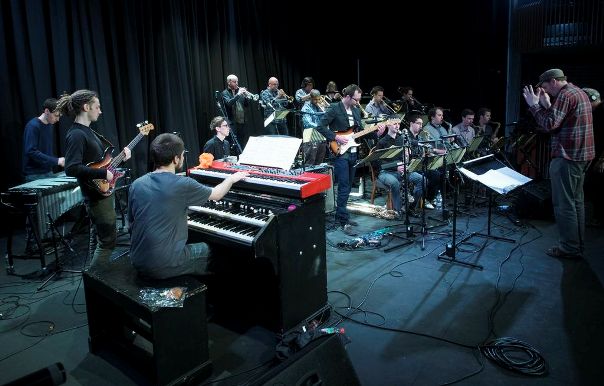 There was more - a double-bill of Mercury nominees Polar Bear and Roller Trio which kept its Jazz Arena audience even as Van Morrison loomed nearby, and Troyk-estra (pictured above, photo by Tim Dickeson), where another nominee, keyboardist Kit Downes, helped Troyka guitarist bandmate Chris Montague construct a woozy, synthesised big band sound on "Born in the '80s", as the real big band augmenting them here looked on. It was the large and small moments of human warmth, though, more even than the music's excellence, which stayed in the mind.
Morrison bends the band to his unpredictable will. 'Gimme that!' he barks at the drummer, swinging his fist
rating
Share this article