Beware of Mr Baker |

reviews, news & interviews
Beware of Mr Baker
Beware of Mr Baker
Documentary paints the legendary Cream drummer Ginger Baker as an irresponsible genius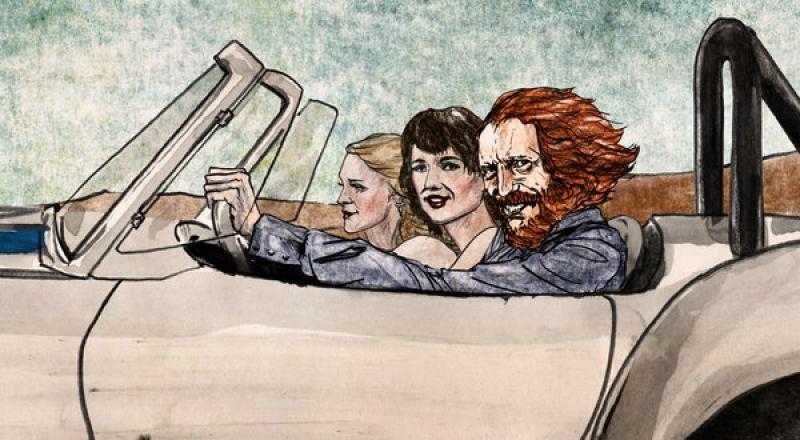 Sunshine of their love: Ginger Baker and American groupies in one of the animated sequences
For those familiar with Ginger Baker's virtuosic musicianship, but not with his life, the biggest revelation of the warts-and-all documentary Beware of Mr Baker may be that next to drumming, playing polo was the great time-keeper's obsession. One might expect a jet-setting country gent like Bryan Ferry to mount up for a chukka or two before teatime, but the wild man of Cream and Blind Faith, late of Lewisham? Does Topper Headon play bowls?
If, as an addiction, polo didn't match Baker's 19-year affair with heroin, it has been almost as ruinous a pastime. Toward the end of Jay Bulger's film, Baker's estranged drummer son Kofi reports that Baker blew all the $5 million he made from Cream's 2005 reunion gigs at the Royal Albert Hall. Much of it apparently went on transporting 24 English horses to the 14 he already owned to his South African farm, which was subsequently foreclosed. The elitist sport, which Baker fell in love with during his 1970-76 Nigerian sojourn, also cost him his friendship and musical collaboration with Fela Kuti.
Bulger doesn't ask why polo so appealed to Baker (who, now 74, lives in Kent and starts a new series of British gigs this Friday). Could it be something to do with thwacking the ball, a sublimation for hitting real or perceived enemies, or trying to kill unwanted feelings? The film mentions how Baker once punched Jack Bruce when they were playing with Graham Bond because Bruce played bass during a Baker solo. Bulger bookends the film with shots of Baker attacking him with his walking stick, resulting in a cut to the the first-time director's nose. And what is Baker's career but a 55-year rataplan made up millions of blows, however subtle?
Peter Baker was four-and-a-half when his father, a bricklayer, was killed in action in the Mediterranean in 1943. Interviewed by Bulger at length on the South African farm, the tetchy (but quite funny) geezer he became tells a heartrending story of running after his dad as he boarded a train for the continent, never to be seen by the boy again.
Several of the film's talking heads intimate that Baker's lifelong aggression, whether turned against his professional partner and antagonist Bruce (in rows that brought Cream's guitarist Eric Clapton to tears), against his wives and kids (through neglect), and himself (through drugs), stemmed from that crucial loss. Whereas Roger Waters, who also lost his father in the war, channeled his anger into corrosive lyrics and reportedly trying to dominate Pink Floyd, Baker specialized in fleeing the coop. When his latest wife, Kudzai Machokoto, is asked by Bulger if Baker is a good stepdad to her two little girls, she finally says "Yeah" after an excruciating eight-second pause.
Baker's story is intermittently tragic, for his family members if not himself, but it's hard not to admire the old devil for his ability to fall on his feet. His talent invariably sees him through. There are wondrous clips, all of them sadly truncated: colour footage of the Graham Bond band, Cream owning Madison Square Garden in 1968 and larking around in an early pop video, Baker driving through the Sahara (as if he were Jack Nicholson in The Passenger), playing with Air Force and the Baker Gurvitz Army, and with the more modest American jazz combo he loved.
Bulger stitches together the footage and interviews with murky but vivid animations: young Ginger being cut by a gang; Baker and Bruce snarling at each other as Clapton, behind them, tries to disappear; Baker parachuting out of the crashing Air Force "plane"; a sad (or stoned) Baker beating "time" – the skill he values most in musicians – as a Roman galley's crew drummer. Baker, like many of us, is self-enslaved, and the thematic beat of his life goes on remorselessly, this recurrent motif seems to say.
The talking heads are impressive, even if no one can fully penetrate the enigma that is Ginger Baker. Aside from Liz Finch (Baker's first wife) and Karen Loucks Rinedollar (his third), and his two daughters and son, all resigned to the non-patriarch's errancy, Bulger spoke to Bruce (forgiving but unsmiling), Clapton (frank and perceptive), Pete Brown, Nick Mason, Steve Winwood, Charlie Watts, Ron Miles, Femi Kuti, Carmine Appice, Stewart Copeland, Carlos Santana, and Chad Smith, among others. First and last is John Lydon, who hired Baker for PiL's Album, and comments that the drummer has the right to "exemplify his life's experiences in his music". It's a good way to end a film about a man who makes sounds of kinetic and protean power by hammering away at his demons.
Watch the trailer for Beware of Mr Baker