Reissue CDs Weekly: Cream - Goodbye Tour Live 1968 |

reviews, news & interviews
Reissue CDs Weekly: Cream - Goodbye Tour Live 1968
Reissue CDs Weekly: Cream - Goodbye Tour Live 1968
Stylish but fan-only document of Baker, Bruce and Clapton's drawn-out swansong
And it's goodbye from him. Cream give it a last hoorah
Through previous archive releases or bootlegs, deep-digging Cream fans will already be familiar with much of what's on Goodbye Tour – Live 1968. The legitimate 1969 album Goodbye Cream included three tracks from the 19 October 1968 Los Angeles Forum show, heard here in full.
Another trio of tracks on this set, from a 4 October 1968 Oakland show, appeared on the 1972
Live Cream Volume II
album. The 26 November 1968 Royal Albert Hall set has done the rounds in various forms. As for bootlegs, all the shows collected on
Goodbye Tour
have circulated in their complete form.
What's new is Goodbye Tour bringing together in one package the professionally recorded shows from Cream's October and November 1968 swansong dates. It does so in style. The four CDs come in a fold-out sleeve housed in a hard slipcase also containing a hardback book. As the cover image is so close to that of Goodbye Cream, Goodbye Tour could mistakenly pass for an expanded version of the album.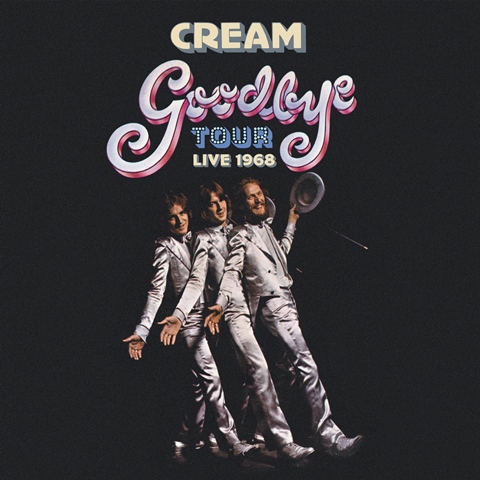 Four complete shows are heard, one per disc: Oakland Coliseum, 4 October 1968; Los Angeles Forum, 19 October 1968; San Diego Sports Arena, 20 October 1968; Royal Albert Hall, 26 November 1968 (the second show of the day's two). Barring some altered sequencing, each show has a similar set. "Stepping Out" is played at the Albert Hall but not heard elsewhere. "Deserted Cities of the Heart" and "Passing the Time" only crop up at Oakland.
Why this has come out now? No anniversary is marked. Cream haven't suddenly become newsworthy. Their 2005 reunion is long gone. Jack Bruce died in 2014. Ginger Baker left the world in October 2019. Maybe his recent passing removed an obstacle preventing this release?
Baker may indeed have had reservations. During the 4 October show, after "Passing the Time", he acknowledges what was played was sub-par by saying, I "have to apologise for being a bit rusty, we've been on holiday." Rolling Stone's David Fricke notes in his essay in the book that this first date on the band's farewell outing was preceded by the only rehearsal for the tour: a practice at the show's sound check. The members of Cream hadn't prepared for or put much forethought into the tour. Could Baker have carried a memory about this?
Cream had announced they were packing it in during July 1968. The half-studio, half-live double album Wheels of Fire was released the next month. They had last played live in June. The final tour began on 4 October in Oakland and ended in early November. There was no related UK leg. Instead, the Albert Hall was booked for two shows on one day. Ergo: America was the more important market. There, for the goodbye, the ballrooms, opera houses and university stages they'd previously graced were replaced by arenas and stadia; money was made. Cream were huge. In comparison with where they'd recently been seen in the US, the Albert Hall was a tiddler.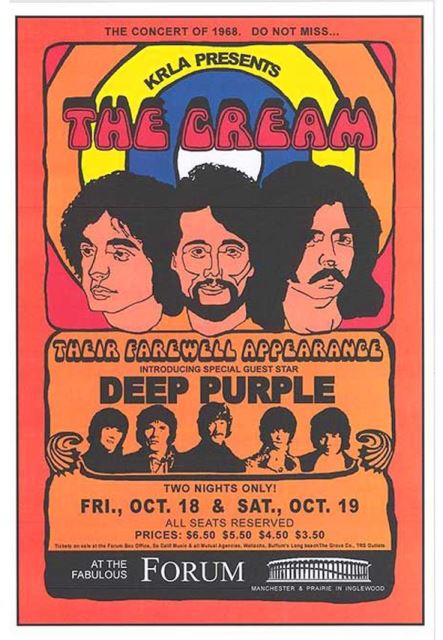 The Oakland show is the roughest of the four. Its liveliest cut is "I'm so Glad". Two weeks on, in Los Angeles, it sounds better but "Politician" has clumpy drumming and a leaden iteration of its main riff. Nine minutes into this show's version of "Spoonful", an MC exhorts the audience to sit down – while the band continue playing. There's a lot of cheering during the Baker showcase "Toad" but the "Spoonful" shenanigan raises the question of how aware Cream were of the audience before them – and whether they cared about a man speaking on-mike as they played. No one in the band is heard acknowledging what was going on or telling him to shut up.
As a straight-through listen, the San Diego show is the best. "White Room", "Politician" and "I'm so Glad" benefit from being played with more focus than elsewhere. The core of each song remains discernable. However, the shows on Discs 2, 3 and 4 include "Toad" and Jack Bruce's harmonica work-out "Traintime". With both, there is no song at all and any version of either is hard work. In Los Angeles, "Toad" edges up to 13 minutes. Extended versions of "Spoonful" (between nine and 17-and-half minutes) are a chore too. But this is the live Cream so hardly a surprise.
The sound on the three US shows is good, if too disconnected and with over-dominant drums. Assuming these were multi-track recordings, couldn't they have been mixed to help it all coagulate? The Royal Albert Hall show sounds worse: like a good off-mike recording rather than one made through a sound desk. There's a mushiness which does, though, bring a verité hint of the cavernous ambience of the venue. Also, the drums are less foregrounded than on the other discs.
Goodbye Tour – Live 1968 is a fascinating document and fans will want it. Nonetheless, there's an inescapable feeling that none of these shows – and, consequently, any shows played after their split announcement – catch Cream at their peak. On this evidence, they were coasting before their final touch down.
Next week: Matt Monro's Stranger In Paradise – the Invitation To Broadway album as it was originally meant to be heard

On this evidence, Cream were coasting before their final touch down
Explore topics
Share this article