Reissue CDs Weekly: The Michael Gibbs Big Band, The Gary Burton Quartet |

reviews, news & interviews
Reissue CDs Weekly: The Michael Gibbs Big Band, The Gary Burton Quartet
Reissue CDs Weekly: The Michael Gibbs Big Band, The Gary Burton Quartet
'Festival 69' documents a previously unreleased fusion of American and British jazz
Sunday, 30 September 2018
Michael Gibbs in 1970, reflecting on his role in the trans-Atlantic musical alliance with Gary Burton
Gary Burton fans with an eye for detail will know that "Fly Time Fly (Sigh)" from his second album, 1962's Who Is Gary Burton?, had a writer credit of "Gibbs". The American vibes-ace's next album, 1963's 3 in Jazz, a collaboration with Sonny Rollins and Clark Terry included another song by Gibbs.
Burton's follow-up solo album,
Something's Coming!
(1964), featured two Gibbs compositions. In 1967, half the tracks on Burton's
Duster
were written by Gibbs.
Gibbs was trombonist/composer Michael Gibbs. He did not play on Burton's recordings and, perhaps belatedly, issued his first solo album in 1970. Released in the UK, the eponymous set included a fresh version of the self-composed "Sweet Rain", first heard on Duster and subsequently covered by Stan Getz. The album's bass player wasn't American, but a post-Cream Jack Bruce. Gibbs obviously had ties with America from the early Sixties yet was now making waves in Britain. So much so that in 1970 he began contributing music to the BBC TV comedy series The Goodies. He would go on to be rock band Uriah Heep's orchestrator and work with Peter Gabriel.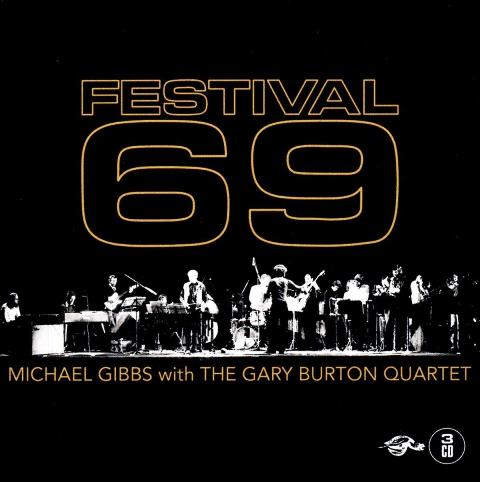 From the perspective of his own discography and mainstream profile, 1970 was the year Gibbs surfaced though as the songwriting credits attest, he was active before then. The new triple-CD set Festival 69 fills out the picture by collecting recordings of two previously unreleased live concerts by the Michael Gibbs Big Band: the first from Lancaster University in February 1969; the second from Belfast's Whitla Hall on 20 November 1969. The first features the fresh out of Cream Jack Bruce in the band's line-up and the second is a collaborative concert with the Gary Burton Quartet. For the latter, the Burton and Gibbs band's individual sets are heard, with the Quartet's filled out by musicians from Gibbs' band. What's heard across two discs is more than a Michael Gibbs Big Band concert: however it is credited, Festival 69 also includes a previously unheard Gary Burton Quartet show.
Alongside Bruce, the Lancaster concert features – amongst others – saxists Alan Skidmore and John Surman, bass player Henry Lowther and drummer John Marshall. The Belfast show also showcases Skidmore but is otherwise a different line-up of the Big Band, with session player Chris Spedding on guitar. Lowther, Marshall and Spedding were all heard on Bruce's first solo album Songs From a Tailor, recorded and released between the Lancaster and Belfast shows. Just as was with Burton, Gibbs was interwoven with Bruce's world,
The malleability and slippage places Gibbs as integral to a cross-genre international music scene. It's fitting as he was born in the former Rhodesia in 1937 and moved to America in 1959 where he studied at Boston's Berklee College of Music alongside Burton. Gibbs saw himself as a composer and player more than a band leader and, after moving to the UK in 1965, became a session player and some-time arranger for, most notably, John Dankworth, Bill Fay and various jazz bands configured for BBC radio broadcasts. However, following the encouragement of producer Peter Eden he formed his own Big Band, whose first high-profile show was the Lancaster concert heard here.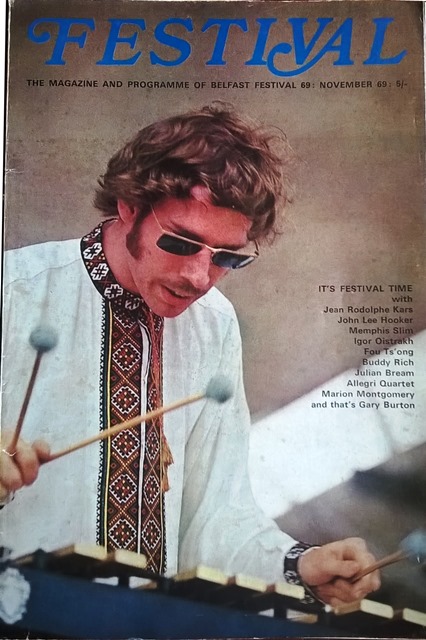 At Lancaster, the Big Band perform most of the tracks which turned up the next year on Michael Gibbs. These formative versions differ from what was issued: slightly longer and more sinuous, they have a greater degree of instrumental interplay and less, for want of a better word, funk. But structure is key. Though integral to his live band's line-up, Gibbs asserts his hand as an arranger. "And on the Third day", a Messiaen-inspired composition, is the most interesting cut as it bridges the gaps between jazz, modern classical music and, to a degree, rock. Although none of the clichés are present, it's a signpost pointing to British fusion. The source tape seems to have been recorded for broadcast and came from Gibbs. The sound quality is as good as something recorded for release.
The Belfast show, although only nine months on from Lancaster, finds a Gibbs who has already moved on. (pictured above left, Gary Burton on the cover of the programme for the 1969 Belfast Festival, during which this show was recorded) One track appeared the next year on his debut album and another would be heard on its 1971 follow-up. He was looking further forward than his soon-be-issued first album. Significantly, this is the only place to hear a collaboration between Burton and Gibbs as the two-way trade between them was in full flow: and at a show which was clearly meticulously pre-planned: the band led by the composer of important elements of Burton's repertoire are integrated with and bolster the latter's band. The source tape also came from Gibbs and was an audience recording, although it does not sound like it.
Gibbs was about fluidity but was also about structure and record buyers found this out in 1970. Now, there is an easily available document showing this was the case a year earlier. And with its union of The Michael Gibbs Big Band and The Gary Burton Quartet, Festival 69 is a unique record of a trans-Atlantic musical alliance in action. This is, then, more than niche release.
Next Week: Kubrick's Music – box set dedicated to the music of Stanley Kubrick's films

Although none of the clichés are present, the February 1969 recording is a signpost pointing the way to British fusion
Explore topics
Share this article