Reissue CDs Weekly: John Mayall - The First Generation |

reviews, news & interviews
Reissue CDs Weekly: John Mayall - The First Generation
Reissue CDs Weekly: John Mayall - The First Generation
Massive box-set tribute to the important British musical visionary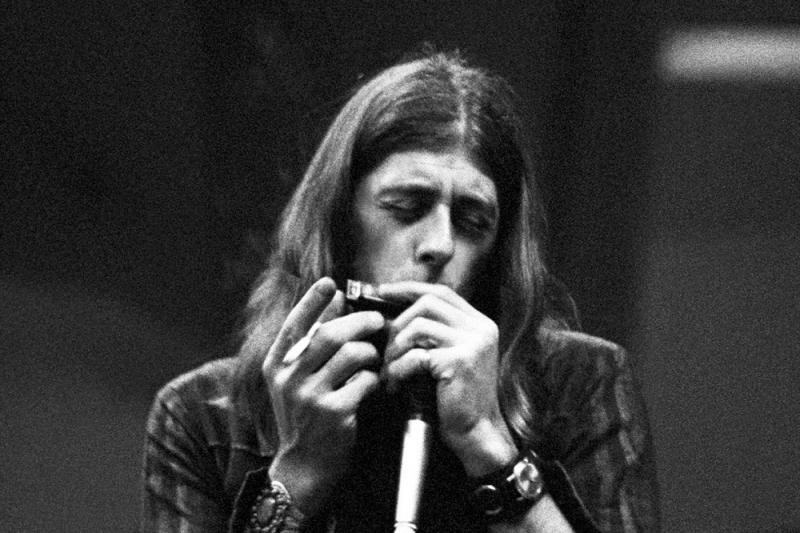 John Mayall at the Palalido, Milan, 27 February 1971
The First Generation 1965–1974 is a 35-CD box set dedicated to the blues maven and propagator John Mayall. As well as the discs, there are three books: one a hardback, another reproducing fan club material, and the third a facsimile of the press pack for his first album. Also included are two posters and a signed photograph of Mayall. Five thousand copies have been made.
As it sells for £275, the 3.8 kilogram
The First Generation
will not be a casual purchase.
What's encompassed by The First Generation is not the well-defined narrative of a standard band or musician. Mayall's Sixties band Bluesbreakers had a lot of churn, as much so as Fairport Convention or The Fall. Pete Frame's book Rock Family Trees records 15 different Bluesbreakers's line-ups from January 1963 to June 1970 (the final two were such in all-but name, even though Mayall operated with a solo credit). Muddying the waters further, he also recorded solo.
A lot of the customary narrative relates to fallout from the churn. Three-quarters of the original Fleetwood Mac were in the April to May 1967 Bluesbreakers. Two-thirds of Cream, in the form of Eric Clapton and Jack Bruce, were Bluesbreakers at different times between April 1965 to July 1966. Guitarist Mick Taylor was a Bluesbreaker from June 1967 to May 1969, after which he joined The Rolling Stones. So far, so blues or blues based.
But another band hot-housed by Bluesbreakers didn't fit that bill. Jon Hiseman, Dick Heckstall-Smith and Tony Reeves were with Mayall from April to August 1968. After leaving Bluesbreakers, the trio formed pioneering British jazz-rockers Colosseum. John Mayall indeed created a breeding ground, but it wasn't just for those who ran with the blues.
So how to grapple with Mayall? The First Generation is undoubtedly about Mayall and his relationship with blues, but it's also about his capacity for using players as a conduit for how he saw music. In Pete Frame's book, Mayall says Jon Hiseman knew nothing about blues and didn't care about his music, but Mayall wanted him to join Bluesbreakers as he admired his playing. In the spirit of aiming for what he saw as the best, Mayall would summarily sack players if someone he liked more came along – short-stay guitarist Jeff Kribbett was abruptly dumped in favour of Peter Green. Later on, with Mick Fleetwood's departure there wasn't a replacement waiting in the wings. The drummer was fired for drinking. Despite who else is heard, The First Generation is ultimately about the will of John Mayall.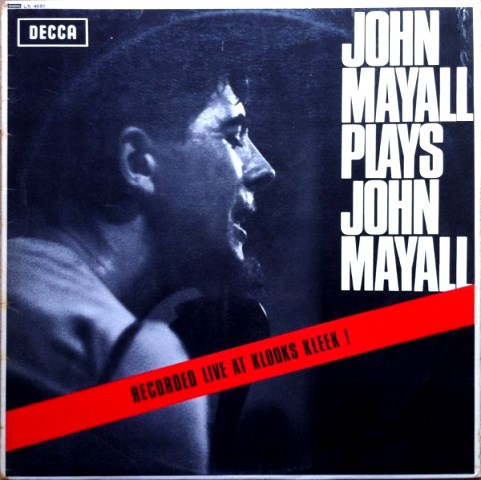 During the period covered by The First Generation, Mayall – with his 57 varieties of Bluesbreakers and solo – issued 12 studio albums. There were also seven live sets, including 1964's debut John Mayall Plays John Mayall. There were compilations too and, of these, Looking Back (1969) and Thru The Years (1971) are included in The First Generation. The scorching "I'm Your Witchdoctor" / "Telephone Blues" (1965) single and the "Lonely Years" / "Bernard Jenkins" (1966) single are allotted a disc apiece, as is the 1967 All My Life EP, recorded with Paul Butterfield. 1966's Blues Breakers album (the Eric Clapton-era "Beano" album) takes up two CDs: one for its mono version, the other its stereo counterpart (IE: as per the 2009 deluxe edition reissue). The 1968 The Diary Of A Band Vol. 1 and Vol. 2 comps are on two separate CDs (they were two albums originally). The 1971 double album Back To The Roots is also on two CDs, as is the 1973 double set Ten Years Are Gone. Many of the actual albums have bonus tracks: either non-LP single tracks, live material or alternate versions. Generally, the bonuses are the same as previous stand-alone reissues of the albums (for example, the 2001 version of The Turning Point and the 2007 version of Blues From Laurel Canyon). That's 26 of the box's 35 CDs taken care of.
Mayall aficionados are going to have a lot of the first 26 discs already. Any decision to buy will hinge on depths of pockets and the degree of yen for the rest: the books, posters, the signed photo, the BBC and live discs. And as John Mayall himself is involved with the release, that may be an influence on whether to purchase.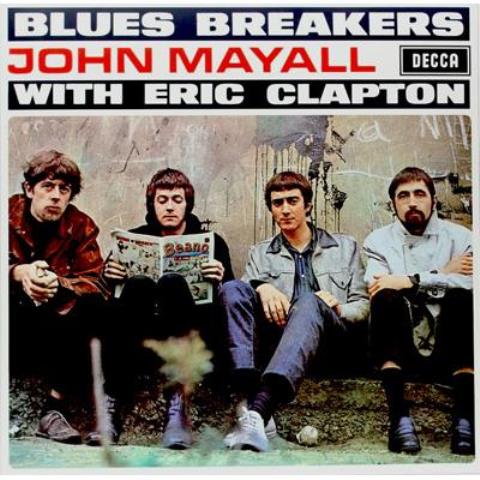 After the first 26, the remaining nine discs are two dedicated to BBC radio recordings (from 1965 to 1968: 29 tracks have never been out before), a comp of low-ish fi but bracing audience recordings of tracks extracted from four Peter Green-era 1967 live shows (presumably all that survives of these shows) and a disc apiece for six other live shows. There's one full show with the John Mayall, Mick Fleetwood, Peter Green, John McVie band. It's another audience recording (in a bootlegger's A-/B+ sound quality), from Bromley Technical College at some point in April or May 1967 (when this line-up was extant). Despite the audience chatter, what's heard is pretty hot – this was a tight, driving band. "Stand Back Baby" is the stand-out as everyone is locked-in with each other.
A really interesting show crops up on Disc 31. It's imprecisely annotated as "7th National Jazz & Blues Festival (1967)", but specifically is from Windsor on 13 August 1967. Fleetwood Mac debuted at the same festival. Billed with a new outfit formed by his former sidemen, Mayall's band is Mick Taylor (guitar – he first played live with the band on 17 June), John McVie (bass - he'd soon leave to replace Bob Brunning in Fleetwood Mac), Keef Hartley (drums), and Rip Kant and Chris Mercer (saxophones). Another audience tape, it's a little muffled and has some chat and a gentleman coughing near the microphone (maybe A- quality). The band has not yet bedded in: "Sonny Boy Blow" has a false start which causes the audience to jeer. Overall, it's musically more loose than the Bromley show with a leaning towards soul which was lost by the time Mayall and co recorded Crusade, their next album. Taylor is on three of the other four live shows. The last and latest is credited as "Fillmore West (1970)" (it's from 17 April) and features drummer Duster Bennett, who didn't record in the studio with Mayall.
But the box is not all about the music. The books are a draw. The text in the 131-page hardback incorporates interviews with Mayall: new and old. Dates are always specific. Detail dominates. It's nicely designed and broken up into logical sections. The illustrations are great, as is the choice of who else beyond Mayall to quote. All anyone needs to know is here. A fine, precise, straightforward biography.
The facsimile of the press pack for 1965's live John Mayall Plays John Mayall album (recorded live in December 1964) is great to have. Irrespective of any interest in Mayall, it's a terrific period piece. In it, Charlie Watts is quoted as saying "John Mayall? Great! Quite an experience to hear and see him. That one-man band, leaping about all over the place – mad!" Georgie Fame says "I'm pretty sure he's got no imitators with that triple harmonica-organ-piano rave up. It's a knockout." The Kinks's Pete Quaife is more measured, saying of the album that "this disc generates a fair old bit of excitement."
The book of fan club material collects 128 pages of newsletters from early 1968 to July 1970. It's a goldmine of raw material with detailed information on tours and releases, and lengthy specially written contributions from band members including Mayall. Mind-boggling stuff.
So this big box set is a big deal. Nonetheless, there's a few oversights. Some licensable material is not included. The tracks Mayall and his band played on the 1967 Eddie Boyd And His Blues Band album are not here (the album is mentioned in the book). Champion Jack Dupree's 1966 album From New Orleans To Chicago featured Mayall on "Shim-Sham-Shimmy" and "Third Degree" (also mentioned in the book). Neither are collected. Mayall's tracks from the excellent 1967 Raw Blues comp are absent: "Burn Out Your Blind Eyes", "Evil Woman Blues" (with Peter Green), "Long Night" (with Steve Winwood) and "Milkman Strut" (Raw Blues is mentioned in the book). Perplexingly, despite its bulk, The First Generation is not the full story.
However, The First Generation 1965–1974 is an extraordinary tribute to a wilful, visionary British musician. A great enthusiast and a great propagator, John Mayall is important. But is this box set £275 important? Five thousand copies have been released and, presumably, at least the same number of buyers will think it is that important.
Next week: Richard Hell's Destiny Street

Despite who else is heard, 'The First Generation' is ultimately about the will of John Mayall
Share this article