Reissue CDs Weekly: Georgie Fame
Reissue CDs Weekly: Georgie Fame
Fantastic box set celebrating the unorthodox innovator who bridged the gaps between club sounds, jazz and pop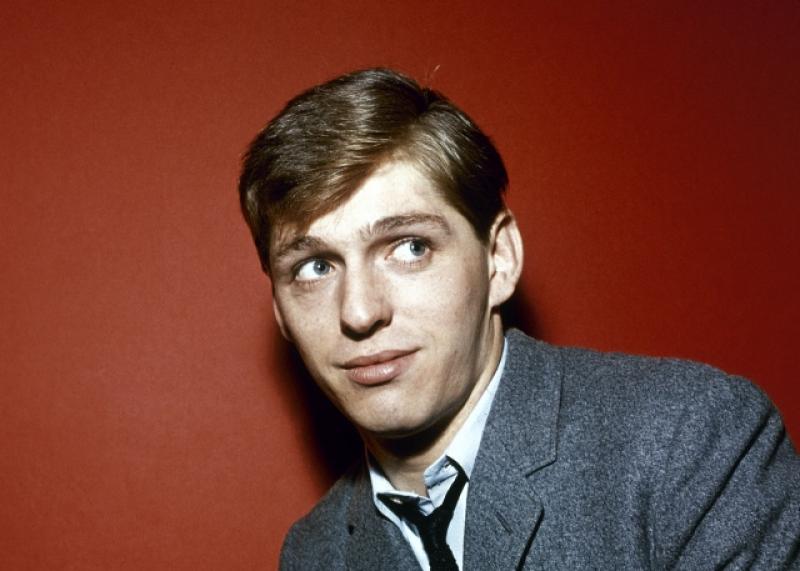 Georgie Fame: an unfurrowed brow
Georgie Fame: The Whole World's Shaking – The Complete Recordings 1963–1966
Last month, theartsdesk's Reissue CDs Weekly tackled a collection of albums by Faces which, despite great remastered sound and noteworthy bonus tracks, was a thoughtless, cheapo package ill-befitting a band of such popularity and status. This splendid new Georgie Fame box set is exactly the sort of thing the Faces release could and should have been.
The meat of The Whole World's Shaking – The Complete Recordings 1963–1966 is Fame's four albums from the period: Rhythm and Blues at the Flamingo, Fame at Last, Sweet Things and Sound Venture. Each appears in a card facsimile of the correct original sleeve, but extra space is brought by gatefolds allowing the original liner notes to be reprinted at a readable size. Bringing album sleeves down to CD size, as is often done, would have made the text microscopic. The four albums are supplemented by many bonus tracks. A fifth CD, with a sympathetically designed Sixties-style cover, includes even more bonuses. The 18 previously unreleased tracks collected are accompanied by rarities like German-language single versions.
This is not a budget-saving clamshell box (like the Faces release), but a proper box with a lift-off lid. Inside, the CDs are accompanied by a well-designed, full-colour, 48-page hardback book. The entertaining, in-depth and insightful text is written – with Fame's input – by the journalist Chris Welch, who was there at the time and wrote the original liner notes to 1966's Sound Venture. There is also a wallet containing five postcards and a poster-size photograph of Fame with Mick Jagger.
By any measure, The Whole World's Shaking is a fantastic package which shouts the care and diligence taken with its production. Fame is not an artist with the mainstream eminence of Faces, yet it was they who got the ropey bargain-basement box: evidence that the major label's handling of the catalogues they hold the rights to makes no sense.
Fame – as the Faces ought to have been – is eminently worthy of this treatment. No one else was doing the same thing as him during the period covered by this new release. It's too pat, simple and lazy to brand him as a follower rather than in innovator. The author Peter Doggett nailed it in his recent all-encompassing history of pop, Electric Shock, saying Fame was "the one man in London capable of blending blues, jazz, soul, ska and even African highlife into a coherent sound."
The Whole World's Shaking soundtracks this vital period and maps how Fame changed the ingredients of British pop. After listening to it, his significance as both bridge-builder and trendsetter is no doubt. Not only did he bring his take on black styles of music to a white (though mixed in the early days) audience, he also fused them into a single, recognisable whole. Of course, he has not stopped and has, over the years, worked with Eric Clapton, Elvis Costello, Diana Krall and Van Morrison, as well as his own inspirations such as Mose Allison, Count Basie, Prince Buster and Phil Upchurch.
But The Whole World's Shaking is about the man born Clive Powell in 1943 and celebrates him in fine style. In terms of mid-Sixties chart success, he is not a major but still noteworthy figure. His single "Yeh Yeh" knocked The Beatles' "I Feel Fine" off the top spot of the singles chart in January 1965. Of course, chart success is no measure of importance, though his albums were not obscure: Fame at Last, Sweet Things and Sound Venture all reached the Top Twenty or Top Ten.
Once established as both a live draw and a seller, Fame was given license to pursue exactly what he wanted to do. Like-minded contemporaries such as Graham Bond, Zoot Money and even Manfred Mann did not take things this far musically. It's all there already on 1964's live-for-real Rhythm and Blues at the Flamingo: the ska of "Humpty Dumpty", the soul of "Night Train", the jazz of "Work Song" and proto-World Music stylings of "Eso Beso". Before an audience, Fame turns this stew into a potent totality. In 1966, he issued Sound Venture, where he was co-credited with The Harry South Big Band. It featured UK players like Gordon Beck, Les Condon, Tubby Hayes Dick Morrissey, Ronnie Scott, Phil Seaman and Stan Tracey. This was no exercise and, again, Fame made a tremendous album with a unified sound.
The Whole World's Shaking – The Complete Recordings 1963–1966 is an important release. Stuffed with great music, it is a reminder of Fame's essential role in bridging the gaps between the popular club sounds of the day, what was considered serious jazz and pop. But this wasn't undertaken with the furrowed brow of an orthodox innovator. It was all done with joy, and with the goal of getting the feet moving. So yes, Fame was intent on getting the whole world shaking.
Next week: French pub rock pioneers Little Bob Story
Fame turned ska, soul, jazz and proto-World Music into a single, potent totality
Share this article