Music Reissues Weekly: Chris Farlowe & The Thunderbirds - Stormy Monday And The Eagles Fly On Friday |

reviews, news & interviews
Music Reissues Weekly: Chris Farlowe & The Thunderbirds - Stormy Monday And The Eagles Fly On Friday
Music Reissues Weekly: Chris Farlowe & The Thunderbirds - Stormy Monday And The Eagles Fly On Friday
Proof there was more to the blues-soul stylist than oldies radio staple 'Out of Time'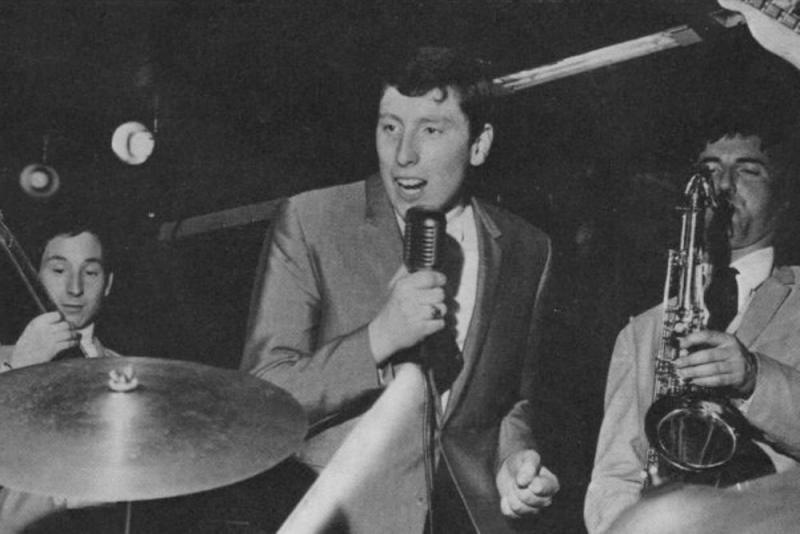 Chris Farlowe, centre stage in 1965
TV-watching pop fans in many of the British regions were served a treat on 16 September 1966. A whole episode of Ready Steady Go! was dedicated to Otis Redding, who had arrived in the UK a week earlier on his 25th birthday.
As would be expected Redding ripped through his performance segments, bringing his power to "My Girl," "(I Can't Get no) Satisfaction" and "Respect." Room was made for local acolytes. Redding introduced Eric Burdon – in his first TV appearance after leaving The Animals – taking on "Hold on! I'm Comin'." Burdon later introduced Chris Farlowe's version of James Brown's "It's a Man's Man's World." Burdon and Farlowe joined Redding for a scorching "Land of 1000 Dances."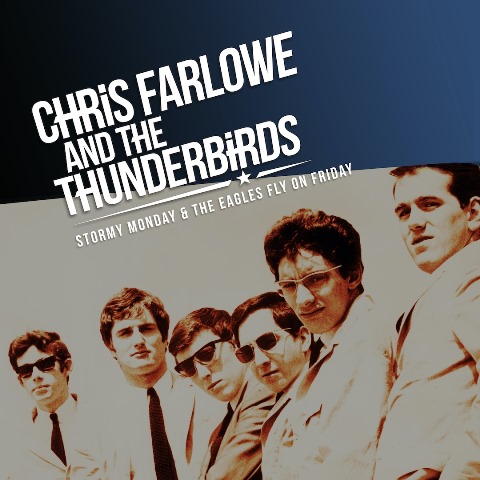 Chris Farlowe was on a high at the time. His version of the Stones's "Out of Time" had hit number one in July 1966. Though that was preceded by two other singles on Rolling Stones manager Andrew Loog Oldham's Immediate label – the second was "Think," another Stones cover version – and followed by four further charting 45s on the same imprint, Farlowe never hit these commercial heights again.
Having boosters had helped. "Out of Time" was credited as a Mick Jagger production. The first Immediate single, October 1965's "The Fool," was produced by Eric Burdon. After the run of hits – November 1967's "Handbags and Gladrags" was the last – and three more Immediate 45s, Farlowe joined jazz-rockers Colosseum in autumn 1970 and then entered the line-up of Atomic Rooster. Following this he went into selling militaria, worked with Jimmy Page and Van Morrison, and played solo shows.
The first sign Chris Farlowe could attract attention had come in 1957, when his combo The John Henry Skiffle Group – he was born John Henry Deighton – won the All English Skiffle Championship at Tottenham's Mecca Ballroom. That honour went nowhere and the band never recorded. Farlowe refocused and by around 1960 was fronting the jazz-inclined band The Thunderbirds. An early booster was a pre-session man Jimmy Page, with whom the Thunderbirds recorded a shelved album in 1961. Farlowe's first single arrived in November 1962.
That single, "Air Travel", was a Sam Cooke-ish slice of pop soul. Issued a month after the debut Beatles single, it was important. Setting aside the Alexis Korner / Cyril Davies axis and its schlocky cod-country B-side, it was the first record to emerge from the burgeoning London mod scene.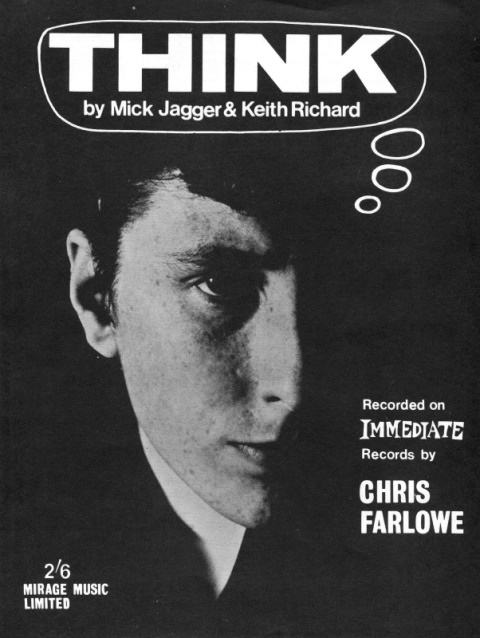 More singles followed. January 1964's "Blue Beat" capitalised on the blue beat craze and was issued under The Beazers credit. One was issued as by Little Joe Cook to – successfully – pass it off as an American recording. June 1965's "Buzz With the Fuzz" – in a Flamingo Club jazz-soul style – referenced a run–in with the police and taking amphetamines so got no airplay. Mods loved it. Nothing clicked commercially until the Immediate records hook-up and "Out of Time." (pictured left, the song sheet for the January 1966 "Think" single)
The context into which the inelegantly titled Stormy Monday And The Eagles Fly On Friday slots is fascinating. Chris Farlowe's path was unique and, in many ways, ahead of many of those who would become his contemporaries.
Stormy Monday… is a three-CD set in an old-fashioned thin jewel box which slides into a card slipcase. Disc One is a 21-track selection of everything which was issued on 45 before signing to Immediate: covering 1962 to 1966 (while Farlowe was with Immediate, Island issued tracks recorded earlier). This material, though very familiar, has not been collected in one place before. Disc Two is 19 tracks (one of the tracks is cheekily assigned to an interview segment) recorded for the BBC from October 1965 to November 1969. "Out of Time" gets the set's only outing via a session recorded in July 1966. All the Disc Two tracks, except "Baby What You Want me to do" and "Stormy Monday Blues" (both from July 1968) are extracted from 2017's Live At The BBC double-CD set.
What's new is what's on Disc Three. Titled Live At The Flamingo 1965, it's a recording of a set by Chris Farlowe and the Thunderbirds at the London club of the same name. Though a boxy audience recording, it sounds fine. There's barely any audience noise (it comes across as edited). Frustratingly, nowhere in the package or in the promotional material is an explanation of how this hitherto unheard tape surfaced.
Unfortunately, there's some fast and loose with the tracklist. "Wade in the Water" is listed as the first track, but what's heard is the final 34 seconds of the performance of the song. The final organ flurry at the end of the set – all 17 seconds of it – is given its own track title of "Signing Off." Does the tracklist seen on the outside of the package need this misleading bulking-up?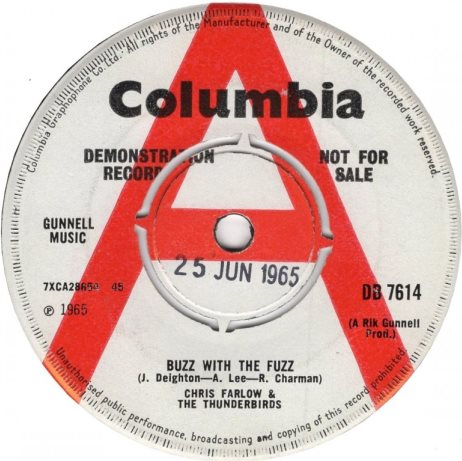 Also, more egregiously, the 1965 credit is wrong. The ninth track is "Think," which Farlowe introduces as his latest single. He also says its chart position. Issued in January 1966, "Think" began its brief run in trade paper rankings the next month. This live set is not from 1965. It is from February 1966.
Nonetheless, this is historic stuff. Dave Greenslade (Hammond organ), Ian Hague (drums), Albert Lee (guitar) and Bruce Wadell (bass) swing like the clappers. Framing-wise, what's caught mostly fits into the Graham Bond and Georgie Fame bag, with additional nods to rock 'n roll ("You Can't Sit Down") and straight soul ("In the Midnight Hour" and "Lipstick Traces"), with some blues ("Stormy Monday Blues"). There's an interesting, somewhat forced, take on "Summertime" and a run through "Buzz With the Fuzz" with an amusing introduction from Farlowe and a cheer of recognition from the crowd. The melange gels: mod-soul-blues-jazz. An unfiltered soundtrack of what was getting central London clubland going in early 1966.
Despite its preventable shortcomings, Stormy Monday And The Eagles Fly On Friday is noteworthy as it brings a new spin by sidestepping the headlines from Farlowe's hit-bringing period. The live show is a real find. Chris Farlowe may forever be defined by the oldies radio staple "Out of Time" and who he was associated with, but as it's made clear here a lot more was going on.
Next week: The 1959 Sessions – previously unreleased album from Stan Tracey Trio
The disc of a live recording from London's Flamingo Club is historic stuff
Explore topics
Share this article