David Bowie - Five Years, BBC Two |

reviews, news & interviews
David Bowie - Five Years, BBC Two
David Bowie - Five Years, BBC Two
Impressive survey of Bowie's golden years probes the music as well as the man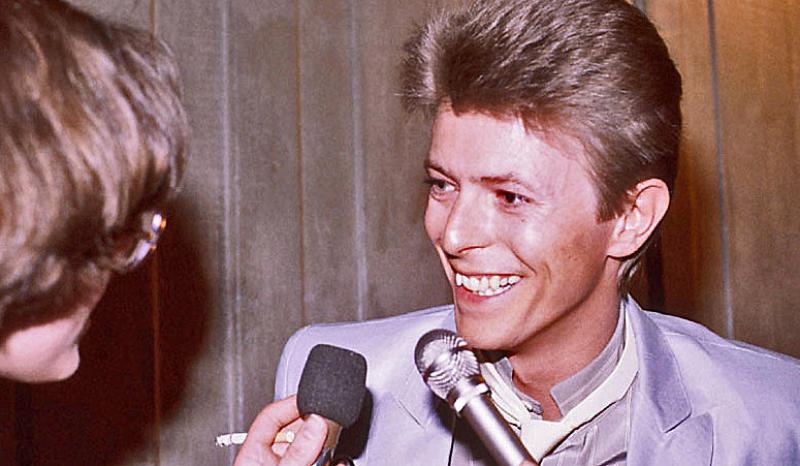 'Hello, I'm David Bowie': the mercurial star reveals all to the press (not)
Picking five creatively significant years was quite a smart way of tackling the huge career of David Bowie, though you could argue forever about whether producer/director Francis Whately had chosen the right ones. What about 1969 and the Space Oddity album, or 1970 and The Man Who Sold the World? How about a really bad year like 1987, which gave us Never Let Me Down and the egregious Glass Spider tour?
But the film is what it is rather than what it isn't, and most of what we got was fascinating, and often terrific. In an opening collage of quotes from Bowie, Whately banged home the point that there isn't just "David Bowie" but a whole walk-in wardrobe full of them, trying on new costumes and attitudes. Bowie stressed that he'd been "using rock'n'roll as a medium", even going so far as to claim that "I'm not a rock star - I'm not in rock'n'roll". He was a collector of personalities and ideas. He would "enact" material, "rather than perform it as myself."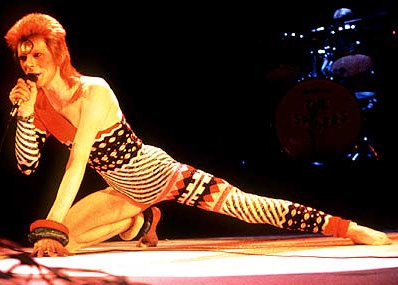 His most conspicuous triumph in this respect was Ziggy Stardust (pictured right in typically louche pose), the imaginary star he invented in order to convey himself to real stardom. Whately mostly avoided the deadly rock-doc standby of getting journalists to reheat ancient soundbites, but John Harris was permitted to suggest that what Bowie had done with his Ziggy-osmosis could be termed "self-actualisation".
Be that as it may, one area in which the film was truly impressive was in its digging into Bowie's working processes and highlighting his distinctive musical gifts. Bowie is analysed so frequently in terms of image, androgyny, eyeliner and myth that it was rather amazing to get some glimpses inside the actual music. Rick Wakeman, who played piano on the Hunky Dory album, delivered a lovely little vignette from the keyboard about what a subtle and brilliant song "Life on Mars" is, with its inspired introduction of an E flat in the bass and the ecstatic leap upwards into the chorus.
Equally revealing was some priceless rehearsal footage from the Young Americans sessions in New York in 1974, showing Bowie shaking down his new songs with a squad of soul singers and working on the fine detail of vocal arrangements with the then-unknown Luther Vandross (Bowie in Thin White mode, pictured above). Bowie has often been accused of attaching himself vampirically to his working partners and getting them to do the heavy lifting, but here was a super-focused Bowie who knew exactly what he was after. Guitarist Carlos Alomar, whose work on Young Americans was the start of a 30-year musical relationship with the mercurial Dave, explained how Bowie had extracted a sliver of musical DNA from a theme Alomar had written and used it as the basis for "Fame". An ingenious split-screen montage showed Alomar adding the different guitar parts that built up the song.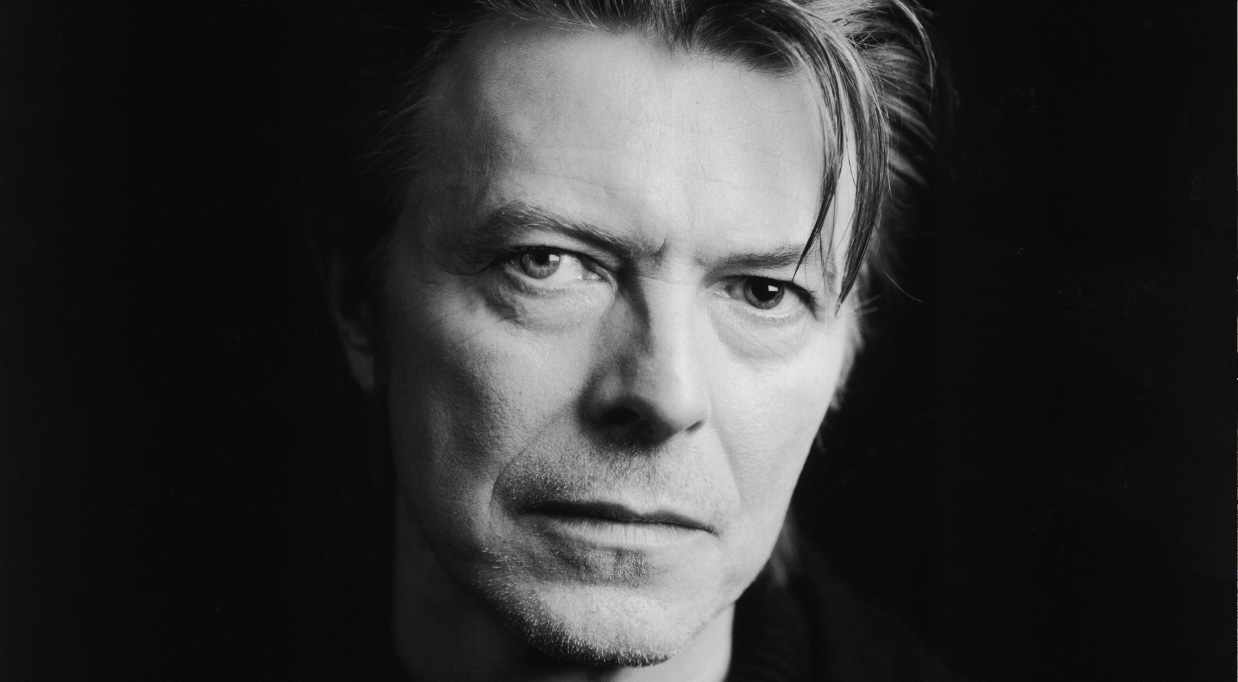 Alomar also proved to be a hilarious raconteur, like the Gok Wan of the electric guitar, for instance in his recall of his first meeting with Bowie. Dave had decided to become a soul man but didn't look much like one. "This was the whitest man I've ever seen," Alomar boggled. "I'm not talking about white like pink, I'm talking about translucent white. And then he had orange hair..."
When the narrative spun forward to 1983 and Let's Dance, when a pastel-suited, orthodontically-enhanced Bowie breezed into the spotlight as a clean-cut global superstar-in-waiting (pictured below), Alomar revealed that Bowie, hitherto assumed to hang upside down from the rafters in near-darkness while being fed intravenous cocaine, had even taken up boxing. "I found it a little odd, in that it was a very happy David," he confessed.
All this and more... there was insightful stuff from Brian Eno about working with late-Seventies Bowie on Low and Heroes, and some deadpan commentary from Robert Fripp, brought in to add "hairy rock'n'roll guitar" to Heroes ("anyone who's playing 'Beauty and the Beast' - you know they get erections," Fripp observed unexpectedly, giving a rather dodgy wink.) There was a speedy tour of the Thin White Duke era, the making of Station to Station and Bowie's role in The Man Who Fell to Earth. "I was psychically damaged," said Bowie. "Everybody was on drugs," added his lead guitarist Earl Slick, resembling Johnny Thunders's even more wasted wayward cousin.
And in the end there was a little glimpse of New Bowie, the New York recluse who suddenly sprang The Next Day on us a few weeks ago - only on film, obviously. He didn't talk or anything. Wizened NME hack Charles Shaar Murray commented that Bowie has "regained the mystery and distance" which have been so critical to the construction of his legend. If he's capable of making an album in complete secrecy, who knows what he might do next.