DVD: Time of the Gypsies |

reviews, news & interviews
DVD: Time of the Gypsies
DVD: Time of the Gypsies
Emir Kusturica hit the heights with his compassionate celebration of a Roma community in the former Yugoslovia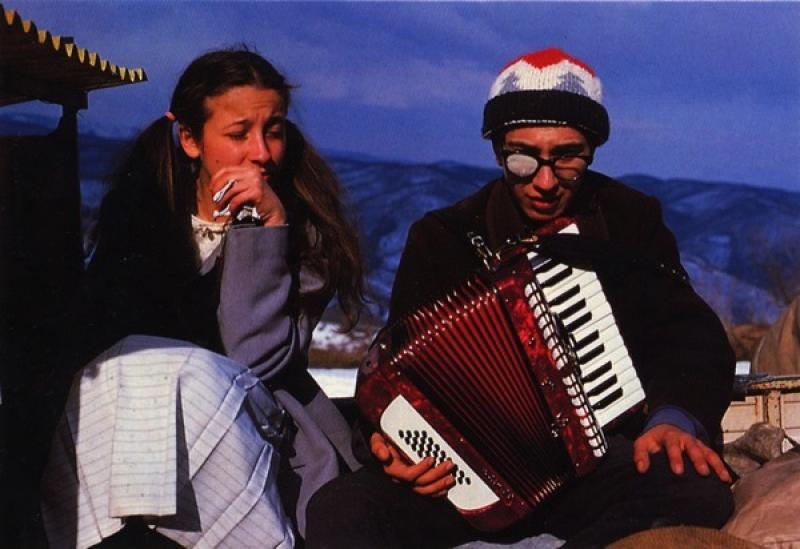 Sweet sorrow: Perhan (Davor Dujmović) and Azur (Sinolička Trpkova) on the eve of his departure for Ljubljana
Born in Sarajevo, the capital of Bosnia-Herzegovina, into a secular Muslim family with Orthodox Slavic roots, the filmmaker Emir Kusturica has long been a polarizing figure in the Balkans.
A patriot of the former Yugoslovia, he is regarded by his enemies, who condemned him as an apologist for Slobodan Milošević during the Bosnian War, as a Serbian nationalist; as recently as April, the Bosnian stage director Selma Spahić withdrew the play she was bringing to the current Sterijino Pozorje Theatre Festival in Novi Sad because Kusturica was invited to open it.
Time was – before his second Palme d'Or-winner Underground (1995) presented the region as a politically obfuscating madhouse – when Kusturica's reputation was less muddy. Stateless at the time of the war, he must have identified with the Roma whose lives of permanent outsiderdom he had depicted in Time of the Gypsies.
Honking geese, an enigmatic Greek chorus, show up in most of the scenes
Compassionate but unsentimental, the 1988 classic proceeds from a raucous celebration of young love, subsistence living, and Roma traditions in a ghetto outside Sarajevo to an angry critique of corrupting assimilation.
Accompanying his crippled younger sister to Ljubljana where he hopes she'll be healed, the orphaned, telekinetically-gifted Perhan (Davor Dujmović) is lured from his loving girlfriend Azur (Sinolička Trpkova) and his doting grandma Khaditza (Ljubica Adžović) into a life of street crime by a flash Gypsy criminal (Bora Todorović), who traffics in babies and runs child prostitutes and beggars in Milan. That the villain and his equally venal brothers are Moslems discolors what is otherwise Kusturica's most humanistic film.
Deeply indebted to the festiveness, ribaldry, and dense mise-en-scène of Fellini's Amarcord, and similarly introduced by a barmy narrator, the freewheelingly poetic movie veers, unexpectedly on occasion, into scenes of delicate magical realism or hyperbolic surrealism. Honking geese, an enigmatic Greek chorus, show up in most of them.
It's been suggested that Kusturica began to lose control of his stories at the time he made this film, but the structural and compositional chaos admirably reflects the Roma's paganistic communal energy. It builds to a spine-tingling crescendo in the St. George's Day (or Đurđevdan) renewal ritual on the torch-lit river, set to composer Goran Bregović's haunting arrangement of the Gypsy folk song "Ederlezi", when Perhan and Azur first make love. Once heard, its Macedonian singer Vaska Jankovska is never forgotten.
Below: the St. George's Day celebration
A fable of young love expands into an angry critique of corrupting assimilation
rating
Share this article