Mad Dogs, Sky 1/ Hannibal, Sky Living |

reviews, news & interviews
Mad Dogs, Sky 1/ Hannibal, Sky Living
Mad Dogs, Sky 1/ Hannibal, Sky Living
A nightmare in the Sahara for the Mad Dogs, and murderous pretensions in 'Hannibal'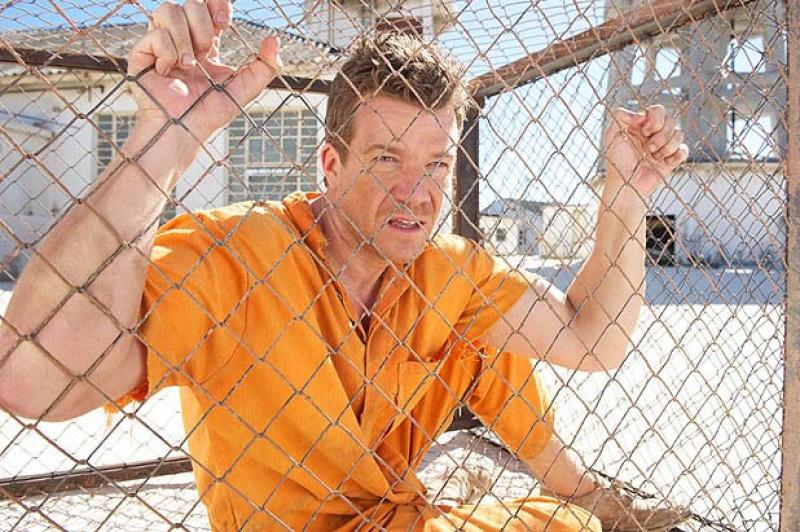 Like Webster's Dictionary, he's Morocco bound: Max Beesley as Woody in 'Mad Dogs'
Previous series of Mad Dogs have seen the quartet of middle-aged geezers embroiled with the Serbian mafia and tangled up in drug deals, conspiracies and murder. For this series three opener, the curtain rose on our bedraggled lads caged up in a derelict prison camp. They were wearing Guantanamo-style orange jumpsuits. Having expected to go to Barcelona on a container vessel at the end of series two, here they were banged up under a shrivelling Moroccan sun.
Much of the piece was taken up with the quartet being baffled and bamboozled, amid some tight-lipped wiscrackery, as they tried to work out what was happening. Not long before they'd been in possession of €5m, but dreams of luxury and leisure had been abruptly sawn off (left to right below: Max Beesley, John Simm, Marc Warren, Phil Glenister).
No offence chaps, but there was a vague sense that you were making up this episode as you went along. It was a bit like The Hangover 4. It took the deus ex machina-style introduction of Mercedes (Jaime Winston), dumped into the prison compound by unsmiling guards, to bring any inkling of an explanation. The guards were locals, but they were operating under the auspices of nameless British spooks. As Baxter (John Simm) put it, one minute he'd been queuing for Easyjet with a tuna baguette in his hand, "and now I've been fucking renditioned."
It clicked up half a gear with the appearance of Anton Lesser as "Alex", the enigmatic Man from the Ministry. Oozing manicured mercilessness, Alex explained that the boys had now been cleared of whatever they'd been suspected off ("narco finance" or something) and could go home. This went badly. Their jeep conked out, the driver vanished (how??) and invisible gunmen started shooting at them.
All of the foregoing merely added up to a pretext for Alex to ship the uncomprehending chums off to South Africa in a battered old Dakota where they were ordered to split up, start new lives and never see each other again, because otherwise a secret branch of the CIA would kill them. Poor Rick (Marc Warren) was almost in tears, his fragile state not improved by a vision of a weird midget tribesman prancing around in front of him with a painted face. Sheesh. I reckon the series will start properly with next week's episode two.
Lecter intersperses gourmet repasts with high-concept psychobabble
Serial killers... arencha sick to death of 'em? It's proving especially hard to kill off that grotesque godfather of the genre, Hannibal Lecter, the central character in a string of movies and now reborn again in Hannibal.
The series is an origin story, taking us back to the pre-Anthony Hopkins era when psychiatrist Lecter is engaged by the FBI to treat special agent Will Graham, a gifted profiler teetering on the edge of mental collapse. Now inhabiting the iceberg-cool and immaculately-tailored form of Denmark's finest, Mads Mikkelsen, Lecter is a fastidious gourmet interspersing elaborate repasts with high-concept psychobabble. His career as a cannibalistic slaughterer is merely nascent, and it's never clear exactly what he's serving up from his state-of-the-art kitchen.
In this fifth episode (subtitled "Coquilles"), Lecter entertained to dinner Jack Crawford, head of the FBI's Behavioral Science Unit, and his wife Bella (dining chez Lecter, pictured below). "Cold foie gras and warm figs. Delicious," said Crawford (Laurence Fishburne) appreciatively. When Bella declined to eat foie gras because it's a product of cruelty to animals, this prompted a pedantic diatribe from Lecter about ethical butchery and why there's "no need for unnecessary suffering." Doesn't being buried alive under a landslide of ham-fisted irony count?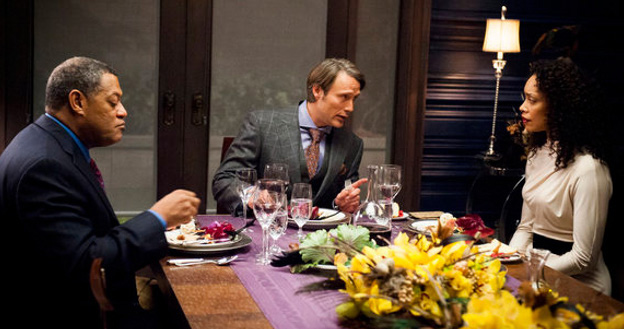 This is a difficult show to get a fix on. Its elaborately posed killings are stomach-turning - we've had a woman impaled on antlers, and in this episode two half-skinned victims with their flesh peeled up like angel's wings - and its interludes of po-faced cod-psychiatry are laughable. "He's drawing from secular sources?" Crawford asked Graham gravely, as they found another spatchcocked victim of the "Angel Maker" hanging from a tall building. "His mind has turned against him and there's no-one there to help," intoned Graham (Hugh Dancy) morbidly.
Often, it feels like a distempered gothic fantasy with set designs from Interiors magazine, but occasionally there's a glimpse of something superior. Last night it was the scene where Graham and Crawford were quizzing the killer's wife, and as she described the effect of her husband's cancer diagnosis, it suddenly dawned on Crawford that his own wife was seriously ill. The way Fishburne's face registered waves of shock and awful comprehension almost justified whatever ludicrous salary they're paying him.