Aguirre, Wrath of God |

reviews, news & interviews
Aguirre, Wrath of God
Aguirre, Wrath of God
Werner Herzog's transcendent epic about the quest for El Dorado grows in stature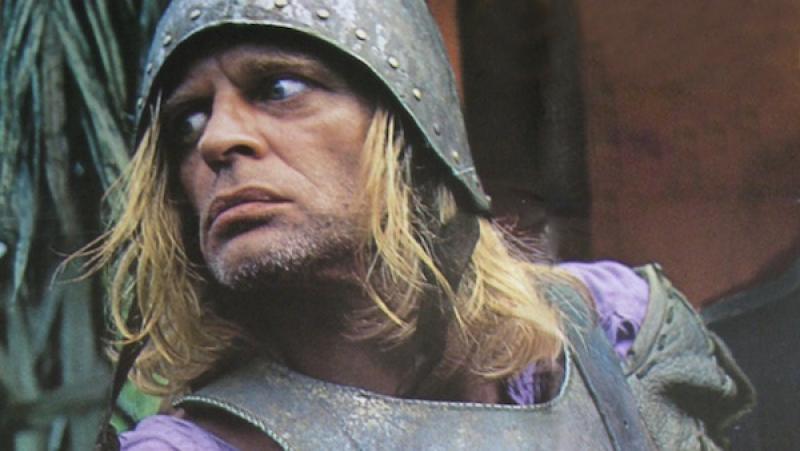 Holy fool: Klaus Klinski as the overreaching Spanish conquistador Lope de Aguirre
The first image in Aguirre, Wrath of God (1972) shows clusters of mist hovering over the darkened Andes. Mirroring the implacability of the terrain, Popol Vuh's synth score evokes a celestial choir hymning the mountains' numinous might, worried though the music is by faint high-pitched vibrations. In a short series of downward tilt shots, the camera – unseen, but a "felt" presence throughout, as drops of moisture on the lens later testify – picks out insect-like figures tentatively making their way in single file down a narrow path hundreds of feet above the Amazon.
Much nearer, the men that enter the foreground on the left of the frame are revealed to be armored Spanish conquistadors, carrying halberds or muskets, and their wool-helmeted Inca slaves, who drive pigs and llamas and carry fowl in baskets. Those in the procession's van are ascending the mountain yet again as the path climbs. A chicken basket plunges downhill, followed by a cannon barrel that explodes on impact. The stupendous trek made by the conquistadors and their entourage is a hubristic exercise in futility.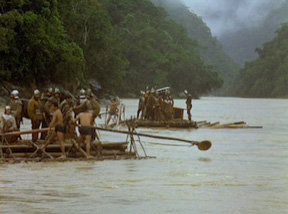 The Spaniards are seeking El Dorado, the legendary "lost city of gold", which the Indians have dreamed up to divert their conquerors from further depredations. A symbol of European greed, it is as much a mirage as the sailing ship that appears atop a tree toward the end, and which Francis Ford Coppola transformed into a burnt-out helicopter in Apocalypse Now (the journey on the Amazon, pictured above.)
This is the hallucinatory beginning of Werner Herzog's fourth fictional film. Wagnerian in scale and neo-colonialist in its perilous production, as was Fitzcarraldo, Herzog's other Peruvian folie de grandeur, Aguirre is the most damning depiction of colonisation in a career that has repeatedly condemned the destruction of what he has called "the embarrassed landscapes of our world."
Simultaneously, it is the masterpiece of the New German Cinema most infused with the spirit of 19th-century Romanticism. Although Wim Wenders also drew on the paintings of Caspar David Friedrich in Wrong Movement, Aguirre more faithfully replicates Friedrich's vision of nature aweing human onlookers, or engulfing man's feeble structures. In returning to the past, Herzog was attempting to efface the stain on German art and cinema left by the Nazis.
The film is an exercise in dehistoricisation, Herzog unmooring it from the known facts to get at an "ecstatic truth", as he has put it, "through fabrication and imagination and stylization". It's that old idea of drama being more truthful than history.
In 1541, conquistadors led by Gonzalo Pizarro set out to locate a mythical valley of cinnamon plantations in Ecuador. Close to starving and harried by Indians in the Amazon jungle, Pizarro sent Francesco de Orellana to get provisions and find the mouth of the Napo river. Accompanied by the Dominican monk Gaspar de Carvajal, who wrote a book about the journey, Orellano never returned to Pizarro's decimated army but instead became the first European to navigate the Amazon to its delta in northern Brazil.
In Aguirre's opening title, Gonzalo's quest has fused with the 1560-'61 search led by Pedro de Ursúa for El Dorado. Gonzalo confides in Klaus Kinski's Lope de Aguirre, initially a rational lieutenant, but entrusts the dutiful Ursúa (standing in for Orellano) to lead the El Dorado and provisioning party, which proceeds down the Amazon on three rafts.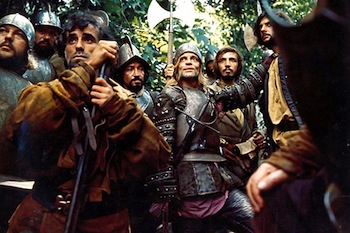 Ursúa brings his mistress and Aguirre, the second in command, brings his teenaged daughter – the women's finery as absurd in the circumstances as the sedan chair brought along for their comfort. Carvajal (Herzog's narrator), who wasn't on Ursúa's expedition in reality, comes along to convert friendly Indians, though he's lured more by the promise of riches. One raft is caught in a whirlpool and most of its crew are slain by Indians overnight. Contemptuous of authority, Aguirre cows the 30 remaining men into mutinying (pictured above), appoints an ineffectual nobleman, Don Fernando de Guzman, as puppet emperor, and has Ursúa hung. Whereas Carvajal and the gluttonous Guzman covet gold that doesn't exist, Aguirre seeks fame and power, which is no less illusory.
If not as radically anachronistic as Peter Watkins's Culloden, Aguirre was filmed (from a prose treatment written by Herzog in two-and-a-half days on a football trip) like a self-conscious documentary, with plenty of fourth-wall breaking by actors and extras who look at the camera. Despite Kinski's eagle-like stares, crab-like gait and demonic aura, the film renders Aguirre a comparatively empathetic megalomaniac; the tenderness he shows to his daughter, prior to hatching a plan to impregnate her, does the most to normalise him. Aguirre/Kinski is, of course, one of Herzog's alter egos – those mad demiurges or holy fools who stand outside ideologies, civilization and time, and whose attempted grasp of impossible goals humanizes them as it destroys them.
Herzog subverts the documetary aesthetic with distancing dabs of surrealism, the clash of narrative styles ushering the film into a metaphysical realm, close to a dream state, that establishes it as an ironic but prophetic universalising myth about the tragedy of the Spanish imperialist project. A severed head speaks one last word, for example, and another dying man assesses the length of the arrow that's punctured him. Presiding over his pathetic nation state as it drifts with the current, Aguirre, the self-anointed "Wrath of God", signs a document drawn up by Carvajal that announces his proud betrayal of King Philip II and proclaims dominion over New Spain.
He also decrees that he and his daugher (Cecilia Rivera, pictured above with Kinski) will breed a master race to populate his kingdom (the real Aguirre allegedly murdered his daughter to prevent her being defiled). By the time the camera loops around Aguirre at the end, he is immobile and surrounded by a fresh genus of subjects.
The analogy with Hitler is self-evident – "Wrath of God" also suggests Christopher Marlowe's Tamburlaine, the "scourge of God" – although Herzog denied the film was an allegory for Nazism. It's been suggested that, like Woyzeck, Nosferatu, and Fitzcarraldo, all also played by Kinski for Herzog in the 1970s, Aguirre is emblematic of the German individualist who cannot conform to the era's collectivist spirit, and, having arrogated to himself supreme power over a void, must destroy himself.
Aguirre is more sympathetic to the Indians than most reviews contend. Its suggestion that the jungle is uncolonisable, however, has been disproved by the despoiling of the Amazon rainforest, a catastrophe set in motion by the conquistadors. If it eventually becomes a dry savannah, imperilling mankind, Aguirre's will to power will have reaped its terrible reward.
A new restoration of Aguirre, Wrath of God opens today at the BFI Southbank, the Curzon Soho in London and the Filmhouse Cinema, Edinburgh. Part One of the BFI's Southbank comprehensive Werner Herzog retrospective continues at the Southbank until 4 July.
The conquistadors' stupendous trek is a hubristic exercise in futility
rating
Share this article
Subscribe to theartsdesk.com
Thank you for continuing to read our work on theartsdesk.com. For unlimited access to every article in its entirety, including our archive of more than 10,000 pieces, we're asking for £3.95 per month or £30 per year. We feel it's a very good deal, and hope you do too.
To take an annual subscription now simply click here.
And if you're looking for that extra gift for a friend or family member, why not treat them to a theartsdesk.com gift subscription?