Die Entführung aus dem Serail, Garsington Opera |

reviews, news & interviews
Die Entführung aus dem Serail, Garsington Opera
Die Entführung aus dem Serail, Garsington Opera
Clever farce is the order of the day at this country house opera's season opener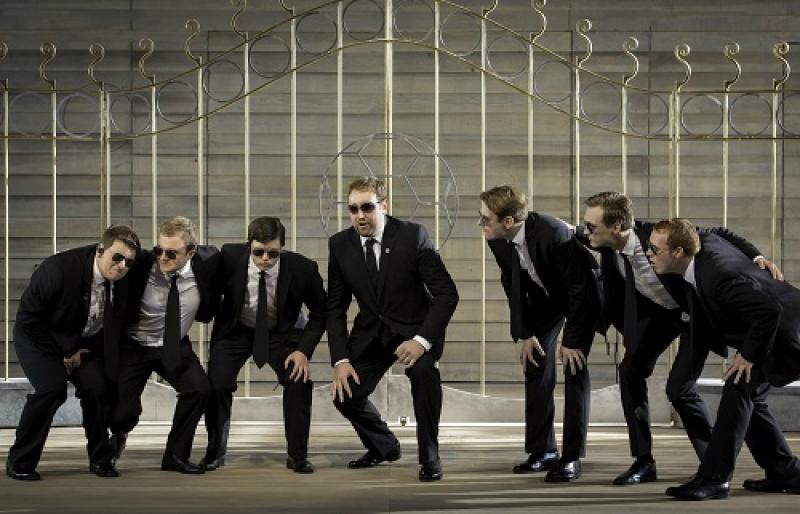 The excellent Matthew Rose as Osmin (centre)
In sunshineand bright blue skies there can be few places more green and pleasant than Wormsley Park. Garsington Opera has found a happy home there, with this being its third season in its sleekly rectilinear big top at the Getty family's Buckinghamshire estate.
Daniel Slater, the director of this production of Die Entführung, has taken all sorts of witty liberties with the libretto – at least the spoken part – and brought the story right up to date. Selim is an expatriate Russian oligarch and proud owner of a football club. Osmin is his black-suited chief henchman. Pedrillo is a cockney wide-boy sportswriter. Belmonte (Monty for short) is his American university friend. Konstanze is a Spanish It-girl. Blonde is her Swedish chum. And the chorus of Janissaries is a crowd of football supporters. Bravely, Slater has written an entire new script around the bones of the story but the silliness and topicality of the changes suit the spirit of the piece very well. It is dramatically incongruous that the set pieces are all sung in German but there have been far stiffer challenges to an operatic audience's capacity to suspend disbelief, and overall Slater more than gets away with it.
The silliness and topicality of the changes suit the spirit of the piece very well
The staging is designed by Francis O'Connor with a real sense of humour and a great deal of imagination in getting round the difficulties of working without a proscenium arch and fly tower. Furniture rises out of the floor, things spin round to reveal other things, flaps open, stairs appear, an open-top Jag drives on (one of the landlord's perhaps?). It's all very amusing and the audience laps it up – I've never known a scene change to be applauded before – though all the excitement verges on the distracting at times, and one wonders if the singers occasionally felt upstaged by the staging.
The quartet of lovers – young singers but not inexperienced – do a fantastic job. Both Rebecca Nelsen (Konstanze) and Susanna Andersson (Blonde) confidently power through their passages of fiendish coloratura, while the two tenors, Norman Reinhardt (Belmonte) and Mark Wilde (Pedrillo), have nicely matched soft-edged voices. Nelsen's big Act II aria ought to have been a highlight but it was slightly marred by an excess of on-stage activity. The director ought to trust the audience to just sit and listen for a few minutes.
The excellent Matthew Rose, playing Osmin – truculent, brutish, baleful – also handles himself well in a part with some very tricky moments, testing both his range and nimbleness. Aaron Neil's Selim, though not a singing role, certainly deserves a mention for his billionaire swagger and for earning plenty of laughs. Conductor William Lacey, a Brit doing rather well mostly abroad, keeps a good pace, as well as offering sensitive and responsive accompaniment to the more dolorous moments. The orchestra does itself very proud.
I've never known a scene change to be applauded before
rating
Share this article