The Last Of Us |

reviews, news & interviews
The Last Of Us
The Last Of Us
The Road less travelled? Post-apocalyptic horror gaming has rarely been this bleak
'The Last Of Us': zombie horror with a human edge
Gaming's equivalent of Cormac McCarthy's The Road – here we see a post-apocalyptic zombie invasion not as an excuse for all-out gory action, but downbeat introspection, gentle character interaction and moral tests in the face of true, human horror.
The Last Of Us is an absolute must-play game, that doesn't entirely hit every note, but at least aims far higher than most videogames not just in terms of narrative ambition and grown-up storytelling, but also visual and action realism.
The story is of hardened survivor Joel, who ends up grudgingly entrusted with the care of teen Ellie. She was born after the arrival of the fungal infection that's wiped out most of humanity and left many of the rest "infected" – aggressive and mindless zombie-like enemies. He's world-weary and wary, she's naive yet also rooted in the violent world she was born into.
Both are utterly believable characters. The Last Of Us, if it delivers anything perfectly, it's this pair. The entire game looks stunning, but it's only when the focus shifts from the nearest overgrown city, or some hulking infected lurker, to Joel and Ellie that it truly comes alive. So well is the game technology applied here, that you quickly forget Joel and Ellie are artificial constructs – you feel for them and their plight. Their relationship is teased out slowly and brilliantly too.
Again, a fearsome amount of high-end processing is going on here, particularly to make Ellie a believable artificial intelligence – she'll start conversations based on what's around her, but knows when to shut up, duck out of cover and even when to be scared. Which, of course, makes the game so much more involving and immersive.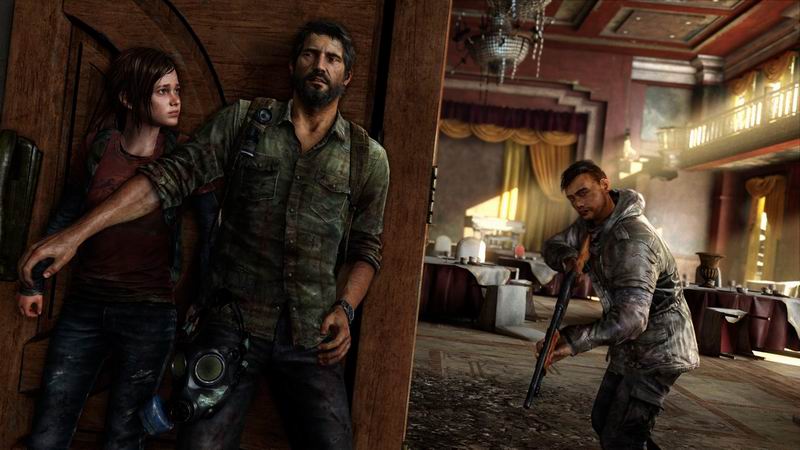 Sadly, the play, paced between bouts of exploring abandoned buildings or crouching and whispering behind a car with weeds growing through it, is good, but not great.
The Last Of Us is a slight letdown in its refusal to leave too many standard videogame methods behind (the same criticism could be levelled even more so at its makers previous games - the Uncharted series). All too often the game is reducible to a series of arenas – littered with handily squared-off objects to hide behind, with infected or human enemies predictable in their movements. Duck behind one place, sneak out to strangle an enemy, dive into a different point of cover, repeat.
Even then, there's at least a sense of the weight of the world – a realism. Enemies don't just go limp when you sneak up and strangle them, but claw desperately at your face as you stumble back. Gunshots, though rare, are flat and loud – the violence is not only shocking, but has a purpose.
An absolute gem of a game, The Last Of Us is brave, innovative and brilliant to play, just not quite in the measures one would ideally want.
The Last Of Us is out now. Developed by Naughty Dog, published by Sony. Platform: PS3