Afghan Army Girls, More 4 |

reviews, news & interviews
Afghan Army Girls, More 4
Afghan Army Girls, More 4
Army training doc sheds stark light on the position of Afghan women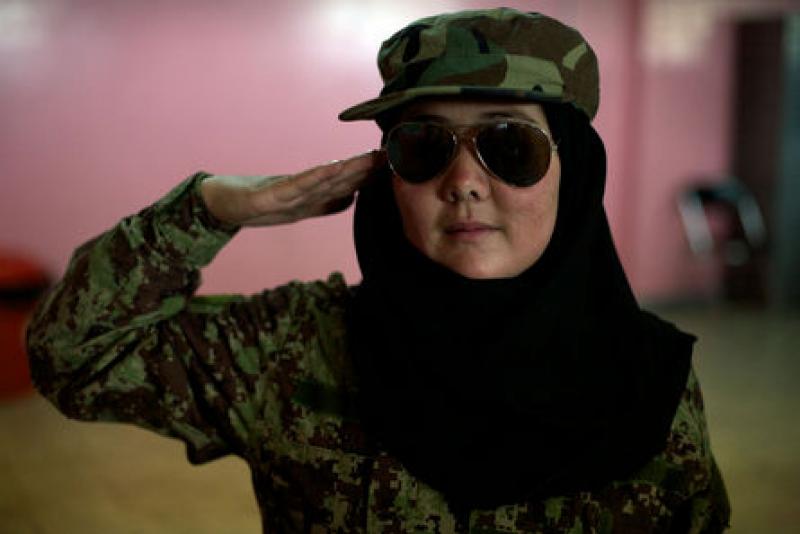 Uncertain salute: the very existence of women soldiers within the Afghan army depends on wider, political context
Being a woman soldier in the Afghan army must rate among the world's "least wanted" jobs, if only 14 applicants came forward for 150 places in the year's intake covered in Afghan Army Girls. It apparently took a year's negotiations to get a single camera allowed in to follow them over their six months' training, and even then some on the course insisted on having their faces blanked (understandable, when the Taliban threaten retaliation).
After all that trouble, but more importantly because it spoke a real quiet truth, this insightful film from photojournalist Lalage Snow surely deserved a rather more prime slot than it received.
Snow could hardly have been luckier with the three recruits – Zeinab, 21, Homa, 25, and Samiya, 22 – who agreed to feature, with a real empathy building up as the film progressed (even if we still wonder whether the director knew certain telling details from the beginning and chose exactly when to reveal them, or whether they really were discovered in the process). At one point in training we see them marvelling at a two-way radio, so we can assume they had little idea of what such television commitments meant, but the trusts involved were movingly, understatedly kept.
We saw slow progress as both sides – the trainers were British, American and Jordanian women soldiers – simply tried to understand each other, bringing home just how huge the gap between their worlds is. There's special bonding between American staff sergeant Travis – she's cool and chilled, getting through boyfriends like tissues (her words) – and her pupils, for whom arranged marriages are the norm ("they don't have choices"), and even a broken engagement can bring family disgrace (let alone pre-marriage intimacy). The Afghans wonder how Travis can just go out dancing when she wants to, Travis is amazed at the sheer number of relations who people photos from huge formal Afghan weddings. Presumably the formidable military trainer, Major Fahima, came from the Jordanian side, since it's hard to imagine there being a role model for her in an Afghan context.
But it's when Snow follows the trio on trips home, away from the security of barracks, that they, as well as their relatives, really open up, revealing the unexpected details behind their stories (pictured right, the uneasy balance between army and civilian life). Irrepressibly cheerful Homa may be a single mother, but that's because she's adopted a son, a baby she'd found abandoned, though that status could wreck her marriage prospects; she's also following a dead sister's dreams to become a pilot ("she flew to God"). Zeinab, clearly the brightest in class and most likely to attain that prized follow-up air force training, seems distant and uneasy company: she's compromised herself in her family by having walked out with a "secret man", and is now engaged to someone else, though her fiancé doesn't know she's joined the military. When he finds outs, sparks fly, albeit off camera.
But their lives seem a breeze compared with Samiya, who was made to join the army by her parents and isn't enjoying it. She was brought up in the practice of Bacha Posh, where girls are raised as boys in families with no sons, that role model normally continuing until puberty. Samiya hasn't re-positioned herself as a woman, however, making for plenty of confusion when it comes to her ideas about women's roles as well as her own career path (pictured below, weapons training).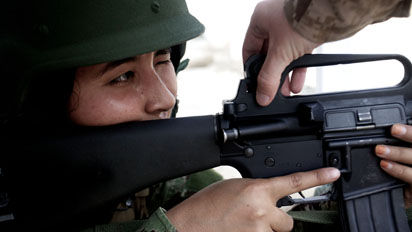 If that all sounds heavy, there's lots of laughter in the film, of the female-bonding kind that (we suspect) is somehow part safety-mechanism, part the nature of its participants. A lovely late scene has news that they've passed their exams coinciding with a rain storm, and tensions break. We awaited the film's end with real involvement, hoping that these three are at least okay, given that political decisions and events from news headlines (which cascade periodically through the film as background to their story) could at any point wreck their prospects. Life post-film has brought its ups and downs, and if they go on having even a small chance to use their characters and new skills in a slow reforging of their society, that would be tremendous. But most of all we hope they'll just be still around.
We saw slow progress as both sides simply tried to understand each other, bringing home just how huge the gap between their worlds is
rating
Explore topics
Share this article