Company of Heroes 2 |

reviews, news & interviews
Company of Heroes 2
Company of Heroes 2
A strategy game that wants you to think and feel – and manages both
'Company of Heroes 2': 'Call of Duty' intensity meets deep strategy
Fusing the intensity of first-person shooters like the Call of Duty series with top-down strategy games doesn't immediately seem a good fit. First-person shooters work because you respond viscerally to bullets flying past your face and the fear of the battlefield as you sprint through mayhem, dodging and weaving. Strategy games, even the realtime modern videogame versions, rely on a cerebral strategising – often sacrificing men as pawns in a broader scheme. Yet fusing these two ideas is exactly what Company of Heroes 2 tries to do and mostly succeeds at.
Here, your World War II Russian forces have to survive the Nazi blitzkrieg and the frigid winter conditions, before the strikeback – pushing the fight into German territory and eventually to Berlin. Along the way, Company of Heroes 2 uses just about every modern game trick to immerse you in the action: flashforward flashy cut-scenes bookending each mission, high-quality graphics and audio effects to render the sight and sounds of flamethrowered men more pitiful, and new-to-the-series innovations including pace-slowing two-person sniper squads and the need for your men to find warmth and shelter in the Siberian winter regularly. It all means that you're constantly pulled in to the plight of your men, to the desperation of a losing battle.
The result is conceptually disjointed. You're told by your superiors, advising you via radio, not to care about the cost of lives of the conscripts – the Russians get more men, to the German's technological advantage – yet at the same time, you're shown their deaths in high-resolution horrific detail. You're also encouraged to think strategically – getting your men into cover, scavenging resources and moving heavy artillery guns into tactical spots - while the game bombards you with enemy reinforcements in order to keep the pacing and intensity up. You are constantly firefighting.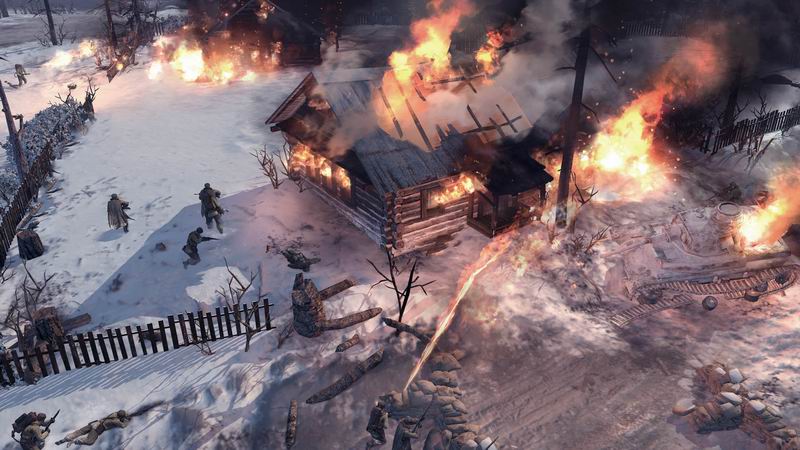 Somehow, despite these contradictions and a woeful tutorial system that means a steep learning curve for beginners to the series, Company of Heroes 2 works. The result is slower-paced than the all-out click-and-drag races you get in rival strategy games such as StarCraft II, but far faster than turn-based strategy games or squad-based games. In that middle ground, there's just enough time during battle to shuttle between several groups of soldiers in different areas of the map, moving, helping, coordinating.
Company of Heroes 2 is fairly frantic, both in single-player and more so in multi-player, and yet it also requires clear strategic thought. You'll soon learn how to position men, when to retreat and regroup and how to combine units for best effect. You'll have to – from the mid-point on in the game the Germans will tear through your forces if you don't.