theartsdesk in Katowice: On tour at Tauron Nowa Muzyka Festival |

reviews, news & interviews
theartsdesk in Katowice: On tour at Tauron Nowa Muzyka Festival
theartsdesk in Katowice: On tour at Tauron Nowa Muzyka Festival
Polish festival of electronic music is a bangin' vodka-fuelled blast
Wednesday, 11 September 2013
Doof! Doof! Doof! Tauron Nowa going techno bonkers for the umpteenth time
Day 1
During the Soviet era, Katowice was the industrial hub of Upper Silesia, a poisoned region of multiple coalmines and rivers running yellow with chemicals. It now prides itself on 20 years of ecological clean-up and being one of the less polluted cities in Poland. This weekend it will be one of the noisiest. Doof! Doof! Doof! It's techno time for myself and accomplice Finetime. With beer at 60p a bottle and the best vodka in the world on hand, we're prepped and ready.
Things start gently at a nineteenth-century mining complex that's been converted into a gallery, the Szyb Wilson. An entranceway full of bizarre naïf art, such as a mannequin playing a piano and Lenin in a Santa hat, gives way to an inner hall where the queues for nasty fizzy beer are heinous. Further in lies a barn of a venue, high and wood beamed. Finnish experimentalist Vladislav Delay has the full room nodding to his tone music. Last night we wrecked ourselves in the Alchemia in Krakow, a Boho haven of night people, jazzniks, Euro-cools and tourists, so this sombre ambience is not what the doctor ordered. Indeed, had I lived sober for weeks its cleverly crafted sonic curves and bubbling effects still wouldn't give me a live performance buzz. It has presence, though, and is clapped accordingly.
Next, a brief sojourn outside amongst metal sculptures and man-size glowing pink balloons, each branded Tauron, the name of the national electricity company who sponsor the festival. For all I know they're a gross corporate outfit but at least they're a gross corporate outfit willing to fund a weekend of abrasive underground electronica, jazz and weirdness. EDF wouldn't do that, now would they?
Next on are Badbadnotgood, an avant-jazz trio from Toronto. They whip up a jagged, earnest, twitchy racket, plinking and plonking and proggy, with an eyes-closed freak-out from keyboard player Matthew Tavares drawing the attention as he accompanies the drummer and bassist. They pay tribute to Flying Lotus and adapt a track of his - I couldn't tell you which but it's that fluid, abstract-stoner Brainfeeder Records vibe they're going for, fused with wilfully tricksy jazz. The beards love it. Finetime and I aren't so sure, we get a taxi, return to our hotel, drink wine and listen to an elderly female American scientist interviewed on Woman's Hour on the BBC World Service. Rock'n'roll all the way.
Overleaf: Day 2
Day 2
This is the big day for fans of bosh-bosh-bosh. Jon Hopkins! Two Fingers! LFO! Squarepusher! Venetian Snares! Noisy noise time. Yum yum.
The site of the festival is just over the way from our hotel but we head first into Katowice and attend a Mexican restaurant on a smart, granite-marbled boulevard called Mariacka. Go to Katowice next year and it's likely everywhere will be like this scenic street with its ancient church at the end, but right now the mayor has decided to tear up and rebuild the whole city, creating dusty chaos and roadblocks, all to be ready for summer 2014 when the city's giant flying saucer-like Spodek Stadium will be hosting the FIVB Men's Volleyball World Championship. This is big news in Poland. They love volleyball like Brits love football.
I digress. The #8 Festival Tauron Nowa Muzyka has now properly begun. Well, the music has but at 9ish, when Finetime and I arrive, the site is still at least half empty. We're on European rave time and they never turn up to anything until way, way late. I once went to a rave in Porto, and it was empty until 3am… but then they danced until midday. Tauron Nowa consists of four main stages, all marquees apart from the misnomered Showcase Tent which is open air and all DJ action. The other three are the unambiguously titled Main Stage, the Littlebig Stage next to it, and the suitably buzzed-up 'n' bangin' Red Bull Music Academy Stage. The main two stages have a revolving rotor of acts, an hour on then an hour downtime while next door takes over. This works although there's an annoying policy that you're not allowed to take booze into the Main Stage area. Fortunately the security are VERY easy going. Equally, water bottles of vodka look exactly like H2O. Those, like myself, who have previously regarded vodka as just a mixer, a bit rough by itself, have their preconceptions blown away by Poland's many local brands, smooth and delicious, as well as flavoured ones. Oh boy, the Soplika hazelnut vodka…
First off we buy tokens to purchase drinks – annoying although not so annoying when you realise how cheap the beer is. Then we hit Littlebig where Darling Farah is playing low-level tech sounds on a laptop to head-nodders. At least I think it's Darling Farah (pictured above). The United Arab Emirates' rising techno don is famed for his locks but the man onstage has none. He is the first of many acts we see who comprise a gawky man standing in front of a laptop. Digital technology may have made the creation and transport of electronic music much easier, but it's also made its performance a great deal less visual. Sighed an old man.
As if to give the finger to such thinking, Jon Hopkins (pictured right), London's electronic polymath, capable of great delicacy in his collaborations with Coldplay, Brian Eno, Wild Beasts and others, proved he can also hammer home a groove. A svelte, tall, attractive fellow, leaping about behind his laptop, he brings an impressive dynamism to the equation and soon has much of the crowd dancing.
Thundercat is playing elsewhere but the last time I went to see him, he spent so long tuning up I lost the will to live. It was like watching a tedious prog-jazzer circa 1974. So instead a quick wander round one of the city park's "lakes" – small marshy patches of reeds – to Showcase where local boys Mikmusik Records are laying down a steady thud for the assembled, some sitting on wooden benches scoffing pierogi, the Polish staple, giant sloppy ravioli with many different fillings, and much tastier than that sounds.
We hit the Main Stage for Two Fingers. Been looking forward to this one. Amon Tobin's alter-ego has created some of my favourite industrial-strength techno-step noisiness. "Fools Rhythm" is as good a tune as I've heard in the last decade. The Brazilian DJ-producer appears in a baseball cap and gets on with it, laying down a thunderous wall of lazy breakbeats, just funky enough to keep you dancing, then drops bombshells of earthquake bass'n'effects that sounds like a planetoid catastrophe. In terms of sheer sonic attack and resultant invigoration, it's the best thing I hear all weekend.
But we can't stop there, the constant rush continues between the two main tents as one goes off and the other comes to life. Leeds/Sheffield rave legend LFO, once a duo but just Mark Bell since the mid-Nineties – another bloke-with-a-laptop - shows Littlebig his version of techno. Bell has worked with Björk and Depeche Mode in his time but for the last decade his resurrected LFO moniker have been keeping things stark, dark and twisted. The sound is stern and nasty, perhaps occasionally lacking funk, more in the vein of his cacophonous early Noughties single "Freak" than LFO's ground-breaking early Nineties fare. Following Two Fingers' revelatory madness it keeps things ticking over rather than pushing them higher. Still, this part of the world likes it industrial and he delivers.
Back at the Main Stage at 3am a single gut-rumbling enormo-decibel bass tone is shaking the rib-cages of those who dare to stand near the front. It goes on and on, like a crowd-dispersal weapon, sort of exciting, sort of uncomfortable, and then suddenly a black and white LED wall lights up and a jerking, broken drum & bass barrage kicks into life. This is Squarepusher, Tom Jenkinson (pictured left), the bassist and avant-electronic pioneer whose Ufabulum album last year marked a return to pure electronic music after half a decade dabbling in more organic, guitar-centric projects. It's impossible to see his show and his LED helmet without Daft Punk and Deadmau5 springing to mind, but does that matter? Not much. This sort of music needs more than man-on-laptop action to sell it and this is one way forward. Squarepusher has always taken perverse delight in stop-start rhythms. These are a mixed blessing when in early-hours rave mode so, after throwing a selection of robot dance shapes, it's time to check Skream and his MC, the excellently named Sergeant Pokes.
A great chunk of the dubstep don's set is devoted to four-to-the floor disco flavour. The Red Bull Tent sways along. There's a bit of MDMA about but overall the Tauron crowd is not druggy, just appreciative of music making its way here from Britain, USA, Spain, Canada and so on. The stages close at six but we retire five-ish, having gone as far as beer and cherry vodka that tastes like cough medicine will take us.
Day 3
Tauron Nowa is run in cahoots with the Katowice tourist board. As you can imagine, a Polish industrial city is something of a hard sell, especially when it's being ripped to dusty bits by men in hard hats. Thus Katowice's tourist information office is one of the most enthused places on the planet. The lady there who tells us about the local area comes on like an evangelical Christian greeting Jesus. Light mockery aside, they also lay on activities for festival-goers, trips to the Tyskie Brewery or guided tours of the city on electric cars, but the one we choose is an excursion down the 320-metre deep Guido coalmine in nearby Zabrze.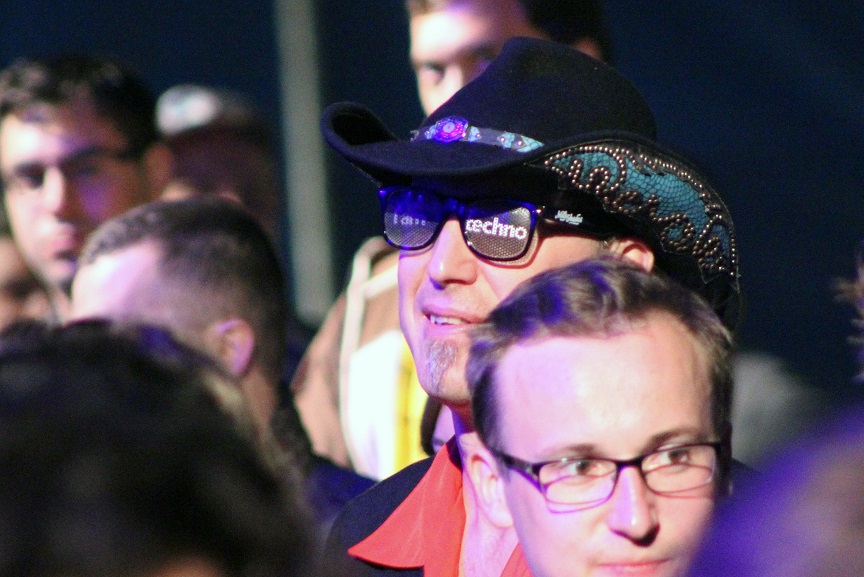 Incidentally and for the record, Tyskie is the most common Polish beer in the UK and so it proves in its home country. It's not a very lovely beer, redolent of generic Stella/Kronenbourg fare, as is the almost equally ubiquitous and much harder to pronounce Zywiec. However, and for those willing to search about, Poland offers up much tastier beers made by smaller breweries. It's worth looking. Or stick to the vodka.
The two-hour trip around the Guido coalmine is a wakener, removing the day-after blurriness swiftly as we plummet into the earth in a miners' cage. After wandering the labyrinthine tunnels and learning more about 200 years of coalmining techniques than may be pertinent to a music review, we end up in the deepest bar in Europe where a non-Tyskie beer is ordered. Then I see what looks like a filled bagel.
"Bagel?" I ask the barman. He appears to repeat what I've said but what he gives me and Finetime are two bowls of highly seasoned meat stew. He has misheard me - this is bigos, a staple in this part of the world, a herbaceous concoction that's supposed to consist of whatever a hunter has caught topped with a mass of flavouring. It's hearty and good and removes the last traces of yesterday's vodka. Onto the show…
Tonight, alongside our water bottles of vodka, we have a small supply of Energizer Z, although it will not come to purpose until much later as this evening's Tauron Nowa, while visually more exciting than yesterday, isn't nearly as bosh-bang-wallop-centric. Unfortunately we miss Jamie Lidell and London Grammar, fine acts both. Since it was my birthday, we celebrated in an outdoor restaurant, Wiejska Chatka, a name that translates as "the Rustic Hut" but it was, in fact, on the bottom floor of a block of flats. Nevertheless, the food was rich and rewarding, even if it takes a moment to get used to the Polish habit of serving bread and lard as an appetiser. Dessert was chocolate cherry cake – with candles – as well as Finetime and large French group on the next table singing the requisite words.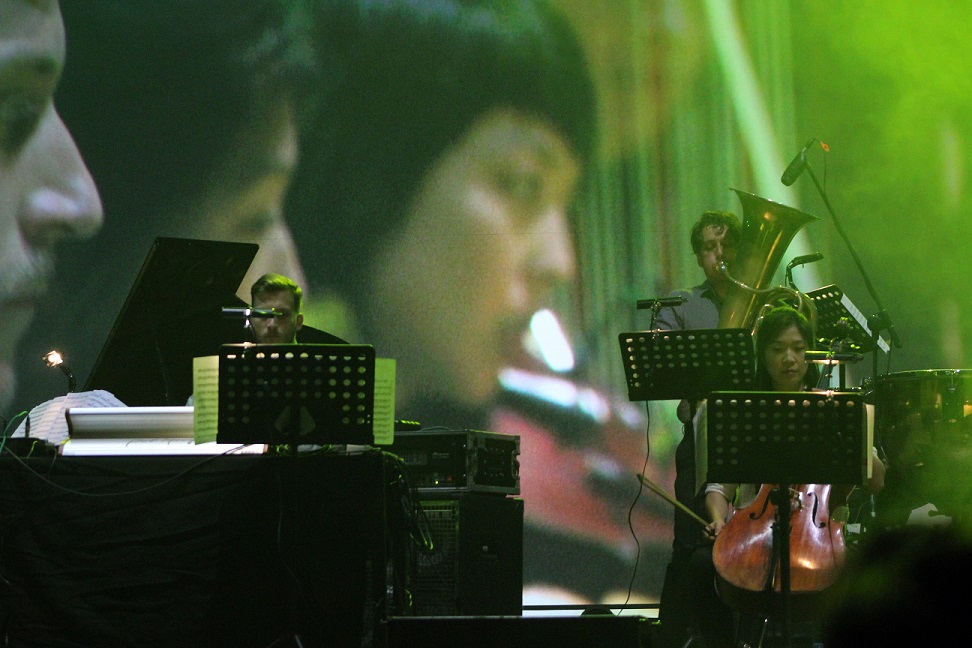 By the time we arrive at Tauron it's orchestral hour – or two hours. Littlebig stage has now been rebranded Wigwam for some reason and in it the long-haired bearded Cologne composer Gregor Schwellenbach is at a grand piano leading his small ensemble of strings and percussion through adaptations of the 20-year back catalogue of his native city's Kompakt Records. He gently kneads out the core of tunes such as Justus Köhncke's "Was Ist Muzik". It's an intriguing proposition done with charm, and leads neatly into the next act, the Brandt Brauer Frick Ensemble (pictured left), an even larger orchestral unit, performing their own take on techno. Both bands do not go down the route of prog opulence but negotiate their way through minimal club sounds with craft and care. Neither really get you dancing – maybe shifting from foot-to-foot a little – but both provide strong performances, successfully seeking the inner John Cage and Steve Reich within contemporary dance music.
I will pass swiftly over the currently rising electronica'n'wimpy moaning of Deptford Goth - great name, shame about the rest - and move onto Moderat (pictured right) who draw the biggest crowd of the weekend at the Main Stage. This coming together of the duo Modeselektor and the DJ-producer Apparat has potentially massive crossover potential, putting deep electronic roots together with delicate tunesmithery and Apparat's keening vocals, drawing in those who couldn't give a hoot for beats'n'basslines. Standing in a line at their keyboards, they certainly build atmosphere and the crowd wills them on, everyone wanting it to be a moment. If you like this sort of thing, maybe it is, but I don't so I leave those with ecstatic eyes closed behind and drift towards Showcase for some Energizer Z recharging and DJs from Glasgow's Numbers Records - Redhino, Deadboy and Jackmaster - veering between oddly cheesy autotune funk and deeper, techier fare.
Still not quite what I'm after so the Red Bull Tent it is, where a party of moving limbs is occurring to the bounce of German DJs Coma and Robag Wruhme. Here we gather en masse, all the Brits at Tauron Nowa as well as rediscovering our new French friends from earlier. We dance and indulge, then dance and dance some more – techno ist gut - until the sun rises and the Silesian mists roll across the surrounding grassland.