The Wrong Mans, BBC Two / London Irish, Channel 4 |

reviews, news & interviews
The Wrong Mans, BBC Two / London Irish, Channel 4
The Wrong Mans, BBC Two / London Irish, Channel 4
Two rather different comedies make their debuts
Wednesday, 25 September 2013
Mathew Baynton and James Corden discover their inner warriors
Love him or hate him, James Corden undeniably does have a range of talents – actor, writer and co-creator of some very funny comedy (we'll politely forget the car crash of his misguided BBC sketch show with Mathew Horne). And now, dontchaknow, he's come up with another comedy vehicle, The Wrong Mans [****], which had a very accomplished debut last night.
Corden, late of the National Theatre and Broadway, has co-written, with fellow Gavin & Stacey alumnus Mathew Baynton, a comedy thriller in the style of Simon Pegg and Joe Wright's Cornetto trilogy, with appreciative nods (in the title) to Alfred Hitchcock's 1956 thriller and, in camerawork and misfit leads, to Peep Show.
Baynton is nice but weedy Sam, who wakes up one wintry morning with the mother of a hangover, only to find his pushbike has been stolen so he has to walk to work, as a town planning and noise guidance adviser for Berkshire County Council. On his way, he's the only witness to a car crash and he picks up a ringing phone; a man issues threats and in later calls it's clear a woman has been kidnapped.
At work Sam takes postboy Phil (Corden) into his confidence. Phil is beside himself; he's a 31-year-old living at home with his mum and he keeps trying to organise fun days paint-balling or bowling with his colleagues (oblivious to the fact they all think he's a boring knob). For him, this mystery is his very own live-action Grand Theft Auto, and he convinces Sam not to call the police but to try to rescue the woman so they can become heroes.
The opening episode efficiently essayed the set-up, and there are some promising relationships to be explored in the following five weeks. Sarah Solemani (who was so brilliant in Him & Her) is Sam's boss, but also the girlfriend who recently dumped him because he was too needy, while Tom Basden is the horrible colleague we'd love to be taken down a peg or two.
Corden clearly has pulling power, as those names above suggest, and Dawn French, Nick Moran, Rebecca Front and Dougray Scott will appear in future episodes - although David Harewood, who appeared briefly last night, shot his scenes before his Homeland stardom. The opener had some neat twists and turns and ended on a great cliffhanger. Definitely one to stay with.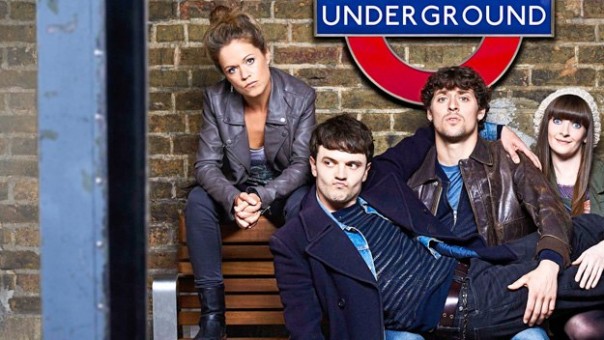 Over on Channel 4, rather later after the watershed for reasons that became quickly obvious, London Irish [***] started another six-week residency. The sitcom, about four Northern Irish twentysomethings living in the UK capital, is created and written by Derryite Lisa McGee. The foursome are sister and brother Bronagh (Sinead Keenan) and Conor (Kerr Logan), who share a flat with Packy (Peter Campion) and Niamh (Kat Reagan, all pictured above). Packy is a slacker, Niamh is a nympho, and has a jailbird boyfriend who bores her but whom she keeps in contact with "for a ride", while Bronagh has range of fruity insults for her dim brother, including "dickswab" and "fucktard".
They are part of a generation mercifully untouched by terrorism, so instead of brooding about the stereotypes of politics, religion and history, they can get on with living up to the, er, stereotypes of drinking too much, having lots of sex and and swearing like navvies. I think there's a joke in there somewhere, but McGee doesn't upend the tired tropes to make them funny.
Last night's story concerned Packy bumping into Ryan (Ciaran Nolan) from back home, who lost his hand while covering a shift in a garage for him, when he was shot in a hold-up. Packy organises a charity quiz - "like an exam in a pub" - at the foursome's local to raise funds for Ryan's new robotic hand. Cue lots of rather weak jokes about not him being able to clap or going to a fancy-dress party as Captain Hook - Peter Cook and Dudley Moore's one-legged actor auditioning for Tarzan it was most definitely not.
The opener was a bit frantic and unfocused, and the actors are all a little too shouty - always a bad sign in a comedy - and, despite some smart lines and the welcome presence of Ardal O'Hanlon as Bronagh and Conor's Da back home, it will have to improve swiftly to gain a dedicated following.