theartsdesk in Oslo: Pushing folk's frontiers |

reviews, news & interviews
theartsdesk in Oslo: Pushing folk's frontiers
theartsdesk in Oslo: Pushing folk's frontiers
Traditional dance music and boundary breaking sounds happily co-exist at Folkelarm 2013
The medieval Gol Church at Oslo's Norsk Folkemuseum: a symbol of Norway's identity as resonant as the country's music
Four days in Norway's capital attending Folkelarm, the festival of Nordic folk music, raises the perennial and always knotty question of how far music can move beyond the traditional yet still be labelled as folk? With the charming and reassuringly old-fashioned accordion- and string-driven dance band the P. A. Røstads Orkester there's no such problem.
But Slagr, despite the presence of a rootsy Hardanger fiddle in their ranks, are closer to the drone of La Monte Young's eternal music and could never liven up a Saturday night dance. Straying even further from the source, Sami singer Elin Kåven brought echoes of PJ Harvey and Sonic Youth to the party.
Folkelarm is billed as "the best of Norwegian and Nordic folk music and dance". That's true, but the festival also pushes boundaries so far that some of the participants could easily fit onto bills of experimental music or indie-rock. However, the avowedly traditional takes pride of place, from the fiddle of Norway's Erlend Apneseth to the nyckelharpa of Sweden's Emilia Amper – who nonetheless revealed her fondness for fret-whiz Steve Vai and declared she was putting power chords into her take on folk. (Folkelarm's broad stylistic brush can be sampled on the final page of this piece.)
theartsdesk's last encounter with folk music in Norway was at Landskappleiken, the annual traditional music and dance competition where the world of folk spoke to itself. Folkelarm, though, is a showcase festival, an event putting performers in front of audiences who will (hopefully) spread the word. Put coldly, it's about marketing. But any notion of a hard-sell swiftly evaporates. No one is telling anyone to see this or that. Those on stage make the case themselves.
In the case of the remarkable Slagr – pronounced schlager: nothing to do with the middle European pop of the same name but derived from the Norse word for melody – it's unnecessary for anyone to offer explanations. (Pictured above: Slagr with Camilla Granlien at Folkelarm 2013, photo by Ingvil Skeie Ljones) The trio (Hardanger fiddle, cello and vibraphone/tuned glasses) were supplemented by the singer Camilla Granlien to perform the songs of Norwegian composer Geirr Tveitt, as recorded on their recent album Songs by Geirr Tveitt. The Hardanger fiddle, with its sympathetic strings, is Norway's national instrument and Tveitt was dedicated to keeping the country's traditional music alive – he placed fiddle tunes in orchestral settings. Although rooted in music stitched into the fabric of Norway, this concert turned the compositions on their head and into a series of precise, glacial mood pieces which hypnotised.
Solo, the Hardanger fiddle player Erlend Apneseth was more traditionally minded, performing the circular melodies which interlace with the drone the instrument emits. Again, the effect enthralled. It could have been danced to, but any movements would be deliberate and measured. (Pictured left: Erlend Apneseth at Folkelarm 2013, photo by Eivind Kaasin)
There was no such introspection from Sweden's outgoing Emilia Amper. Playing the nyckelharpa – a bowed string instrument also with sympathetic strings where notes are picked out by pressing keys (it looks like an outsize, appendage-studded zither) – she oozed a confidence more usually seen in modern R&B.
However it was reconfigured, it didn't take too much digging to find the music's roots. Equally and appropriately, considering Norway only became an independent nation in 1905, non-musical reminders of the country's history and identity weren't far from Folkelarm.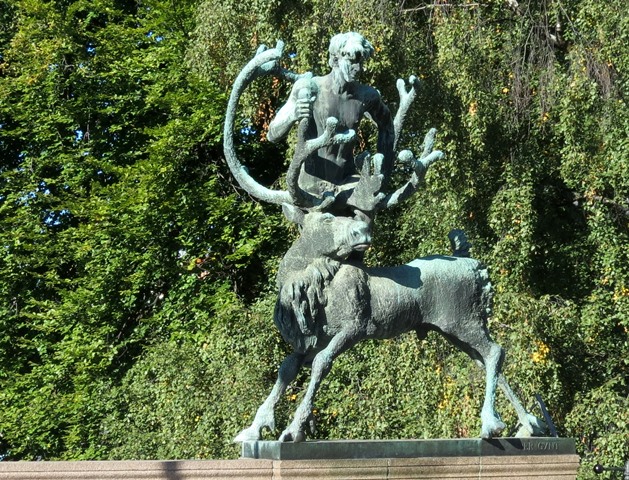 Music is one expression of Norway's voice. On the Eventyrbroen (the fairy tale bridge), across the Akerselvn river a few steps from Folkelarm's main venue Rikksscenen, the landward ends are topped by statues, including one of the legendary Per Gynt grappling with a reindeer (pictured right) – Edvard Grieg's late 19th-century musical celebrations of Norway made material.
The nation's heritage is even more evident at the outdoor Norsk Folkemuseum, a 30-minute bus ride from Rikksscenen at Bygdøy, the peninsula south of central Oslo. The museum is the home to historic buildings, grouped in clusters according to the regions they were originally from. The most striking structure in this extraordinary place is the 13th-century timber Gol Church, which was brought to Bygdøy in the 1880s. This crucial period for Norway, the second half of the 19th century, also saw the rise in popularity of the Hardanger fiddle.
The cultural reclamation of around 150 years ago, which resulted in Norway's independence from Sweden, is ultimately what sewed the seeds for Folkelarm. But despite its low population Norway is a huge country and home to an indigenous people that aren't Norwegian. The Sami live there, and also across the north of Sweden, Finland and Russia. Musically, their most well-known figure is Mari Boine. At Folkelarm, Elin Kåven flew the flag.
On stage, Kåven is almost as much performance artist as singer. In antlers and with movements suggesting Noh Theatre, she sang in her native language. Far from a newcomer, she has been recording for close to 10 years, but this first encounter left an impression that hasn't dimmed. Despite a sore-thumb song centring on acoustic guitar and fiddle, the rest of her set was electric. It wasn't Dylan at Newport, but her sonic attack was more post-rock than post-folk, especially with a guitarist who doubtless has a few Sonic Youth records. Based on this taster, she has at least one classic song in "Àibbas Jaska" which, stripped of the gloss of its studio incarnation, is so catchy it still resonates. (Pictured left: Elin Kåven at Folkelarm 2013, photo by Ingvil Skeie Ljones)
Mala Fama, by contrast, were an all-acoustic trio – Hardanger fiddle, guitar and double bass – with Finnish, Norwegian and Scottish members. Although clearly folk, and hardly likely to deal in peals of feedback, they were also intent on recalibrating the familiar, especially with the symbiotic interaction between the modal open tunings of guitarist Juhani Silvola and Sarah-Jane Summers's spare, aggressively played fiddle. A band to be swept along with.
The tremendous and long-running P. A. Røstads Orkester are more formally traditional. A comment overheard described them as "what my parents would have danced to". Two accordions, double bass, acoustic guitar and violin merged in a beautiful, compelling music which instantly got the audience up to dance in pairs, circling the floor. With guest fiddler Sven Nyhus, the veteran academic and composer, they played and played, magically evoking an era before Folkelarm, before the music was fully open to influences from other genres. (Pictured right: the P. A. Røstads Orkester with Sven Nyhus at Folkelarm 2013)
Coming across this still-vital survival from Norway's past gave rise to pondering how folk has fused with other forms of popular music here. Although the Kristian Hauger Jazzorkester's jazz-folk "Norwegian Jazz Fantasy" was recorded in 1929 and traditional players had worked with jazz musicians in Norway from the 1960s – Ivar Medaas played with Dexter Gordon at the Molde Festival in 1964 – the cross-pollination of folk with rock in Norway only came about in 1973, when the Hardanger fiddler Sigbjørn Bernhoft Osa played with the band Saft at Oslo's Ragnarock Festival. As it had been 100 years earlier, national identity was a hot topic then. Norwegians had voted not to join the European Federation (now the European Union) in 1972.
In 1974, after Ragnarock, the TV show Spellemannsprisen wouldn't allow Osa and Saft to play together. They were confined to separate spots on the programme. Thankfully, as was more than apparent for players and audience alike at Folkelarm, those barriers are long gone.
Overleaf: listen to and watch highlights from the performers at Folkelarm 2013
Listen to Slagr & Camilla Granlien's Songs by Geirr Tveitt
Watch Erlend Apneseth perform "Gamlestovslåtten" (yes, all that's heard is being played by him)
Watch an unusually subdued Emilia Amper perform "Galatea Creek"
Listen to Elin Kåven's "Àibbas Jaska"
Watch Mala Fama perform "Fartsgrense"
Sweden's Emilia Amper declared she was putting power chords into her take on folk
Explore topics
Share this article