Like Father, Like Son |

reviews, news & interviews
Like Father, Like Son
Like Father, Like Son
Small film masterpiece deals with family upset in contemporary Japan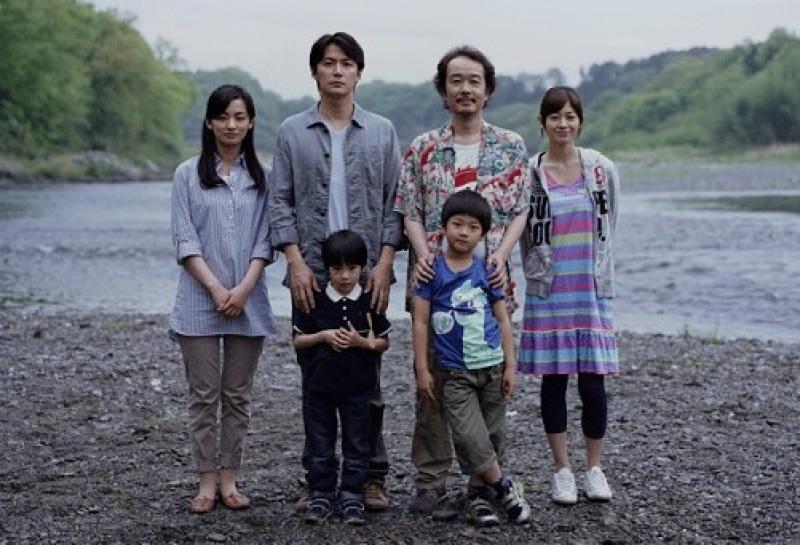 Double family photo: complex thoughts about nature and nurture in 'Like Father, Like Son'
From the simplest of precepts Japanese director Kore-eda Hirokazu spins a marvellously tender story of parents and children in Like Father, Like Son, as well as a subtle portrayal of the nuances of contemporary Japanese society. The emotions resound insistently but quietly, like the melodies of Bach's Goldberg Variations that recur through the film, which won the Jury Prize at this year's Cannes film festival.
Issues of family have a long history in Japanese cinema, and Kore-eda continues that tradition: his last film I Wish was about the determination of children to reconnect a family unit split by divorce. In Like Father, Like Son, families are both broken and brought back together at the same time, before a closure bringing reconciliation.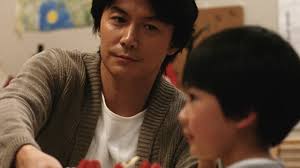 We first see six-year-old Keita (Keita Ninomiya) going for a meeting at his new school, accompanied by his nervous parents, driven father Ryota Nonomiya (Masaharu Fukuyama, known in Japan as much as a singer-songwriter as an actor) and his submissive wife, Midori (Machiko Ono). From the moment we understand that Keita's told a fib (advice instilled at cramming school!), it's clear that his future has been plotted out. That includes drilling at the piano – "excel, or quit" is his father's take on life, though as a workaholic architect he's rarely at home (father and son, above right); there's little space for play anyway in their small and over-tidy Tokyo apartment.
That contained way of life all changes when, after he's had the standard blood tests for school, a phone call comes out of the blue from the hospital where Keita was born saying that he had been switched with another boy at birth (there's further surprise when we later learn just how this happened, and why). It's a shock that would floor any parents, and sets into motion complex thoughts about nature and nurture – they have grown to love a son who is not biologically theirs – and more imperatively, what to do about it.
With the action running over the course of a year, tentative meetings with the other family start up. From their first uneasy encounter at a department store, it's clear that these two couples comes from very different backgrounds: the other father Yudai (Lily Franky) is comically the opposite of Ryota, rarely on time, a noisy eater, careless of etiquette.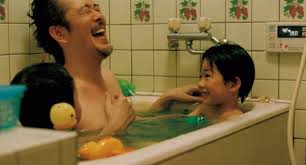 His wife Yukari (Yoko Maki) works in a shop, while he runs a small shop out in the suburbs where life is anything but stressed, and much of the time Yudai just enjoys loafing around. The son they have raised as their own, Ryusei (Hwang Sho-gen), loves his father that way, and when the two boys start spending weekends away with their real parents – Ryota typically puts it to Keita that it's part of a "mission to get stronger" – that laid-back atmosphere there soon infects the city boy too (bath time fun, pictured above left).
Wider family relations are nicely sketched, and at the centre of the film is Ryota's journey towards self-knowledge, including a greater understanding of his own past. If that sounds serious, there are lovely interludes of observational comedy along the way. Tears have been shed, but by the time the families get together for a late riverside picnic (main picture, above), and the two mothers share a scene – the men have rather dominated proceedings until then – the important things have been learnt. A beautifully understated film, with director Kore-eda gently coaxing the most touching roles from his two lead boys.
Like Father, Like Son is in cinemas from Friday.
Overleaf: watch the trailer for Like Father, Like Son
Issues of family have a long history in Japanese cinema, and Kore-eda continues that tradition
rating
Explore topics
Share this article