From Here to Eternity, Shaftesbury Theatre |

reviews, news & interviews
From Here to Eternity, Shaftesbury Theatre
From Here to Eternity, Shaftesbury Theatre
Tim Rice and Stuart Brayson attempt a musical version of a movie classic
Thursday, 24 October 2013
Athleticism and testosterone aplenty: the chorus of 'From Here to Eternity'
"Love and pain is like peace and war - you want one you have to have the other." It's a line that pretty much sums up From Here to Eternity. The title of James Jones's novel and the classic movie which it spawned gets rather lost in the new musical from Tim Rice, Stuart Brayson, and Bill Oakes.
It's a moment that should stay with us long after leaving the theatre but having set up a promising double-duet between both sets of doomed lovers on this scary ride to the apocalypse of Pearl Harbour, 1941, Tim Rice and his composer Stuart Brayson signally fail to deliver the emotional climacteric that a song forged from those words should and must give us. I remember beds being moved from downstage at this crucial juncture in the show (why?) and I remember thinking that eternity must in truth be a very long way from here.
The problem with this ambitious show is that it wants so much to be gritty, tough, and emotionally uncompromising but at heart is just another soft-bellied musical in need of a personal trainer. Yes, there is athleticism and testosterone aplenty in the brawling butchness and flying bodies of Javier De Frutos' choreography but who's fooling who in this tight-panted ensemble and why does the pent-up aggression feel so counterfeit? Or the full-frontal piss feel so contrived? It's something to do with the "cleanness" of it all, the slick way in which it goes through the motions of trying to be a cutting-edge show. Even Soutra Gilmour's distressed set - a series of bomb-damaged proscenium arches, a portent of its inevitable climax - is a constant reminder that this is From Here to Eternity - the Musical and we shouldn't anticipate that it will dig too deep.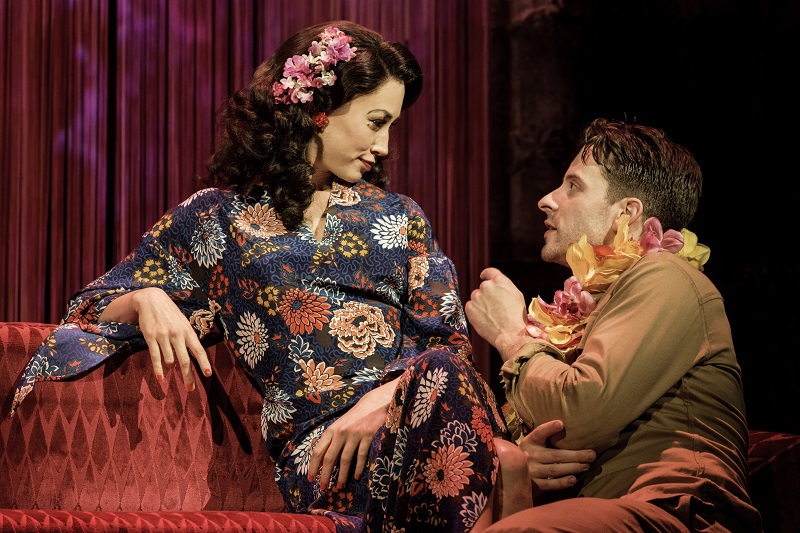 And so to the real guts of the piece - the book and score. Bill Oakes's book is really rather good and when it isn't played with that stagey, over-projected musical theatre stiffness it lands. The two performers who really crack it are the fast-talking, and sweetly tragic Private Angelo Maggio played by Ryan Sampson with winning appeal (we actually care about him) and Robert Lonsdale as Private Robert E. Lee Prewitt, the soldier at the heart of it all (Lonsdale pictured right with Siubhan Harrison). Lonsdale plays the bugler who won't bugle (except at Maggio's Last Post) and the boxer who won't box (a neat metaphor in the novel for the reluctant soldier) with an easy naturalism which sets him apart from so much that is overworked. When he picks at his guitar and comes up with an idea for a song we believe him. There's an authenticity about him and it. And that's what Stuart Brayson's music badly lacks.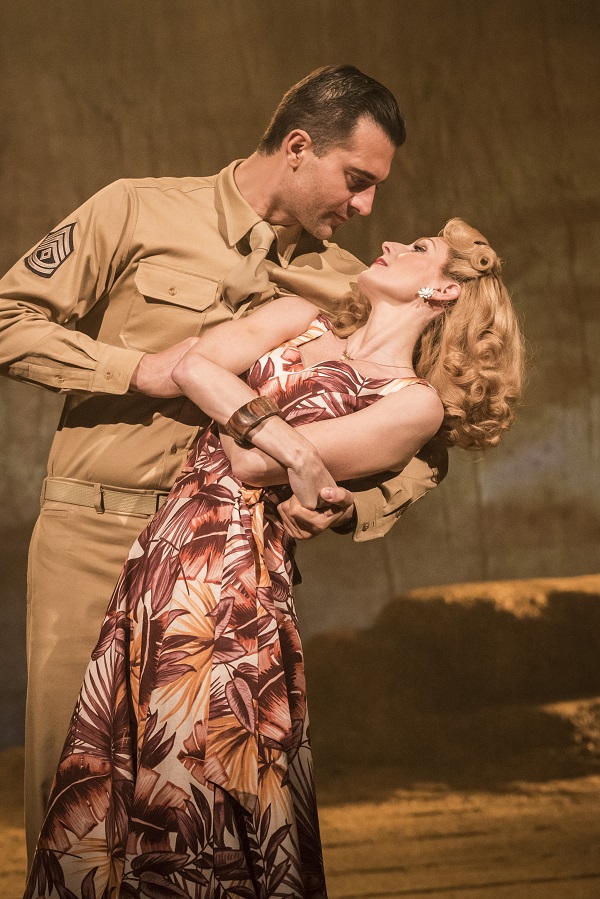 If only he'd had the courage to fully stamp the stylistic identity of the period on his score instead of just vaguely alluding to it. The big band swing sound is in there - just - but more through the brassy brilliance of David White's orchestrations than the material itself. But too much of this score dabbles in style rather than inhabiting it and in the end the effect is of a kind of generalised popiness. Songs like "Marking Time", "Fight the Fight", and "Run Along Joe" (soundly delivered by Siubhan Harrison) display a quirky potential and Tim Rice's lyrics are generally strong. But the ballads are weak and fail to deliver the requisite emotional punch. In short, the songs do little or nothing to help us care about these characters. They remain, with those notable exceptions, somewhat paper thin.
On the plus side, Tamara Harvey's direction has its moments: the big whores' number "You Got the Money" culminates in a full-on downstage chorus line which suddenly demands that attention be paid; Pearl Harbour arrives in a blinding panic of strobe lighting and more slow-mo flying bodies; and Prewitt's shocking and pointless demise becomes an imaginatively frozen moment with action replay. And we do at least get a whiff of the movie's infamous beach scene between Darius Campbell's swarthy Sergeant Warden and Rebecca Thornhill's Karen (pictured above left) - though true to the sexual undertone of the piece it's she who gets her kit off.
Huge disappointment, then. It's too late for the final tableau to tug at our heartstrings and deliver that long-awaited engagement (even if "The Boys of '41" is a bit too much of a "Do You Hear the People Sing" moment). But at least we leave the theatre with snapshots of fallen heroes in our mind's eye.
If only Brayson had had the courage to fully stamp the stylistic identity of the period on his score
rating
Explore topics
Share this article