Masterpieces of Chinese Painting 700-1900, Victoria & Albert Museum |

reviews, news & interviews
Masterpieces of Chinese Painting 700-1900, Victoria & Albert Museum
Masterpieces of Chinese Painting 700-1900, Victoria & Albert Museum
From Buddhas to beggars, and from poets to courtiers, myriad tales unfold in a stunning exhibition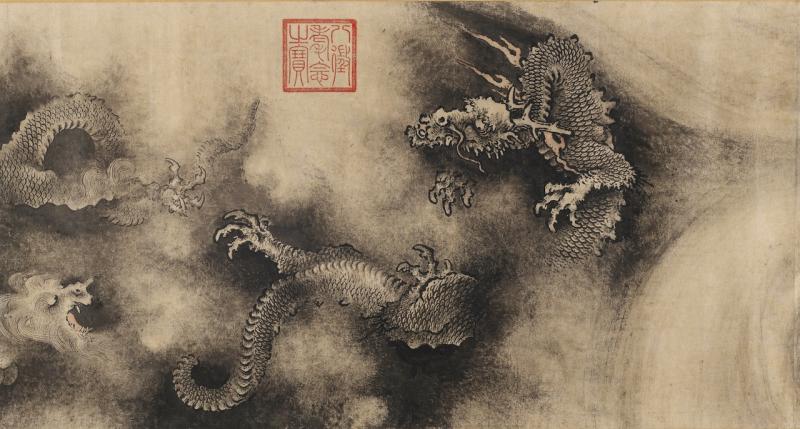 'Nine Dragons', a 13th-century 10 metre scroll by Chen Rong
Masterpieces of Chinese Painting 700-1900 is just what it says: a spectacular collection of nearly 80 banners, handscrolls, hanging scrolls and fans, gathered from major collections in China and Japan – many of which have never travelled west before – as well as the United States and Europe.
The status of painting, drawing and poetry was extremely high through millennia of Chinese history until all traditions fractured in the revolutions of the 20th century. The visual arts, often incorporating the finest calligraphy, an art form in itself, (the poems giving further meaning to the images and vice versa), survived through the changing political, economic and cultural vicissitudes of the seven dynasties and more – from the 7th century Tang (618 – 907 AD) on to the Qing (1644-1911). What of course we cannot have to hand are the permanently fixed images, from rock carvings to cave paintings, nor can we fully grasp the physical conditions under which these portable banners and scrolls were kept and used. Much that is on view was not meant to be permanently hung on a wall; all was stored carefully away from the light and looked at as part of religious or secular ceremony, or for private delight from time to time.
Dragons represented both the power of the emperor and the implacable forces of nature
An early 12th century handscroll, Court Ladies Preparing Newly Woven Silk, nearly five feet long and possibly painted by the art loving Song emperor Huizong himself, introduces the exhibition. The scene subtly emphasises the importance of materials and technique, and the status of art in Chinese society. Nine elegantly robed ladies of the court, accompanied by three children, or possibly servants, much smaller in stature, are all so gracefully arrayed and so flexible in their postures they seem not to have a bone in their body. Their costumes in soft pastel colours are imprinted with patterns both floral and abstract. They are real yet ethereal. The image is formal and also intimate, both affectionate and reportorial.
What is surprising is that much of the earliest work is the most colourful, and in some ways, in all its myriad details, the most approachable. We recognise the elaboration of religion and ritual. These are the banners devoted to making visible the various hierarchies and details of Buddhist worship, survivors from the remote northwest regions along the Silk Road.
The earliest painting, about 700 AD, is a banner from the complex of several hundred Magao caves of the Thousand Buddhas at Dunhuang. It shows us the serene Buddha preaching the law: he is posed, appropriately, on a comparatively modest throne sheltered by the sacred fig trees under which the Buddha historically meditated and was enlightened.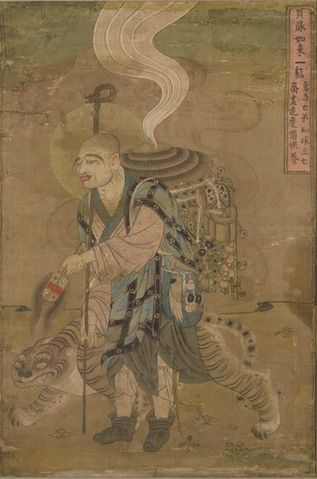 There is an enigmatic and powerful rendering of an Itinerant Monk Accompanied by a Tiger, 9th century or so (pictured right): a rough looking character, stalwart and robust, he seems as tenacious and determined as his impressive feline companion. Carrying fly whisk and walking stick, he bears an elaborate receptacle on his back, perhaps enclosing sacred Buddhist writings, from which smoke rises.
There is the 10th-century Guanyin of the Thousand Hands and Eyes, a bodhisattva, a person who has already received enlightenment, and become a spiritual being, here not only with scores of hands but surrounded by elaborately dressed attendants, and other divinities, replete with elaborate inscriptions. Changes of scale indicate relative importance. It is a highly complicated, vividly coloured manifestation of hierarchies within Buddhism and evidently a profound visualisation of the ability of the enlightened to literally bring light to the world.
While Chinese Buddhism had become astonishingly complex, with a concatenation of symbols to those versed in their meanings, later paintings are more intelligible to western eyes as the landscape, imaginary and the observed becomes a primary source of inspiration, admired for itself or as a setting for well-known stories. From the 11th century there is Landscape with Pavilions, by Yan Wengui (pictured below), a delicate monochrome in shades of black and grey. Reading from right to left we go on a journey through mountains set by the sea with vast vistas and small villages. From the 12th century there is an exhilarating flight of brilliantly delineated cranes in Auspicious Cranes, possibly the emperor Huizong himself. Mi Youren's 12th-century Cloudy Mountains is a handscroll which also sums up beautifully the preoccupations of the genre: looming shapes receding into the mist, whilst in the foreground smudged brush strokes evoke, with the enormous skill that such simplicity takes, the appearance of trees.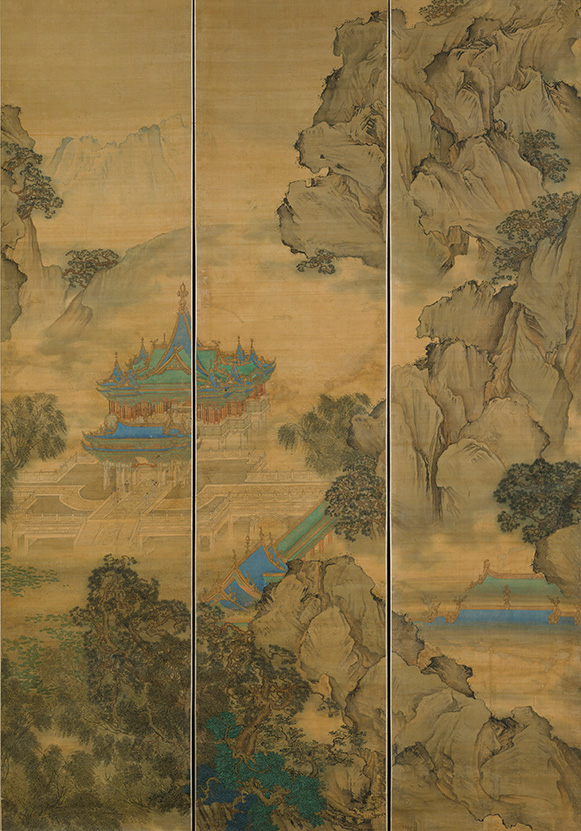 Chen Rong's 13th-century Nine Dragons (main picture), black ink with touches of red on paper, shows us, on a 10 metre scroll and inscribed with a poem, ferocious yet curiously charming beasts coiling and uncoiling among the mountains, clouds and waves. Dragons represented both the power of the emperor and the implacable forces of nature. Their facial expressions are astonished and brutal, appealing and alarming: some look as though they could eat up the universe, others have almost a domestic appeal. (Pictured left: Yuan Jiang, The Palace of Nine Perfections; Metropolitan Museum of Art.)
A tour de force, informed with western perspective, is Xu Yang's 18th-century Prosperous Suzhou, some 12 metres. He directed, over three years, a team of artists to produce nothing less than an idealised view of all the activities of the city which was then the richest in China: the details of hundreds of lives are visible – domestic, mercantile, ceremonial, and flourishing in a hub bub of activity, with the landscape of sea and cloud and water its setting. It was an imperial commission and then locked away to preserve its function to commemorate for posterity the look of successful Quin rule.
Every image does tell a story: of Buddhas and beggars, the beauties of landscape, the lives of poets and courtiers, courtesans and kings, journeys and meetings, the animal world too, from birds to monkeys. Each sheds light on the long history of a diverse country, conquered by Mongol and Manchu, surviving its own occupations, resilient, inventive, with its formative past still profoundly mysterious to western eyes.
Each sheds light on the long history of a diverse country, with its formative past still profoundly mysterious to western eyes
Explore topics
Share this article