The Counsellor |

reviews, news & interviews
The Counsellor
The Counsellor
Ridley Scott thriller is nasty, brutish and short or mysterious, upsetting and alluring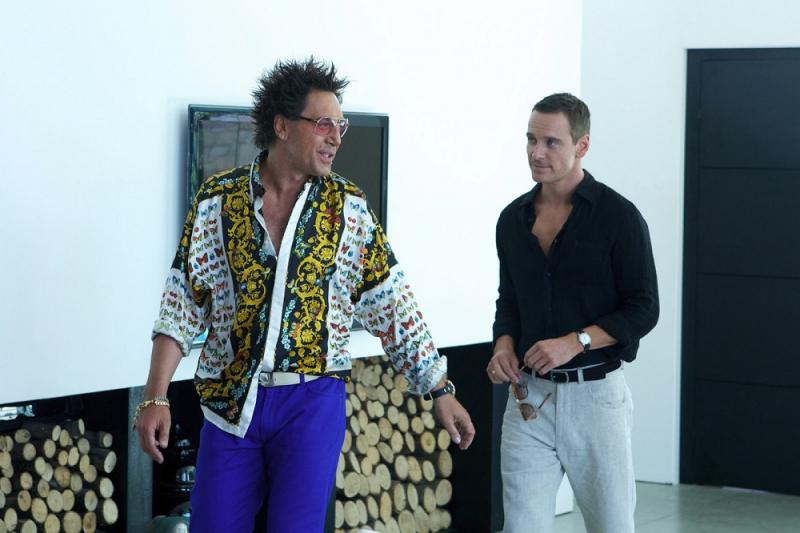 Javier Bardem and Michael Fassbender do business in The Counsellor
The Counsellor is a cinematic room divider: some people will like it, saying it is stylish and daring. Others will find it truncated, slick and pretentious. Whichever room you end up in, The Counsellor has a tang of its own. This violent, colorful thriller overflows with bravado and, like matching collars and cuffs, identical foreboding. The motto here is that bad things happen to bad people but when they're bad people we sort of like, it's different.
Ridley Scott's latest thriller is the first original screenplay written by novelist Cormac McCarthy. The author, responsible for No Country For Old Men among many others, had the original screenplay published in October and it differs from the finished film in several ways, as most screenplays will. (Hardly anyone locks down a script these days.) What is interesting about this is that it stresses the difference between the media – books are not films nor vice versa. The story can be enjoyed, differently, either way.
The audience know they're in trouble. But as this is McCarthy, we'll hang on
The plot is easy to follow even if there is little explanation for those not paying attention. Counsellor is the handsome and successful lawyer (Michael Fassbender) at the centre of this crime thriller. About to wed his beautiful, understanding girlfriend (Penélope Cruz), he becomes embroiled in an enormous drug deal. Meanwhile, his pro bono work brings him into contact with a female convict (Rosie Perez) whose son is put in jail for speeding. He's carrying $12K on an expensive bike and he's in jail for a $400 fine? The audience can smell the heady stink of "get the heck out of there". Counsellor cannot. After all, he just bought an enormous diamond for his lady from Bruno Ganz, who explains how diamonds are rated. In many ways, it's the happiest part of the film.
Meanwhile, peculiar gangster type Reiner (Javier Bardem) and his even stranger girlfriend, Malkina (Cameron Diaz, pictured with Cruz), have so much money to burn that she has silver fingernails and they spend the whole day watching a pair of tame cheetahs chase hares over the plains. A deeper discussion includes the line, "I think truth has no temperature." Hearing this, the audience know they're in trouble. But as this is McCarthy, we're attempting art, so we'll hang on. Oh, that "car scene" – Diaz's character rubs herself against a windscreen - is not as shocking as it sounds. Reiner's reaction, however, is worth the ticket price. The whole sequence is sexy, off-putting and hilarious.
Enter Nudie-wearing drug dealer Brad Pitt who is testing out that "know when to fold 'em" quote from the song The Gambler. He decides, after telling Counsellor how much trouble he's in, to escape his life of crime and, presumably, go straight. But when there's $20 million worth of cocaine from Juárez, this is not so easy.
Cold and calculating and too deft for the cheap seats, The Counsellor starts out with a stellar cast and a lot of class – from its production design to its cinematography. But it is a hard sell: a cold story with cold people in it, in a world that is ruthless, harsh and cruel. To paraphrase Thomas Hobbes, some may think The Counsellor is nasty, brutish and short - clearly edited down to 117 minutes. But it could also be called mysterious, upsetting and alluring. The jury's still out. It may be for some time.
BRAD PITT'S BIG MOMENTS
Allied. Doomed but entertaining attempt to revive 1940s Hollywood

Fury. David Ayer and Brad Pitt take the war film by the scruff of the neck
Inglorious Basterds. Pitt is gloriously absurd in Tarantino WW2 alternative history
Killing Them Softly. Brad Pitt cleans up an almighty mess in Andrew Dominik's high-calibre crime ensemble
Moneyball. How Billy Beane created a revolution in Major League baseball
The Big Short. Pitt's on the money as director Adam McKay successfully makes a drama out of a crisis
The Tree of Life. Terrence Malick's elliptical epic leads us through time, space and one family's story

PLUS ONE TURKEY
World War Z. It's World War with a Zee as Brad Pitt battles the undead and a zombie script