Legacy, BBC Two |

reviews, news & interviews
Legacy, BBC Two
Legacy, BBC Two
Tight spy drama set in bleak mid-Seventies Britain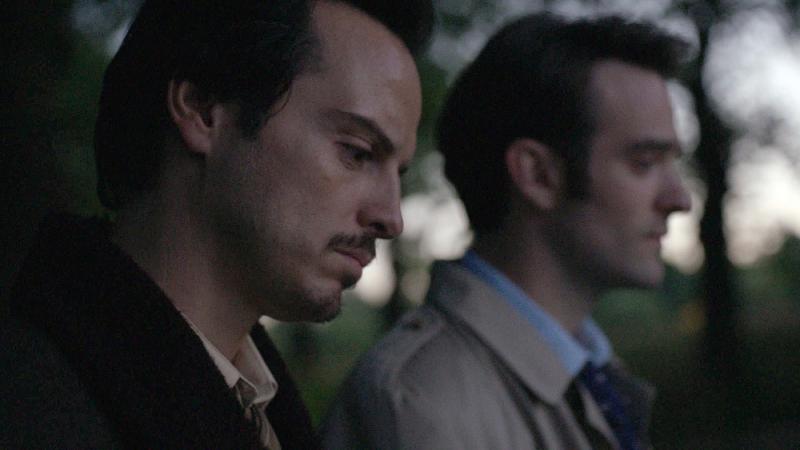 Friends and/or foes: Andrew Scott, left, as Soviet agent Viktor Kozlov, opposite Charlie Cox
Did we really ever have it quite so bad? One-off drama Legacy, the latest addition to the BBC's Cold War season, took us back to 1974, civil unrest, power-cuts and the three-day-week. And in Spyland, that nether world of lost certainties and perennial jadedness, the weather's rarely great anyway. So the lack of sun in Paula Milne's tight and nuanced adaptation of the Alan Judd novel was no surprise: the clouds of le Carré were lowering.
Which made the yellow Rover driven by rookie spy Charles Thoroughgood (Charlie Cox) about the brightest thing around (along with the red telephone boxes). Whether it was a good thing allowing a fellow whose job seemed to have been to stay rather out of the limelight so raunchy a motor was a question that his higher-ups at MI6, led by the lugubrious Hookey (Simon Russell Beale), seemed not to have considered.
It must have come in handy, though, when the lights went out all over London. Which, following historian Dominic Sandbrook – whose documentary series Strange Days: Cold War Britain has been a fellow-traveller in this Cold War season, and whose works of history certainly influenced Legacy – they frequently did. And that was before any lethal Soviet (well, Russian, since that was the way the national foe was most often referred to here) plot to kibosh the national infrastructure in a big way had even been unearthed. You wondered why they were bothering so hard, when the locals were doing such a good job wrecking the place on their own.
This was a world of murky espionage loyalties, double-bluffed emotions. Thoroughgood, first seen quaffing a whisky for breakfast – spirits were obviously as much part of the MI6 working day as in Mad Men, and everyone was smoking away like there was no tomorrow (there might not be) – had been brought in to turn Viktor (Andrew Scott), an old pal from their Oxford days. Viktor was back in Blighty, senior at the Russian embassy, and both of them knew they had more on the agenda than just renewing an old friendship.
Round one had Viktor delivering one hell of a blow to his friend's solar plexus, which left the hapless Charles reeling. More questions of loyalty, this time stretching to the very roots of Charles's identity. It was almost enough to send him into the arms of Anna (Romola Garai), the wife of another MI6-er who'd seen better days himself. Anna had already witnessed the damage the service could do on a human level, though could never quite make the leap to rescue Charles – or herself (pictured right: Romola Garai with Charlie Cox).
So they ended up in each others' arms only briefly, which was less than you could say for Viktor and Eva (Olivia Grant), the high class escort who was there to remind us, not least, that nothing had changed since the days of Profumo and all that, when of course (unlike here) we all had it really rather good. Round two resoundingly to Charles, even if that saw Eva's role cruelly abridged.
Legacy could have occupied longer than the 90 minutes that director Pete Travis gave it. Once those espionage hooks had been cast, there surely could have been room for a second episode to haul them in. As it was we got a slightly perfunctory couple of senior KGB ops arriving practically deus ex-machina, before all foreign guests departed (via Stansted: everyone was economising), and a denouement that seemed on the hurried side. It also took a bit of puzzling over to work out just what had happened.
It was a spook world populated with emotional ciphers, the kind who achieve considerable screen presence without us realising that they don't have lives outside the office (especially Russell Beale, pictured above, who excelled in definition by detail: he'd be a shoo-in for Lech Walesa these days if that role ever comes around in English). If Hookey really managed to pull off the film's final deception, we may be in for a follow-up. (On the other hand, he may have been lying, perfectly in character, about everything). Which would be something to look forward to, because Legacy was gripping in a slow-burn way, and very nicely captured in lensing from Felix Widermann, especially good in the (many) low-light moments. Ruth Barrett's score was around for most of the film and, bar a moment or two when it seemed a touch over-emphatic, created just the right atmosphere of unease.