Emil and the Detectives, National Theatre |

reviews, news & interviews
Emil and the Detectives, National Theatre
Emil and the Detectives, National Theatre
Kids run the show, and kids of all ages have fun, as German classic gets a pacy makeover
Thursday, 05 December 2013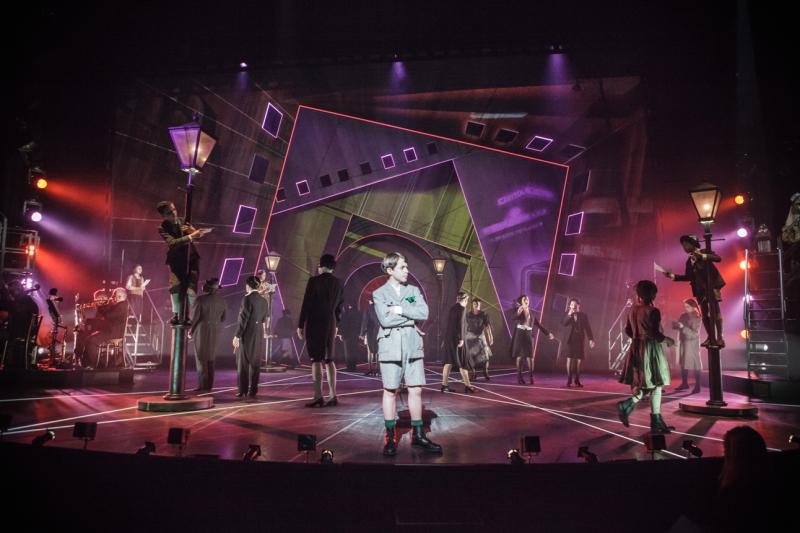 Emil (Daniel Patten, sharing the role with Ethan Hammer and Toby Murray), at large in night-time Berlin
Read Erich Kästner's 1928 novel about young Emil Tischbein and the Berlin boys he enlists to catch a thief, and you'll come away feeling warm if slightly incredulous at the strong moral compass of all the kids and most of the adults. Gerhard Lamprecht's early (1931) "talkie", with a screenplay by Billy Wilder, has darker undertones, much admired by the obsessive 19-year-old Benjamin Britten.
Carl Miller's adaptation for Bijan Sheibani's racy new National Theatre production sees it from a slightly different angle, scrupulously mindful of Weimar Berlin, but last night I had the feeling that not a child or an adult didn't sit through it entranced or emerge delighted.
Kästner has a serious point to make about the value of money to the poor: the 140 marks Mrs Tischbein gives Emil to take on the train from provincial Neustadt to his granny in dazzling Berlin are the hard-won earnings of a widow who works hard as a hairdresser and does everything she can to give her son a decent life. In part she's a portrait of the author's own mother, as lucidly explained by Miller's programme note.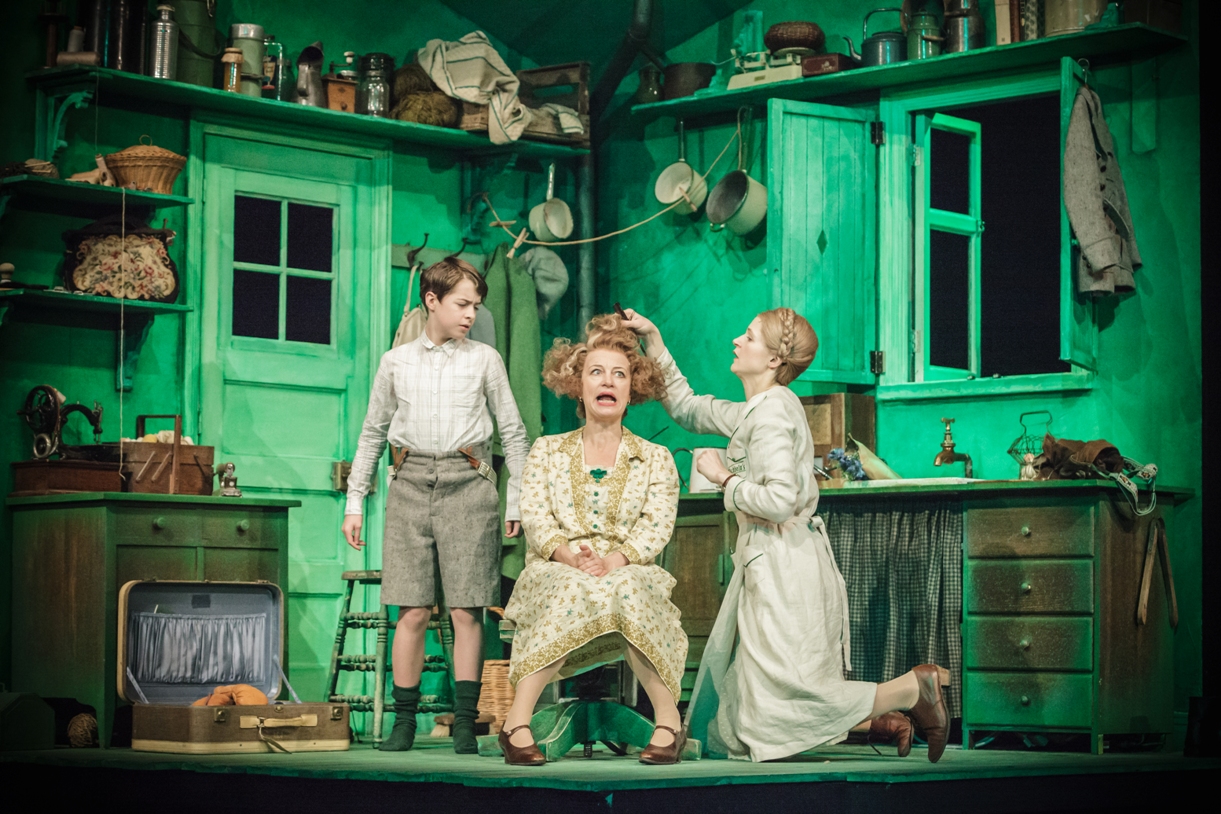 So the sympathy we feel for Naomi Frederick's Ida in her green kitchen salon at the start (pictured right with one of the three Emils, Daniel Patten, and Tamzin Griffin), the deftness with which Miller weaves in Emil's dreams of fast cars and guilt about the moustache and red nose he painted on a pompous town statue, the fearfulness of the big city shown by Mrs Wirth (Griffin) who's having her hair done – in the book she's far more keen on Emil going to Berlin – all set up the atmosphere.
The train journey (pictured below) is strip-cartoon humour without the predatory subtext of the film; bowler-hatted, moustachioed Mr Snow, not the sort of chap a girl would marry, is more a standard comedy villain in the sharp characterization of Stuart McQuarrie, though the deft business where he counts sheep to hypnotize Emil to sleep was a bright idea, the "best bit" of Act One according to the boy sitting behind us.
Cue Berlin as Emil wakes from a bad dream to find both Mr Snow and his money gone at Zoo Station, and 59 Productions' projections take over from Bunny Christie's more realistic stages-within-a-stage to give us a black-and-white expressionist Berlin projected on to a Constructivist backgournd. Their work, hand in glove with Lucy Carter's lighting, is endlessly resourceful and not over-gimmicky in a West End way. They transform the skewed stage frame into a Hitchcockian camera lens, a whizzing 1920s map of the city and a panorama of the nocturnal Berlin in lights where a cabaret singer (Jacqui Dubois) adds tingly atmosphere.
Hers is the only song in a show which you start out thinking ought to be a musical. But that would hamper the pace, and what composer Paul Englishby provides instead is the opportunity for melodrama, rhythmic spoken text for the older Berlin citizens to propel the sense of movement forward. These adults are harder-edged than Kästner's, full of prejudice towards children, foreigners, "cosmopolitans" and "you-know-what"s, paving the way for Hitler's election.
But of course this is the young 'uns' show. Gone are Kästner's 100 boys and Emil's cousin Pony, the one girl who waits on them, as a born-to-be-housewife.. In their place are 50 kids of every shape and size – cast, like the principal boys and girls, three times over – and a team of leading characters to the manner born, at least last night.
Ethan Hammer's cheeky chappie Emil (pictured right) is a boy you can believe finds it determined hard work living up to the moral principles instilled by mum. Georgie Farmer does a splendid Artful Dodger act as first Berlin boy Toots with his Harpo-esque horn, Daniel Walsh's Professor makes you laugh before he's uttered a word of his left-wing speeches and, just as in a panto there's always a cute kid brought up on stage for everyone to coo over, Keeyan Hameed delights as the diminutive Tuesday who has to stay at his posh parents' home answering the telephone as the nerve-centre of the detectives' organization.
Just to add spice, Miller has added a negative element in Petzold, a xenophobic bruiser with a black eye as played by burly Gus Fontaine who's destined for the Nazi youth movement, bringing us closer to the city-versus-country world of Hans Fallada's great novel Wolf among Wolves.The girls get a spirited look-in, too. Pony is now "the Hat", a boxing tomboy; as last night's incumbent Izzy Lee declares in the programme, "she has very strong opinions and believes very strongly in women's rights". Aimee Wilmot's newspaper-seller Hilde gets a spooky lead refrain as the children dog Mr Snow's footsteps and chant how they've got their eye on him: a more memorable melodic "hook" than the villain's catchsong, which alas isn't quite catchy enough for the audience to adopt.
Once the gaggle has gathered, it's just one big chase, a much longer one than in the book, though the visual ingenuity – with Sheibani establishing perfect act symmetries between the green kitchen and a scary red hotel bedroom, as well as an inventive pursuit through the sewers involving torches and patches of total blackout - keeps us captivated. There's also a poignant interlude as Emil and the Professor compare backgrounds (the sociological element again). And of course there's audience participation. The kids sitting next to me, no older than six and three, were literally on the edge of their respective seat and mother's lap throughout, only momentarily distracted by the 20 Deutschmark notes they'd caught, so I reckon the advised starting-age of seven is too cautious. If only they were selling the Café Josty dumplings Mr Snow was so fond of in the foyers: just about the only marketing trick missed for what's sure to be a seasonal family hit.