L'Enfance du Christ, BBC Symphony Orchestra and Chorus, Roth, Barbican |

reviews, news & interviews
L'Enfance du Christ, BBC Symphony Orchestra and Chorus, Roth, Barbican
L'Enfance du Christ, BBC Symphony Orchestra and Chorus, Roth, Barbican
Berlioz's intimate Christmas meditation breaks the heart in a superlative performance
Caravaggio's unusual depiction of the rest on the flight into Egypt
For seasonal fare that's also profound, few pre-Christmas weekends in London can ever have been richer than this one. Hearts battered by John Adams' nativity oratorio El Niño last night, one hoped for more soothing medicine this afternoon in the naïve and sentimental music of Berlioz's sacred trilogy, first performed some 145 years earlier.
With similarly perfect casting of soloists, an even more remarkable chorus and a guiding hand that was both firm and tender from the versatile François-Xavier Roth, superlative standards continued – making me wonder what on earth's the point of compiling a "best of year" when this, along with so much else over the last 12 months, was absolutely as good as it gets.
Berlioz is no less quirky than Adams in his angle on a familiar story. The Childhood of Christ just grew like an exquisite but erratic plant, beginning life as its modest second part, "The Flight into Egypt", before Berlioz added what is now the third for a Leipzig society and went back to preface the cause of the holy family's flight in the machinations of horrid Herod. Only in this mostly restrained setting, he's not so bad to start with – simply a Shakespearean ruler beset by care and haunted by a bad dream. In that master characteriser Christopher Purves' subtle portrait, backed up by a superb, swaying orchestral melody, you even felt for him before those weird soothsayers sprang into their bizarre 7/8 dance to cue the massacre of the innocents.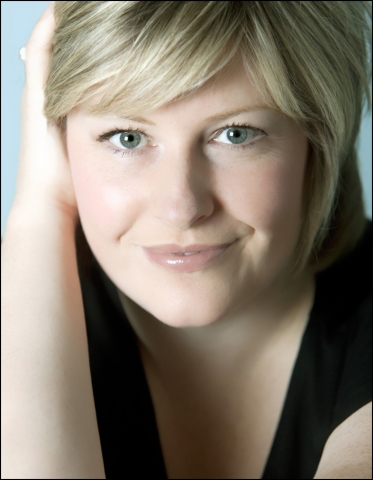 The French master's take isn't like Adams' horrifying meditation on the consequences. With a master dramatist's skill, he cuts from baleful trombones and dark colours to tender woodwind depicting the stable at Bethlehem (if Roth had a fault, it was to insert a pause for throat-clearing here). Only in this exalted company did the world-class young Scots mezzo Karen Cargill (pictured right by K K Dundas) simply seem part of a team that also included baritone Marcus Farnsworth – key player in another stunning cast for Britten's Albert Herring a fortnight earlier – and tenor-narrator Yann Beuron (pictured below by Guido Loconsolo), producing a flawless, direct line with plenty of nuance.
With every set piece came gentle quirks and a general sense of tearful spirituality. Not everyone will have warmed to Roth's period application of little string vibrato or his brisk tempo for two of the three verses in perhaps the loveliest of all Christmas carols, the Shepherds' Farewell, but it was all part of an overall picture holding excess sentimentality at bay.
The four-strong casting turned out to be not an economy but a masterstroke when Purves returned as the only householder in Saïs not to turn away the "dirty Jews" (yes, that's in Berlioz' text), wiping away Herod's stain with the best of Christmas messages: hospitality towards the homeless.
You have to love Berlioz for offering an extended song and dance routine to entertain the dispossessed: and what could be lovelier than the peerless artistry of BBC Symphony flautists Daniel Pailthorpe and Kathleen Stevenson gleamingly supported by harpist Sioned Williams in the heavenly-long Ishmaelite trio?
Only, perhaps, the unaccompanied final chorus in which the BBC Symphony Chorus sang like consummate professionals, with feeling to spare. The icing on the cake was the angelic alleluia-ing of the Trinity Laban Chamber Choir, manna from the back-of-auditorium heaven. In the ensuing silence, you could almost feel the grace descend. Out of this world, all of it.
In the ensuing silence, you could almost feel the grace descend
rating
Share this article