Les Troyens, Royal Opera |

reviews, news & interviews
Les Troyens, Royal Opera
Les Troyens, Royal Opera
Berlioz is the star of this epic masterpiece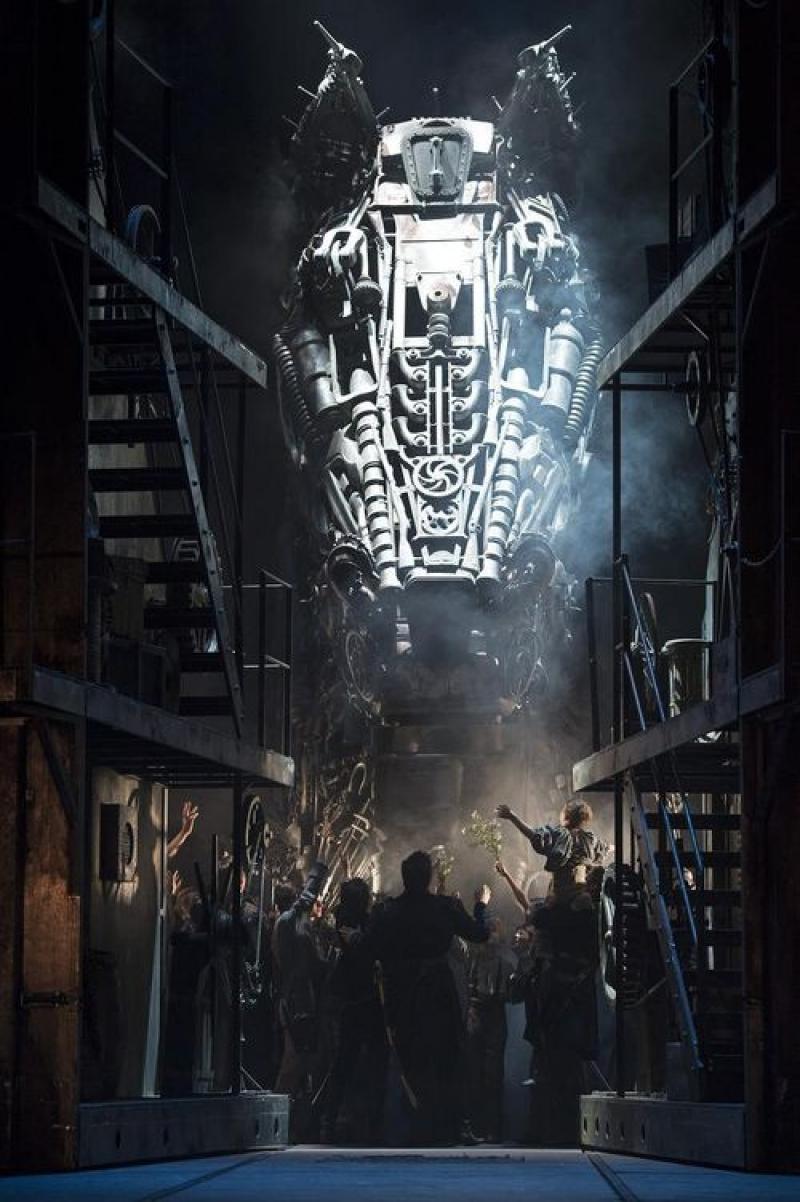 The Trojan horse made up of the litter of war
Les Troyens is one of music's mythical beasts. The greatest opera that few will have ever seen. Until recently the epic was considered so demanding that it was thought unstageable. David McVicar's new production for the Royal Opera House is only the second in its history. So for most of us last night will have been the first chance to witness the five-hour masterpiece in its original French.
It is amid the murmuring woodwinds that the most memorable musical truth of Troyens is to be found
Beyond the fact that the cast is huge, however, (the opera house were fielding the largest number of extras ever), there is little about the story that makes the work anything but a joy to follow. Focusing tidily on the sack of Troy in Part One (Acts One and Two), Aeneas's flight to and alliance with Dido's Carthage in Acts Three and Four and the split between Aeneas and Dido in Five, Berlioz's libretto is exemplary. Never is one force-fed. Never is one allowed to get lost. The emotional see-sawing over the ideas of love and loss, duty and honour, is given space to rise and fall naturally. And unlike the work that it helped to give birth to, Wagner's Ring Cycle, in Troyens there is an accommodation with simplicity that allows for moments of extraordinary reflective mystery as well as between-the-eye impact.
With these musical and theatrical basics, all McVicar had to do was not mess up. And he didn't. McVicar is a safe pair of hands. His dependably flat-pack ideas came up trumps yet again. We began in familiar McVicar territory, in a 19th century industrial dystopia, Troy as a metallic barrel, claustrophobic, towering, surrounding by the litter of war that will form the Trojan horse. Aeneas flees to Carthage in Part Two and we land in a halcyon North Africa of sunny ziggurats (pictured below right). Blocking and choreography was suitably clear, conservative and theatrical. Think Raymond Gubbay, Matthew Bourne, ITV2: solid, populist, superficial and camp.
It made no concessions to the adventurousness in the pit, but it also never once impeded it. Taking Aeneas's lead, Berlioz's score journeys across the whole known musical world. Exotic melodies and harmonies are visited, sometimes merely in fleeting daydreams. Extraordinary rhythms and texture are sourced. Structure is played with throughout. The result is a feverish variety that mirrors the physical and emotional turmoil on stage. Even the simple aria of a homesick Trojan sailor, Hylas (exquisitely sung by Ed Lyons), becomes a thing of wonder in Berlioz's hands, with the vocal score hoist high up the register on flute rigging, overlooking cello breakers.
Pappano judged every bar to perfection. As did the Royal Opera House Orchestra. It was a loving and unflappable depiction. The transition from a clarinet and horn-centred soundscape in the sack of Troy to a flute and string-focussed idyll in unfettered Carthage was handled with noticable care. It was underpinned by a glorious performance from the opera house chorus, who seemed to love every single plangent note. They weren't let down by the leads.
Though Anna Caterina Antonacci's Cassandra was impossible to take seriously while waving her arms around like Kate Bush, she was at least on strikingly good vocal form. So were most of the others. Eva-Maria Westbroek's Dido, at first so careless with the beat and overly generous with her vibrato, recovered as she switched from Princess Diana-like Polly-Anna-ishness to delirium and madness. Brindley Sherratt's Narbal (Dido's minister) tightened up his voice too as the stakes were raised.
Brian Hymel was nicely lean of voice and French of texture as Aeneas. He didn't quite generate the fire that might have come from Jonas Kaufman, who pulled out, but there was class in his performance nonetheless. The most musicality was to be found in the smaller roles, in Hanna Hip's exceptional Anna (Dido's sister) and Lyon's scene-stealing Hylas (pictured left), whose touching aria rang out while he swung from the rafters. This and the Fourth Act love scene, in which a toy plan of Carthage rises into the heavens to become a night sky were McVicar magic.
The opera house probably thought that Troyens would be the perfect prep for next year's Wagner bicentenary. The Wagnerian connection is certainly strong. There are passages of tumescent headiness especially during the elopement of Dido and Aeneas in Act Three that appear to look to the opening of Die Walkure. But what's more interesting is the link to the tradition of the French tragedie-lyrique.
It is by strictly following this old-fashioned form and the rules set down by Lully and Rameau that Berlioz was able to provide something of such freshness. The tragedie-lyrique informs all the most arresting passages of the opera: the epic choral lament in the First Act, the snakey duet of the Third and Hylas's tender homeward-bound air. It is here amid the murmuring woodwinds that the most memorable musical truth of Troyens is to be found and the genius of Berlioz can be most clearly observed.
Taking Aeneas's lead, Berlioz's score journeys across the whole known musical world
Explore topics
Share this article