Yuletide Scenes 1: A Scene on the Ice near a Town |

reviews, news & interviews
Yuletide Scenes 1: A Scene on the Ice near a Town
Yuletide Scenes 1: A Scene on the Ice near a Town
Hendrick Avercamp, the great winter artist of the Dutch Golden Age, specialised in scenes of icy revelry
Thursday, 19 December 2013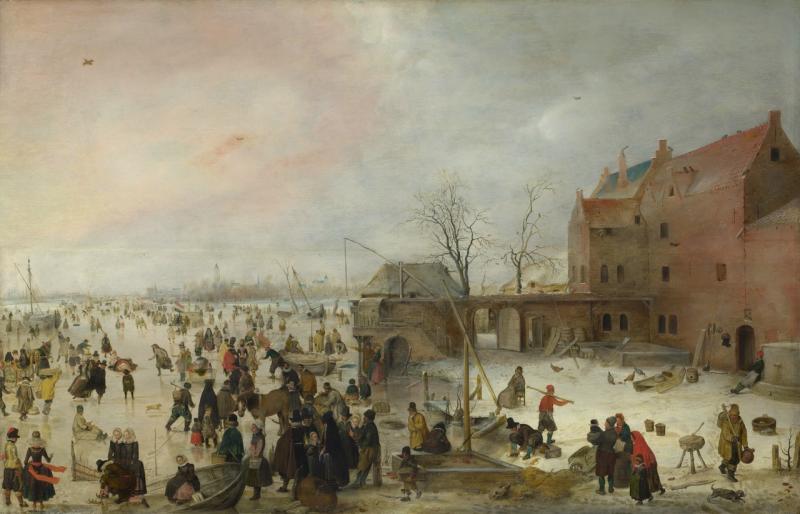 Hendrick Avercamp's "snow day" is a hearty reminder that nothing changes
The term "snow day" may have been coined with the most recent spate of cold winters in mind, encapsulating the modern-day, not to mention British, consequences of winter weather, but Hendrick Avercamp's Seventeenth-century "snow day", painted in around 1615, is a hearty reminder that nothing changes. And just as today we tend to fall into two camps, those determined to enjoy the weather and those irritated by the disruption, Avercamp's scene on a frozen Dutch river depicts all types, ages and temperaments.
Amongst gleeful figures equipped with skates and sledges, tradesmen determined to continue the day's business press on across the ice. A dairyman carries pails of milk on a yoke across his shoulders, while others carrying firewood, a flagon and even a wheel of cheese barely break their stride to glance at the merriment around them.
Avercamp seems also to have been celebrating a new and greater unity amongst the Dutch people
Like most landscape painters of his time, Avercamp painted for the open market rather than by commission. The Dutch appetite for paintings was huge but the profit margin pitifully low, so that painters often developed a specialism in order to corner a small part of a highly competitive market. Avercamp specialised in these busy ice scenes which would have been valued primarily as conversation pieces, their many incidents and encounters providing a rich source of speculation and entertainment.
Just as snow renders our local parks as crowded as on the sunniest of bank holidays, in Avercamp's wintry scene, people of all ages and social groups have downed tools for the day, and the picture exudes the good cheer of an unscheduled holiday. Against a chilly winter sky, the hazy outline of an anonymous and probably invented town provides the backdrop for groups of men playing a primitive form of golf, children being tucked securely into a sledge, peasants and nobles skating and an elderly man wrapped up against the cold, seated by the riverbank. A smartly dressed couple watch from the very foreground, almost rubbing shoulders with us as spectators, while on the ice a woman has slipped over, her tumbling petticoats marking a change of rhythm and a focal point in the picture's mid ground.
An ice scene, like no other, was an opportunity to show the full gamut of Dutch society, united in its enjoyment of the frozen river. But Avercamp seems also to have been celebrating a new and greater unity amongst the Dutch people. Just below the horizon can be seen the orange, white and blue flag of the Republic of the United Netherlands which had only recently gained independence from the Spanish. By showing this cross section of Dutch society enjoying the countryside, Avercamp was making a patriotic statement that the free Netherlands now belonged truly to the Dutch.
Dutch painting of this period is known for its complex symbolism and allegorical references, and Avercamp owed much to Pieter Bruegel the Elder, who developed the winterscape into a genre in its own right. Bruegel's winter scenes are often laden with meaning that explores the precariousness of life, but Avercamp uses far fewer allegorical motifs, his scant acknowledgement of winter's hardships adding a degree of light and shade to an otherwise overwhelmingly joyful scene. The fishing boats are ice-locked, and the brewery stands idle, gentle reminders that any enjoyment had while the ice lasts will have to be paid for in lost earnings. The animal skull lying in the foreground may have been intended as a memento mori, a call to remember death and the fleeting nature of earthly pleasures, a sentiment that may come as a tonic to anyone struggling with the relentless frenzy of seasonal commercialism.
Hanging in a relative backwater of the National Gallery, and just a stone's throw from Oxford Street, this is a painting to transport the weary shopper to the sanctuary of a different age.
An ice scene, like no other, was an opportunity to show the full gamut of Dutch society, united in its enjoyment of the frozen river
Share this article