DVD: What Maisie Knew
DVD: What Maisie Knew
Henry James's adult quadrille as seen through a child's eyes gets a stylish if softer makeover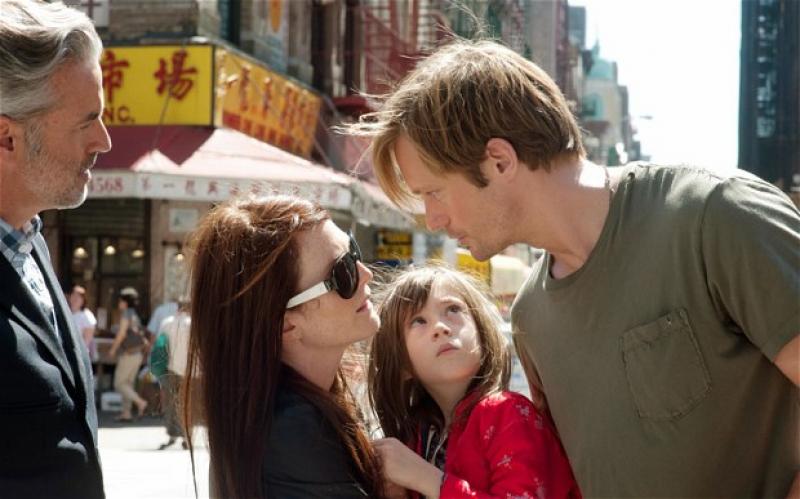 Susanna (Julianne Moore) and second husband Lincoln (Alexander Skarsgård) quarrel over Maisie (Onata Aprile)
The dishonourable parents call each other "fucking headcase" and "asshole" in front of the child rather than "nasty horrid pig" and "your beastly papa", but the essence remains of Henry James's social comedy with queasy undertones. As transplanted by directors Scott McGehee and David Siegel from late Victorian London to contemporary New York, six-year-old Maisie – she doesn't age, as she does in the novel, for obvious reasons – is still the shuttlecock rebounding from one careless divorcee's racket to the other's.
Since the fragments of dissolution and dishonour are seen entirely through Maisie's eyes, everything stands or falls on the performance of young Onata Aprile, and it's a total Oscar-worthy winner: neither cutesy – despite the rather coy score by Nick Urata – nor self-consciously serious, though there's a moment when Maisie snaps back a negative response at her mother which freezes the blood.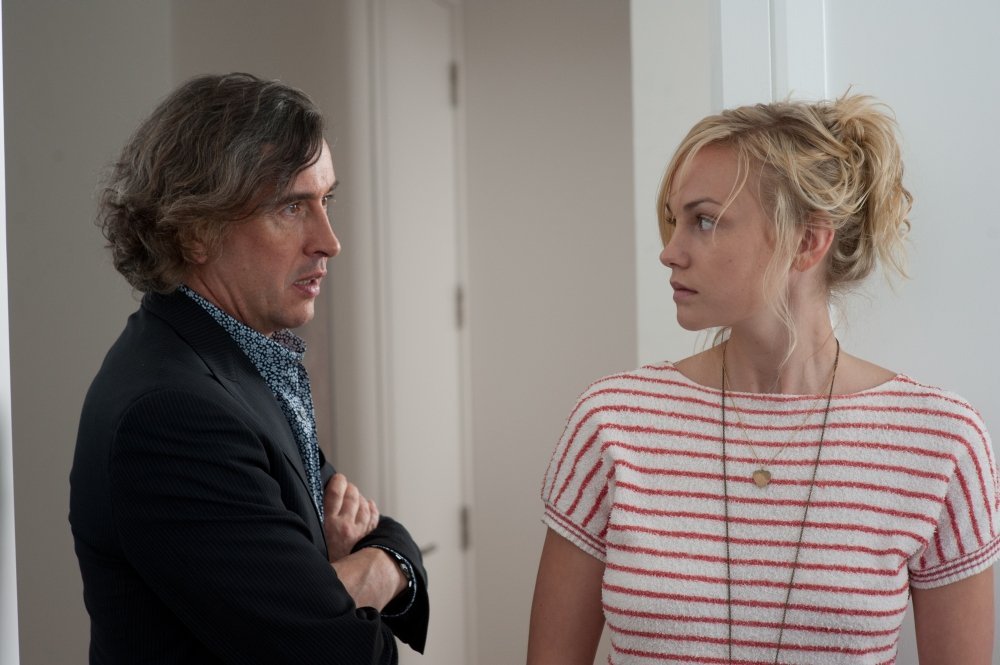 The adult quadrille of parents and new partners is flawlessly played out, too, albeit with some unJamesian dynamics. Julianne Moore's ageing rock star Susanna and Steve Coogan's cynical English art dealer Beale (pictured right with Joanna Vanderham as the second wife) make one laugh guiltily at their sheer awfulness. Moore, playing the bigger monster with chaotic energy, sums it all up as she holds the child in the middle of a New York street, halting the traffic and shouting to a horn-beeper, "Are you mad? I have a kid here!" It's a tribute to her superb artistry that not only do we believe in Maisie's happy acceptance of her mother's fitful, clingy love; we almost cry along with Moore when the scales finally, or more likely temporarily, fall.
There's a danger of it all going squidgy when the couple's new spouses receive much softer treatment than in the novel, and we only catch a fleeting glimpse of the second governess/minder, James's pivotal Mrs Wix. But Scots actress Joanna Vanderham and lovely Swede Alexander Skarsgård are so kind, so restful on the eye, and there's a novel new idea that they're also innocents, the next generation coming along to be casually abused by Beale and Susanna.
The tone remains appropriately playful on the surface, the colours and the child's-eye perspectives often bewitching; we're made to realize that Maisie doesn't want for pretty toys, fashionable clothes and lively schooling, just consistent love. Even the extra scenes included in the DVD – there's also a directorial commentary – seem to me indispensible. So, yes, unlike the more disturbing novel, the film's a delight, and the only reason it didn't make it to theartsdesk's top 13 films of 2013 must surely have been the abundance of choice. It's certainly in my top five.
The tone remains appropriately playful on the surface, the colours and the child's-eye perspectives often bewitching
rating
Explore topics
Share this article