Babylon, Channel 4 |

reviews, news & interviews
Babylon, Channel 4
Babylon, Channel 4
This 'comedy-drama' about the police is neither one thing nor the other
James Nesbitt as Chief Constable Richard Miller, trying to decide whether he should make a decision
They're billing this as a "comedy-drama" about the inner workings of the Metropolitan Police, and it comes trailing a cloud of prestigious bylines. It's written by Sam Bain and Jesse Armstrong, who between them have notched up credits for Smack the Pony, Fresh Meat, Peep Show and The Thick of It, and this 90-minute opener was directed by the sainted Danny Boyle. What would be not to like?
Sadly, quite a lot. The "comedy-drama" tag is a significant clue but in the worst way, suggesting accurately that the show can't make up its mind which side to lean on. The depiction of the Met displays a superficially documentary-like weightiness, with realistic sequences of armed cops staging special forces-style raids, or officers of the Territorial Support Group throwing their weight around amid peaceful demonstrators on the London streets. Meanwhile, there's feverish political jostling behind the scenes, as senior officers do anything to shore up their own positions and make sure any blame is diverted elsewhere. Making no decision is better than making one which might impair their progress towards a higher pay grade and a fat pension.
Then there's the "comedy" part. In the questionable tradition of much recent-ish British comic writing, this involves characters saying obtuse things in a deadpan manner and leaving a blank space where you're invited to imagine the laughter might go. You may find yourself going "yeah, and?" quite a lot. In addition there's a lot of invective involving bodily functions and sexual organs, apparently intended to evoke the boorishly macho world of policing. Maybe it does. Not funny though.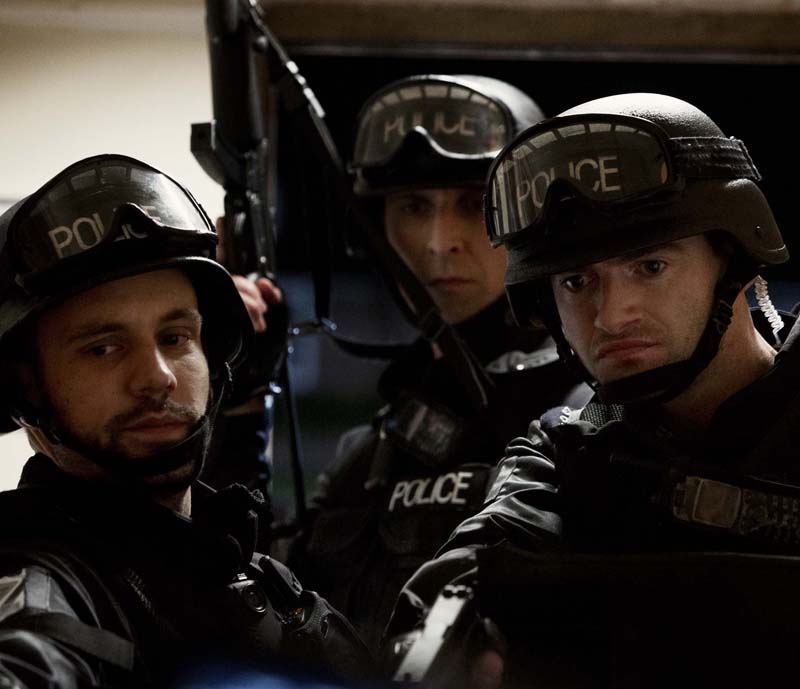 Despite all that, the worst crime on display hasn't been committed by the deranged killer carrying out drive-by shootings around West London, it's the utter detestability of almost every character in the cast. The front-line officers are all depicted as brutish ignoramuses, oblivious to any notions of "policing by consent" and concerned only with being as objectionable as possible to the public while earning wads of overtime. Especially irksome is the hysterically aggressive Robbie (Adam Deacon), who has the brain of a six-year-old trapped inside the body of an idiot. The special armed police unit (pictured above) just think they should find somebody to shoot, because they're armed police.
It's hard to tell whether you're supposed to like Liz Garvey (Brit Marling, pictured below), the American new-media guru implausibly parachuted in as the Met's head of communications, though you can certainly understand her bewilderment at the political cat-fighting, bureaucratic sclerosis and petty-mindedness she finds all around her. Liz's mantra is "transparency", since she's hip to the Twitter-and-Instagram age when information is everywhere instantly ("the 24/7 world requires 360 degree communication!"), so the force's kneejerk readiness to pump out self-serving spin and disinformation is anathema to her.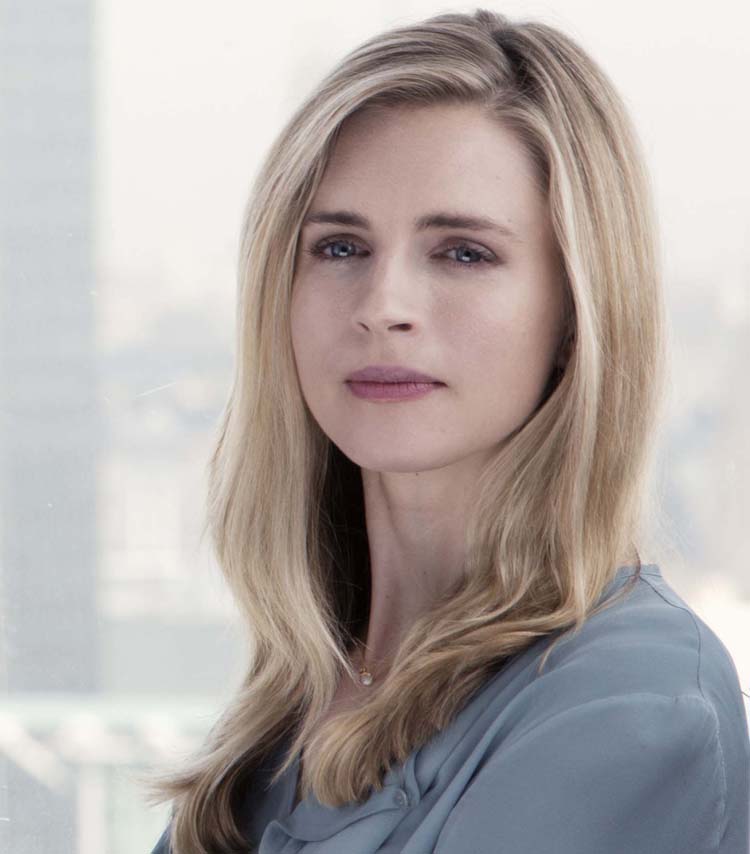 Plenty of real-life precedents come to mind, from the deaths of Jean Charles de Menezez and Ian Tomlinson to the lying "Plebgate" officer, but the piece doesn't work as satire because all it does is reheat a list of truisms. There's no imaginative invention or examination, and adding the gimmick of a TV crew making a fly-on-the-wall film-within-the-film merely brings pointless clutter.
Nobody distinguishes themselves much, though James Nesbitt manages to project a glimpse of gravitas as Chief Constable Richard Miller. On this evidence, Babylon is unfit for purpose, if it ever had one.