Q&A Special: Stranger by the Lake |

reviews, news & interviews
Q&A Special: Stranger by the Lake
Q&A Special: Stranger by the Lake
Actors Pierre Deladonchamps and Christophe Paou on Hitchcock, nudism and very unusual stunt doubles
Getting frisky before the doubles move in: lakeside lovers Christophe Paou and Pierre Deladonchamps
Stranger by the Lake is something of a wonder, a superbly made amalgam of Hitchcockian psychological thriller and explicit homoerotica, whose very presence in commercial cinemas defies convention. Yet the sheer quality of Frenchman Alain Guiraudie's film can't be denied.
Since proving one of the must-sees of Cannes in 2013, where Guiraudie won a directing prize and his film the Queer Palm, it built a word-of-mouth momentum that led to it featuring high on critics' best-of-year film lists.
The location is a pebbly lakeside beach and surrounding woodland; the beach is nudist, exclusively male and a cruising hub, the shrub being where the action takes place, the lake a convenient way of cooling off. The central character is sensitive, friendly Franck (Pierre Deladonchamps). While conducting a touching, chatty friendship with Henri, a straight, lonely man who sits apart from the gay ensemble, Franck's main, amorous interest is in the strapping Michel (Christophe Paou).
The film is striking for its constant nudity (though understandable, given the locale) and for moments of explicit sex. But what is most interesting are the emotions at play – even when a murder muddies the waters, Franck's desire knows no bounds.
I met the screen lovers in Paris, where they proved as intriguing a double act off screen as on. Unfortunately, Paou no longer had the terrific Tom Selleck moustache that he sports in the film. This interview contains spoilers.
DEMETRIOS MATHEOU: What were your first thoughts when you saw the script?
PIERRE DELADONCHAMPS: What struck me most was obviously the sex scenes and the fact of being nude for most of the film. But not only that. I was very impressed by the power of the script. The dialogue was very precise. I loved the relationship between the three main characters. I talked a lot with my agent, because I trust her very much. It was the first leading part for me, so I needed her advice. She said, "Well, they fuck a lot, there is a lot of nudity, but it's directed by Alain Guiraudie (pictured below with the actors in Cannes), who is very talented, so let's do it. We can trust him."
Is it something you ask your partners about?
Men love to see women naked on screen, but we never think of female desire
CHRISTOPHE PAOU: I told my partner, "It's a job. I have to fill my fridge." At first it was very difficult for me to accept it. But I knew the work of Alain and liked it very much. I read the script three times, and reading it over I thought it would be at least a cult movie, maybe within 20 years. For me it was like Heart of Darkness – on the water, with this loneliness, desire and death.
Is your own sexuality relevant when playing a gay role?
CP: No. Do you have to be a priest to play a priest, a murderer to play a murderer?
Was there any concern for what it may mean for your career, or image?
PD: I felt that it wouldn't harm me as an actor. And the directors I've met since have said it's brave to do it and commended me. So it gives me confidence to go for other parts, because if you can go that far, you can go further for another one.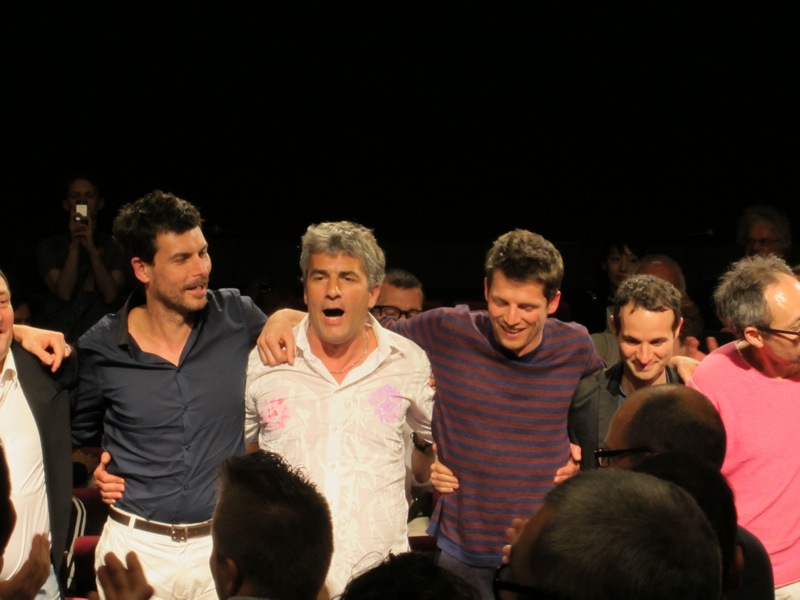 There is certainly a kind of hypocrisy regarding nudity in cinema, of course. It's perfectly normal to expect actresses to appear nude, but when men do it it's shocking.
PD: There's certainly a sexist attitude that panders to men in the audience. Men love to see women naked on screen, but we never think of female desire. Actually, even though the characters are gay, we've met many women who were very glad to see so many dicks on screen.
CP: Women love the movie. I have heard from many women that they were excited by it. More than men.
So do you agree that it's limiting of the film to describe it as queer cinema?
CP: There is something universal in Alain's writing. The naturist beach, the cruising, the nudity are very present. But he's written a perfect love story. I don't like to say it's a gay movie; it's a movie that's talking about gay life.
With the killer dimension, it reminded me broadly of William Friedkin's Cruising, with Al Pacino [made in 1980], which was very controversial because of the unsympathetic way it depicted the gay scene in San Francisco. Was there any discussion of that film, or others?
CP: No. We asked Alain what movies we could watch, but he didn't really have any references for us. He has a lot of references in his movie, but they're all unconscious I think. I watched Cruising, but it didn't influence me. I also watched some Fassbinder. Hitchcock too. When we watched the film in Cannes, it was amazing – the drowning is exactly Hitchcock.
What's often more disturbing than violence in Hitchcock is the perversity of the emotions, which you could say applies here to Franck.
Alain asked us to swim before he cast us. It was part of the auditions
PD: It reflects what we can do in real life, making bad choices even when we know they're bad choices. That's what struck me most about the script. My character chooses to pursue this guy, knowing he's a killer. Alain wanted to show how far you could go for love. Maybe it's exciting for someone to be in love with a killer.
Did you research cruising spots or nudist beaches?
PD: We didn't need to. We just needed to do what Alain wanted us to do. But we did go to one nudist beach, which was also a cruising point, during the shooting, because there was one nearby and we needed to stay tanned. It was mixed, there were gay guys and straight couples. We went together, with the director and the crew.
Did Guiraudie join you naked while you were shooting?
PD: He did. And also during the rehearsal, to make us more comfortable. Actually, he's in the movie – he's the first person my character meets on the beach. He's a naturist himself. But you know, when we got to the set I dealt with the nudity by just telling myself, "It's a costume, it's not me."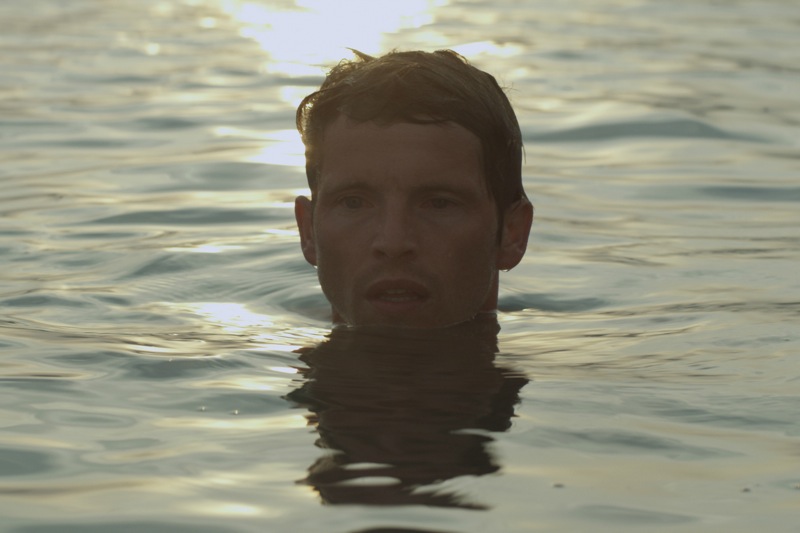 You both seem very good swimmers, and the swimming scenes are shot beautifully.
PD: Alain asked us to swim before he cast us. It was part of the auditions. He said, "Actors always say they can swim, then when it comes to the shooting, they can't. Not well. So I need to see you swim."
CP: I had to train for about two months, especially for the drowning. It's a long sequence, which we had to shoot three or four times. We had to swim towards the middle of the lake, fight in the water, I had to drown him, the other actor had to swim out of the shot – he was a freediver – and then I had to swim back and continue acting on the beach. And then do it all again. And it was freezing.
PD: At one time we shot a scene that's not in the movie, I have to swim very fast towards the shore. We shot that three times and I was exhausted. I'm not a professional – and I'm a big smoker. That was even harder than the sex scenes.
Talking of which. I understand that you had body doubles for the explicit parts.
CP: Yes. We called them stunt doubles.
PD: We'd make love, then we'd stop, these guys would replace us and do it for real. It was very funny the day I met my stunt dick. "Pierre, let me introduce you to your dick."
Did you have a veto, until you found a double who satisfied your requirements?
PD: Ah, no. But it was in our contract that we could reject scenes from the edit if we were not happy with them. But we left the film as we saw it.
Are you surprised with the success and the attention? It's clearly more than a cult film.
PD: It made a very big buzz in Cannes, which we were not expecting at all.
CP: It's funny. We made the movie with a very low budget, it was quite a hard and slow process. And then it was chosen for Cannes and very quickly people were talking about us.
You've been travelling to promote the film. Have you noticed different reactions in different countries?
CP: I was in Busan. People were laughing at the same things, thrilled at the same things, which really struck me as a positive thing. But in Romania nobody wants to distribute it, or in Russia of course.
How about the French public? We're seeing all the protests here against gay marriage.
PD: The French reviews were very good. And the film opened in France last June, with 160,000 admissions, which is good for this kind of film. Alain's last film had 30,000.
CP: A mayor of two towns outside Paris tried to censor the film, and it wasn't even being released in those towns. But there's always an audience for a good independent movie.
For me it was like 'Heart of Darkness' – on the water, with this loneliness, desire and death
Explore topics
Share this article