Suzanne |

reviews, news & interviews
Suzanne
Suzanne
Katell Quillévéré's second film deftly balances its depiction of family drama and ill-advised romance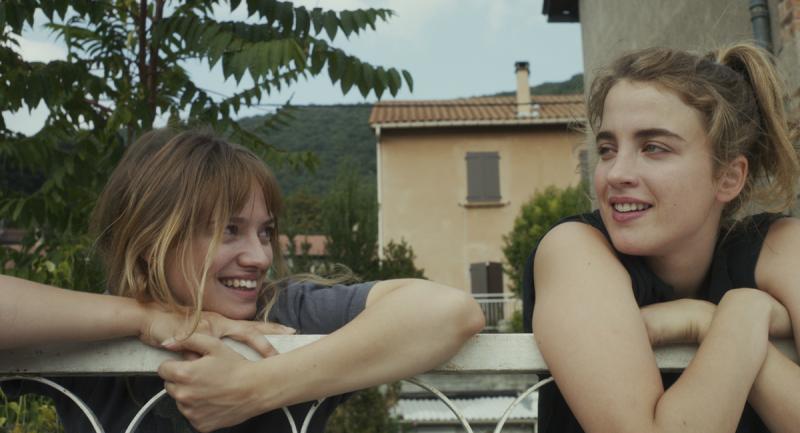 Lord help the mister who comes between me and my sister: Sara Forestier and Adèle Haenel in 'Suzanne'
As she proved in her exquisite debut Love Like Poison, French director Katell Quillévéré has an astonishing knack for delicately told stories which, in their sensitivity to character and credibility, pack a weighty emotional punch. And so it goes in her follow-up Suzanne, an aesthetically sunny story of unconditional familial love and the grand, gut-wrenching folly that comes from being romantically entangled with a dubious character.
It's a tale that's likely to be quickly taken into your affections, for it's one that delights in childhood. We first meet Suzanne Merevsky as a little girl (played by Apollonia Luisetti, pictured below with Fanie Zanini), performing in a school dance production bedecked in sequins. As she and the other little flappers innocently and exuberantly strut their stuff in the school gymnasium it's charming and hilarious; the girls are cutesy in their enthusiasm and cluelessness, and while they might be ostensibly sexualised in their glamorous retro garb and made-up faces, Quillévéré doesn't suggest any sinister or uncomfortable undertone - this is pure childhood dress-up.
What's even more cockle-warming is what we see afterwards: Suzanne and her even littler sister Maria (Zanini) are playing at their mother's grave as it's being tended by their slightly harassed father Nicolas (François Damiens of OSS 117 and Heartbreaker fame). The girls couldn't be closer or more charming as they giggle unselfconsciously and berate their stinky Grandpa Jerzy. Later we see them chastised by an even more irritable Nicolas as they conspire naughtily, and we also get a fleeting glimpse of what he has sacrificed for his family, in the shape of ignored answerphone messages from a female friend.
The film (which Quillévéré co-wrote with Mariette Désert) spans 25 years and initially makes a focus of the girls' enduring and heart-warming sisterly bond. The adult Suzanne and Maria are played quite brilliantly by Sara Forestier and Adèle Haenel. Although Suzanne is the older sister she grows up to be smaller, slighter and ultimately more vulnerable. Maria is wild, buoyantly feminine and independent, whereas the grungy, tomboyish Suzanne says little and at first sticks close to her dad. However Suzanne is quietly impulsive and falls pregnant as a teenager with the father nowhere in sight. This she announces with no more than a nonchalant shrug, and when she falls hard for a pretty shifty fella (Julien, played by Paul Hamy) it turns out that she can be disconcertingly, even dangerously reckless.
As Love Like Poison took its name from a Serge Gainsbourg song, Suzanne references the Leonard Cohen classic and fittingly evokes its almost incomparably gorgeous melancholy. Quillévéré was inspired to write the film after seeing Cohen in concert, although it features not Cohen's version but a live version of Nina Simone's breathy, eccentric cover. Suzanne is also the name of the young heroine in Maurice Pialat's À Nos Amours, a favourite film of the director's.
it wears a radiant smile even as it's stomping your heart into the floor
The long narrative ellipses encourage the audience to fill in the blanks and this very obviously selective approach means the film darts and skips along, creating a colourful patchwork of Suzanne's story - a sense of her life at key moments. Quillévéré is also just as interested in portraying Suzanne by the effect of absences and through the reactions and eyes of those who love her. Partially because of this Quillévéré succeeds in her objective of avoiding overt criticism of her protagonist - who always pays the price for her actions - and she's assisted by a very sympathetic and subtle performance from Forestier.
In Suzanne love infuses and lifts every frame. Fresh, sincere and entirely lacking in oppressive moral judgement, it wears a radiant smile even as it's stomping your heart into the floor.
Overleaf: watch the trailer for Suzanne
The film darts and skips along, creating a colourful patchwork of Suzanne's story
rating
Explore topics
Share this article