Heal the Living review - 'lots of emotion, not enough life' |

reviews, news & interviews
Heal the Living review - 'lots of emotion, not enough life'
Heal the Living review - 'lots of emotion, not enough life'
A heart transplant goes horribly right in Katell Quillévéré's third feature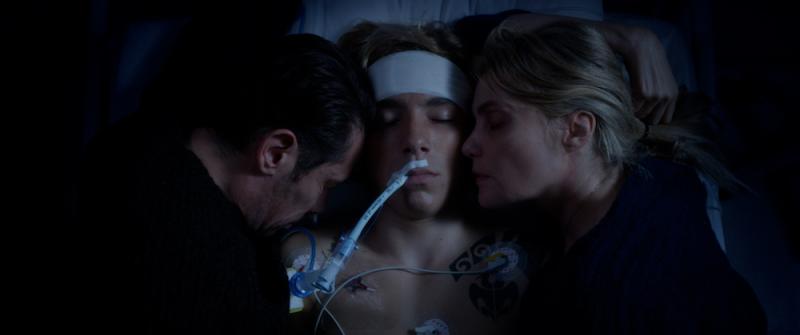 Waiting to donate: Simon (Gabin Verdet) and his parents (Emmanuelle Seigner and Kool Shen)
Three teenage boys meet at dawn. One of them, blonde and beautiful Simon (Gabin Verdet), jumps out of his girlfriend's window and rides his bike through the dark Lyon streets to meet the others in their van. They drive almost silently to the beach, put on wetsuits and catch waves. A grey sea, a grey sky: we can hardly see where foam ends and cloud begins. It's mesmerising, wordless, and the camerawork is superb, as is Alexandre Desplat's score.
We're inside the curl of the wave, as immersed in it as Simon. Then the surfer dudes are back in the van, exhausted, on the road home. It ripples menacingly in front of them, just like the sea.
Katell Quillévéré's third feature starts out as if it could be a coming-of-age movie like her previous features, Love Like Poison and the wonderful Suzanne. But there's no coming of age for 17-year-old Simon. That first scene, and one flashback, are all we see of his life; then, after the van crashes, he's brain-dead, in a coma. The other two boys survive (Simon wasn't wearing a seat-belt), but we don't see them again either.
Instead a series of characters, none of whom we get to know well enough, appear during the next 48 hours: the parents (Polanski muse Emmanuelle Seigner and rap artist/actor Kool Shen), separated but brought together in grief; head surgeon (Bouli Lanners) and nurse (Monia Chokri); the organ-donor consultant (an impressive, understated Tahar Rahim, star of A Prophet); and, in the second half of the film, the woman who is waiting for a heart transplant (Anne Dorval, pictured below). Simon's heart, in fact. But will his parents allow the organ donation? Will the heart reach the recipient in time?
All are fine actors but there is something mechanical and flat about Quillévéré's method of supplying revelatory glimpses that don't quite ring true and aren't followed up. Thomas tries to relax at work by watching Algerian goldfinches on YouTube – "they have human emotions," he says – while the nurse has an erotic fantasy in the hospital lift; the mother puts on earmuffs and drinks coffee as she watches her ex-husband wielding noisy boat-building machinery, and the surgeon fancies himself as a hipster, giving fist bumps and listening to hip-hop. Sadly, none of this helps the characters come alive, which in a film about life and death is a disadvantage.
Quillévéré adapted the screenplay from the best-selling 2014 French novel Mend the Living by Maylis de Kerangal, which in its English translation has just won the Wellcome Prize. The book is full of fervent descriptive passages, medical techno-speak, page-long sentences and very little dialogue – a tough nut to crack. The character of Claire, the 50-year-old woman waiting for the heart, is developed by Quillévéré: she is a single mother with two adult sons, young men who are trying to cope with her deteriorating health and her ambivalence about the transplant. "I'm not sure I want a dead person's heart," she tells her doctor. She's in an on-off relationship with a concert pianist, a woman who returns to her after she breaks the news about the impending surgery. There are tears, lots of emotion, but it feels arbitrary and undeserved.
Of course, the transplant goes ahead and we're in ER/Grey's Anatomy territory, with every minute of the meticulously researched surgery enacted. Could anything go wrong? You wish. But it's very realistic, this latex organ, with its electric motor pulsing away – a pump, but also a metaphor for the soul. This lyrical, often beautiful but finally unsatisfying film ends (not particularly appropriately) with Bowie's "Five Years" and a shot of Claire's sons, sleeping in the hospital waiting-room with their heads together, in the same pose as Simon and friend on that fateful journey in the van.
It's very realistic, this latex organ, with its electric motor pulsing away
rating
Share this article