Veronese: Magnificence in Renaissance Venice, National Gallery |

reviews, news & interviews
Veronese: Magnificence in Renaissance Venice, National Gallery
Veronese: Magnificence in Renaissance Venice, National Gallery
A survey of the Venetian master whose paintings pulsate with a thrilling vitality
Paolo Veronese, Portrait of a Lady, known as the 'Bella Nani', c.1560-65
The National Gallery has produced a revelatory and unprecedented exhibition which shows us an array of paintings from cabinet size to mammoth by a long acknowledged star: Veronese, probably the most flamboyantly exciting artist at the heart of the Renaissance in Venice.
Paolo Caliari (1528-1588) known as Veronese in honour of his native city, was born in Verona the son of a stonecutter, and was originally destined to be a sculptor. Changing media, it is his 30-plus years or so in Venice at its artistic heights at the heart of the 16th century, that made him a force to be reckoned with, and an influence over subsequent centuries. In 1909 Henry James, who was in fact a serious art critic, called him the happiest of painters, nobly joyous, seeing life as a breezy festival (so unlike James himself).
He is emblematic of Veronese's extraordinary vitality, a barely contained energy even when at his most thoughtful
What is art historically important about the current anthology, is that the 50 or so paintings on view, several temporarily absent from the very churches they were painted for, is that all are thought to be, by the latest scholarship, authentically and completely from the hand of Veronese himself.
Like other successful artists of his peer group he managed a successful studio, so of the 800 or so paintings in which he had a hand, many also had the contributions of those painters under his management. But these, as scholars say, are autograph, so we are able to see with unusual clarity the original, even idiosyncratic, ability of the master. And they are being seen in the best light possible in beautifully lit galleries against gunmetal walls the better to see the shimmering evanescent colour of which he was a master.
The paintings, large and small, deploy an enormous and daring colour spectrum: brilliantly contrasting, pitching red against red, oranges, pinks and yellows, greens and iridescent blues, and showing us every crease and shadow of the heavy brocades, patterned cloth, and rich folds of sumptuous fabrics.
Portraits of rich Venetian patricians wrap the dignified gentlemen in gorgeous robes enlivened with lynx fur. In his characteristic crowd scenes the exuberant colour schemes which tease the eye and persuade us to look both at the whole and its riveting details are outmatched by the peerless choreography of varied personages, old, young and in-between, swooping, stooping, kneeling, bending, and even just standing.
Here be saints and soldiers, goddesses and angels, cherubim and pagan noblemen. He gives us choreographed theatre, the teeming crowds of people convincingly portrayed across the width of the canvas. And each actor, in whatever drama, gestures to make sure we understand the import of the whole.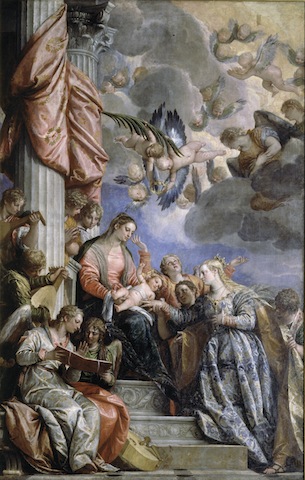 Veronese is producer and director, and of course set designer: a showman of unparalleled imagination, making us believe in angels and saints posed in the blue sky, in celestial cities, in architectural settings of fluted columns, marble terraces, bridges, staircases, all the better to deploy both the human and divine comedy. The Mystic Marriage of Saint Catherine (pictured right) from the late 1560s does just that. Here we see angels chattering, the Virgin with the Christ Child serenely gazing out at the adoring crowd, while a musician plays. The substantial figure of St Catherine enrobed in gorgeous blue patterned brocade receives the miraculous ring; a hovering pair of winged fat babies holds a neat golden crown as though about to crown the Virgin herself.
The men of whatever age have faces that range from the breathtakingly handsome to the homely. But the bodies, when revealed, are idealised with amazing musculature, the envy of any 21st-century addict of physical fitness. Robes also allow for the visibility of bare feet at which Veronese is an expert too. Saints have dramatic faces with glistening upturned rolling eyes. The women are far more problematic and less convincing, less animated, robust and square-shaped, standing stiff in their costumes, usually almost expressionless. The naked goddesses, usually blonde, rosy cheeked and rosy nippled, are adoring, supple and very fleshy, even boneless.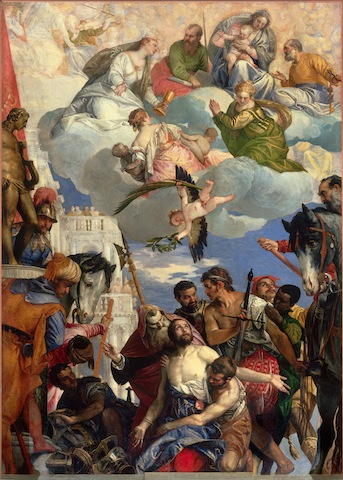 This unprecedented exhibition gives us a chance to see close up several altarpieces which, due to changes of ecclesiastical policy, can be temporarily removed from their original settings. The Martyrdom of Saint George (pictured left) from San Giorgio,Verona, really does seem to have almost every pose Veronese could think of: the pale kneeling figure of the saint, two horses, a motley colourful crowd of soldiers, servants, on-lookers, people in the distance piled onto balconies the better to observe the hubbub, a very mixed crowd of saints, babies, holy mothers, including Peter and Paul, not to mention Faith Hope and Charity, posed on billowing clouds above, who seem to be chatting away as they gesture to each other, and the carry-on below. Terrific accents of red ensure the eye is coaxed to travel round every ramification of the composition.
Seen together for the first time since presumably they inhabited the artist's studio, are two contemporaneous Adoration of the Kings, both from about 1573, one from Santa Corona in Vicenza, the other National Gallery's own, originally painted for a Venetian church and sold in the 19th century. Each is replete with miraculous shafts of light, with resplendently robed kings, a very gracious, demure Virgin, insouciant Baby, and requisite dogs, horses, oxen, even camels. What is fascinating about the two together is to see how the same elements can be woven by a master visionary into scenes which are similar yet different even in mood; one more sombre even militaristic, the other gentler, a flurry of kneeling figures cascading towards the Virgin and her holy burden.
There are paintings of individuals too; Saint Menna, part of huge shutters for the organ of a Venetian church, is a Roman soldier shown in full armour, a red cloak tossed with bravura over his shoulder; it seems he is about to step out of the classical niche that contains his life-size figure. He is emblematic of Veronese's extraordinary vitality, a barely contained energy even when at his most thoughtful. Profound emotion is absent, contemplation hardly ever contemplated. Even the martyrs hardly exhibit sorrow or apprehension. Opulent splendour is the keynote. Only the portraits of real people seem occasionally pensive, with thoughts turned inward.
An overwhelming physical energy seems almost to pulsate through the paint. This is perhaps what most animates Veronese, an unstoppable life force in painted form. Enjoy!
Veronese is producer and director, and of course set designer: a showman of unparalleled imagination
Explore topics
Share this article