Master Drawings, Ashmolean Museum, Oxford |

reviews, news & interviews
Master Drawings, Ashmolean Museum, Oxford
Master Drawings, Ashmolean Museum, Oxford
An unusually intriguing survey of what drawing has meant in the history of western art
Cézanne, Still Life of Peaches and Figs
Michelangelo evidently regarded drawing as the foundation of not only painting and sculpture but of "architecture and of every other kind of painting and the root of all science". His all-encompassing claim is subtly demonstrated in this captivating exhibition of five centuries of western European drawing. The anthology sweeps through the years from the old masters to 20th-century stars, concentrating indeed on mastery.
The unifying factor is that all the work on view is concerned with elements from the observable world: landscapes, portraits, domesticities, fantasies set in realistic frameworks, models in the artists' studios.
The Ashmolean has one of the finest collections of western drawing anywhere, including some 50 Michaelangelos, the world's greatest group of Raphaels, not to mention practically anyone else you can think of, from Grünewald's only surviving signed drawing, c.1512 – a portrait of a plump, elderly pious lady – to the charming informality of David Hockney's 1973 portrait of his friend, the curator Henry Geldzhaler typing away, and, we are told, typing the text of Hockney's own book, Hockney on Hockney.
The collection began in the 1840s with Old Masters from the incomparable acquisitions by the portrait painter Sir Thomas Lawrence, coming via a dealer and funded by public subscriptions and private donations; the government had declined to buy them for the nation. The purpose was to add quality to what was then a mediocre collection of paintings. There are 27,000 now, 2000 having been added just in the past few decades, and all available for viewing in the Ashmolean Western Print Room, with advance notice only needed for the most fragile.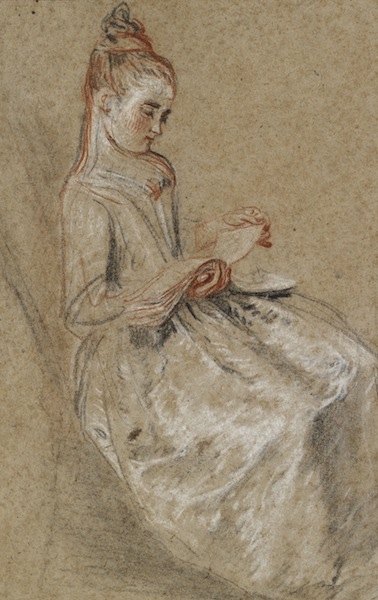 The 71 drawings on view – not so large a selection as to be uncomfortably overwhelming – provide a fascinating glimpse into the variety of purposes and intents of the practice of drawing. Here is observation irradiated by imagination, studies for work in other media, independent works of art in their own right and perhaps most captivating, an intimate look into artists' way of looking. In this succinct journey we take in changes in styles and attitudes, although every image, even Watteau's conjuring of a stock female figure that he put in paintings as he fancied (pictured left: Girl Seated with a Book of Music on her Lap), relies on a connection with the world around us. It is astonishing how convincingly whole worlds can be suggested with such quotidian tools: pencil, ink, chalks, watercolour, pastel on paper.
It is also a history of innovation: Dürer's contemplative study of a valley in the Alps may be, in the 1490s, one of the very first topographical studies of landscape for its own sake.
What is claimed perhaps to be the apotheosis of an Old Master drawing is Raphael's large and magnificent study c.1518-20, of two apostles transfigured with awe and wonder at witnessing the transfiguration, their foreshortened hands stretched out in amazement, their faces aglow. It's a preparation for the large painting now in the Vatican, but magnificent and emotionally compelling in its own right.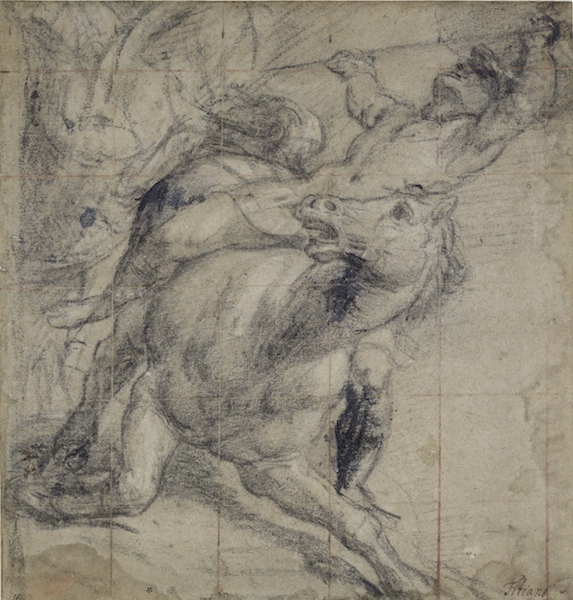 There are studies of movement galore: Titian's A Horse and Rider Falling, 1530s (pictured right), is a markedly convincing study of extreme action, both human and equine muscle under stupendous strain. The tender affection of Rembrandt for his first wife Saskia, asleep, possibly ill, in bed shines through a handful of lines and brush strokes in brown ink, looking as though the work of an irresistible moment of observation. Just a few years earlier, Rubens, a generation older, drew, in brown ink and black and red chalk, his masterly portrait of the ferociously intelligent collector Garter Knight and Thomas Howard, 2nd Earl of Arundel.
The violent ferocity of Goya's slight sketch c 1815-20 of Two Men Fighting leaps off the page, part of a private album exploring man's inhumanity to man that Goya, that all seeing observer of atrocity and cruelty kept for himself, perhaps as bases for his prints of manmade disasters. Meanwhile, the gracefully elegant charm of Gainsborough is summed up in his evocative 1760s study of a woman, dressed and behatted in the height of fashion, walking away from us.
The Victorian critic and artist John Ruskin's tenacious attachment to acute and intense depiction of the world around him, an attachment that kept him stable in his worst moments, is expressed with ardent observation in his Study of a Kingfisher, 1870s (pictured left), an example of his dictum to artists to go to nature. That well-travelled genius, Turner, is present too: in Evening: Cloud on Mt Rigi, 1840s, a purple blue smudge above pale greens, browns and blues, evokes with its atmospheric blurs, the vista seen at evening viewed across Lake Lucerne from the window of his inn.
Every drawing makes a point in the narrative, as well as being of interest and beauty in its own right. By concentrating on highlights, both familiar and totally unfamiliar, including the Ashmolean's singular collection of late 19th-century Russian material, the exhibition provides an unusually intriguing survey of what drawing has meant in the history of western art.
This prime selection encourages us to look almost with the same determination and concentration as the artists themselves. It is tempting too to imagine if someday an exhibition with the same intensity might look at how drawing has been used in the world of abstract art, from Ellsworth Kelly to Richard Serra.
This prime selection encourages us to look almost with the same determination and concentration as the artists themselves
Explore topics
Share this article